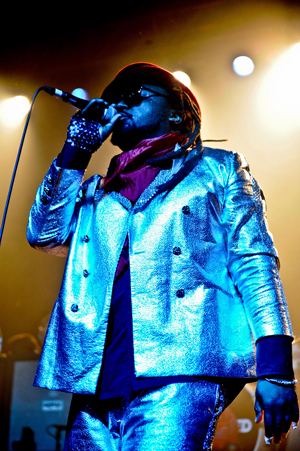 Rob caught up with Benji Webbe from Skindred to talk about their recent album, current tour and the problems gripping the nation such as the current gun and knife crime problem.
Y
ou have just released your fourth studio album 'Union Black', how did you find writing and recording the album compared to your previous albums?
Benji Webb, Vocals) The great thing about this record is that all the other albums we were involved in were in America by American producers, This was the first one with a British producer done on this side of the water, its been real different,normally we've been recording in amazing weather, this was London in the fucking cold in the middle of December, it was hardcore, there were days where we couldn't get to the studio because of the snow, there was no bullshit on this record, we hit it hard. People ask if this is your best record, I don't want nothing to do with best, its like asking Van Gogh what his favourite painting was, this isn't Beyoncé chart shit, this is ground level hard working band, this is not a game we play, I don't do best, I do what's in me at the time.
H
as recording this in album in the UK been reflected in it at all?
In a lot of ways yeah, been in this country, I lived in Florida for 4-5 years, you know There's a lot of gun crime over there, There's so much that they don't speak about it, so when we get it, its like oh my god, what I found was a lot of the album, lyrically, I'm talking about people getting over the bullshit and getting together fighting, not the system but with the shit they have to put up with everyday, and overcoming it.
I
know the album has only been out for a short time but how has the album gone down with your fans and the press so far?
First and foremost, when we finished the record we went on tour with Rob Zombie, no one had heard the new songs before, we played 3 new songs, they went done so well, that give these songs a couple of years, these are gonna be party stoppers, its gonna be insane. The albums been out a few days and we were told it reached number 32 in the charts. Its the highest we've ever had for a record so I'm happy with that, its nice to be there for one day at least, I think its been accepted really well, I've seen some fucking blinding reviews, we got a shit review from Kerrang, as far as I'm concerned we did deserve better from them, Metal Hammer gave us a good review, Terrorizer slated us rock sound gave us a good review, so its been up and down, I reviewed the album before all them motherfuckers, and I gave it 10 because I know what I put into it and they don't, they don't know, they just sit in there fucking offices tick of and say I don't like that riff. I know what went into that record, what pain we went through to get that record into peoples hands, they sit there and they just take it.
J
acoby Shaddix from Papa Roach features on the track 'Warning' how did this collaboration come about?
He's a good friend of mine for 10 years, we've toured with them for 10 years in the states. When we wrote the song, after the chorus we were going to leave it blank, and I thought lets get some body on there, I asked Corey Taylor, he's one of my favourite singers, he was busy, spoke to Whitfield Crane from Ugly Kid Joe, but I asked Jacoby on the same day, and he was like fuck I'm on it, lets do it send it to me. I said to him, lets go in the studio and record it roughly, he said fuck you, this is what I'm gonna get, I'm gonna do what I do and I'm gonna love it, cus he's a prick. He came over listened to some songs, he liked it, bought what he'd done, put it on and it blew everyone away, he delivered, it made the record for me, he really killed it!
Y
ou cover a lot of real life situations which are gripping the nation at the moment such as gun crime and knife crime within the songs 'Cut Dem' and 'Gun Talk', what inspired you to write these songs.
My kid got stabbed a few years back, so we got a song called Cut Dem, which is about what effects the family. Its totally inspired by what's been happening in the last two years of my life. Weird relationships and all that. Gun Talk, the other day in town a little girl was killed, I know Wolves has a gun problem, you got crazy niggers running around shooting each other like its Christmas eve in Waco, Texas, guns are on the increase but its fuck you and your guns man, you want a fight, get in the ring and its best man wins, gun talk is about a girl shot in London recently, being a black guy living in a mixed race community dominated by urban culture, you here this shit all the time, I got my strap bollocks, talk talk talk, people getting shot and all this crap, it effected me as a person, and its me saying (shouts) ENOUGH IS E-FUCKING-NOUGH.
T
he artwork for the album is pretty fantastic, who came up with the ideas and final designs for it?
The lion represents the UK, in the mane of the lion is what the different members of band adhere to, the star of David, which for me tells the story of David vs Goliath, I love that story, I love the overcomer,The Count of Monte Cristo, I love all that shit. Little bits of British symbols like the red telephone box which is a dying thing, I don't see people using them any more, I think they might take them away. The album represents the essence of the UK.
H
ow does it feel to be back on the road in support of your new album? And how have the new tracks been going down live so far?
We played a few tracks, when we sit in a room to discuss what were going to play its a fight, its a mess, every ones arguing fuck you I wanna play this and all that. In the end we have to ask our friends to help us other wise we'll kick the shit outta our selves for days, so the songs your hearing, There's no lets do this quick, There's a song called calling all stations off the previous album, fucking love playing that song live, I talk about this in the show, I represent tattoo artists, painters, people who is in our life who strive to use art, I'm sick of people squashing them, I love the energy that the song brings
M
e vs Hero and Chiodos are supporting you on this tour, were these hand picked by you? And how have you found touring with them so far?
These bands are cool kids, good to hang out with great vibes from them, Chiodos, I never knew them from before, I knew there manager Dave Taylor, there good, they get the crowd vibed up, our drummer normally picks the acts that come out with us.
B
ack in February you supported Rob Zombie on his first UK tour in 12 years how did this come about and how did you find the whole experience?
I got to meet Rob Zombie once, just at lunch, said hello, he apologised for taking up all the space on stage, because we fucking had none, but I said dude that's the way it is, I'm thankful to go on tour with you, we had a few good conversations with the band, that was cool as was the crew. Looking at that production, it was like wow, if I could have this I would love it, stranger things have happened.
T
he tour finishes on the 7th May in London and the show is being filmed for Scuzz tv by Jagermeister, are you planning to play an extra special show? And when can we expect to see the footage on Scuzz?
Were getting someone extra special to sing at that show, Like Jonathan Davies or Jacoby to sing on Warning, maybe Plan B, put an extra twist on the song. I dunno when it airs, there just gonna do it when they do it.
Y
ou have been sponsored by Jagermeister for a long time now, how would you say they help band's like yourself?
Them Jager boys are beautiful, Jager fucks me up bro, every time I drink it, it fucks me up like Jekyll and Hyde, but there good people to us, they look after us, there good they really are.
T
he Royal wedding was today did you watch it and what is your take on the whole mad publicity of it?
I stood in front of a shop window, saw his red Jacket and thought that looks fucking cool, and she looks fucking skinny, I salute my future king and my country, all the best to him and hope he doesn't end up a train wreck like his mother and father.
W
hat's your take on the digital revelation killing off the music business?
Its not killing off the industry its making musicians better, because they have to play again, be on the road again singers gotta learn to sing again. I don't give a shit if I don't record another record again, I wanna play like they did in the old days, in the blues days, they played hard, were having a great time, the digital revolution can kiss my arse. Your either gonna make money or not, I wanna see 2000 kids every night all over the world, jumping up and down,throwing up the devil horns and rocking that's all I want.
W
here do you hope to see Skindred in a year's time?
Id like to be the new red hot chilli peppers, you don't fit into no scene, there a rock were a rock band, I'm Bruce Dickinson, I'm Anthony Kiedis, I take the elements of what I know and use it with guitars. They don't fit into anything.
O
ne last random question that we ask every band, if you could be an animal out of a zebra or Giraffe which one would you be and why?
I think Id be a giraffe because I've already been a horse.(laughter)
T
hanks for your time is there a message for your fans reading this?
Keep supporting live music, keep going to concerts, if your gonna download repent be baptised and buy a t shirt from a show.
Interview By Robert Lawrence