MC Lars
Failsafe, Guilty Pleasure, Southern Cradle
wolverhampton, Little Civic
21st April 2009

MC Lars Failsafe Guilty Pleasure Southern Cradle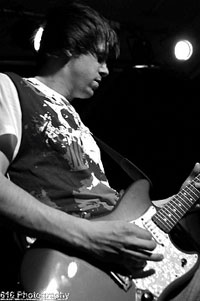 Well, when the bands turned up at the little civic an saw the huge crowd only to find the crowds there for Mcfly, i think we had the better show! however there wasn't even 50 people in the little civic surprising really for a fairly big name for people in the know.

First up were Southern Cradle, what to say they were very dreary, it was even the drummers last show and even that failed to inspire them to perform a better show, altho with the material they have got, is very middle of the road and uninspiring , at times even the guitarist on lead or rhythm, looked like he didn't want to be there, jsut like some of the crowd, when the front man wasnt singing he had his back turned to the crowd for most of the set, the only real signs of life was the bass player moving about a fair bit.

it could only get better and thankfully it did with the Guilty pleasure, with the punk sound and looking the part albeit looking cleaner than the punks from the past, playing loud and fast for a 3 piece band its pretty impressive to see such volume coming from them, with plenty of energy getting around the stage, playing good punk riffs, great bass and drumming working well to create the songs live, altho theres nothing really memeorable apart from a sudden break down in the 2nd song when everything cuts out except the guitar, going for a clean sound, its unexpected and got my attention, some of the lyrics about being about soical commentary, altho its pretty much by the numbers punk.


the gig is on the up after the guilty pleasures, comes failsafe, nothing quite prepared me for the energy blast that was about to come, five guys on stage looked like they might have to fight for space on it, the band has a sound that mixs bits of punk, hardcore, rock, reggae an more.theres some catchyness to the tunes but for some reason for all its energy an character it never seems to peak with that killer song, or memorable chourus, but it certainly keeps the gig on a whole on the up, even some of the crowd is dancing/two stepping/slam dancing/skanking.

Talking just befor the gig me and MC Lars share a few words about the misfits, then its on with the show, with his own brand of laptop rap rock, trying saying that really fast over an over, projector on stage and failsafe for his backing band, all donning MC Lars tshirts, the headliner gets underway to a crowd that still is really small, but he takes time during the set to crack(bad) jokes from a book, sing happy birthday to a member of the crew and even knows some of the familiar faces of fans, that he even knows the name
of, not bad, playing tracks like guitar hero hero, and even rocking out with the plastic guitar from the game, mainly taking the piss as some of his songs do, even updating an old poem, about the raven knocking on a chamber door, with mr.raven, performing new tracks from This Gigantic Robot Kills,including the title track. also performing ahab, getting the crowd involved in practically the entire set, pointing the mic at the crowd to sing along, even failsafe seem more alive altho not much moving about due to alot of people on stage, and most of the energy is left to MC Lars to use up, should be playing in a bigger venue to a much larger crowd, but it would lose some of its intimacy in a larger venue, but a good gig after a poor start.

Southern Cradle 2/5
Guilty Pleasure 3/5
Failsafe 3/5
MC Lars 4/5

Review By Robert Lawrence