Blink 182
Frank Turner And The Sleeping Souls, The Front Bottoms
Cardiff, Motorpoint Arena
3rd July 2017


Back in November 2016 Blink 182 announced a ten date UK headline Arena tour for July 2017 and within hours of tickets going on sale all shows were sold out, a few months later The Front Bottoms and Frank Turner And The Sleeping Souls were announced as supports for the tour making the tour one of the hottest tours gracing the UK this summer.

Tonight I headed down to the Motorpoint Arena for the opening night of the tour and when I got to the arena there were thousands of eager fans queuing all around the venue wearing their Blink 182 t-shirts whilst patently waiting to enter the venue.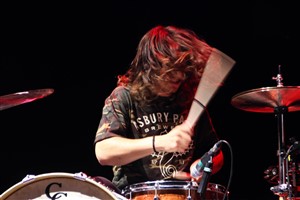 Openers The Front Bottoms took to the stage dead on 7pm and started playing to a few hundred people and by the time their 30minute set came to a close they were playing to a few thousand people. Now The Front Bottoms got added to the tour way after all the shows sold out so the chances of them playing to many of their own fans on this tour is quite slim but that is a good thing as they have been invited out to open up for Blink 182 at many different arenas across the UK which means they are going to be playing to thousands of potential new fans over the course of the tour and the good thing about The
Front Bottoms are they are a fun quirky indie rock band who pen catchy songs which tell fun stories.

The Front Bottoms had a 30 minute set tonight and managed to play 9 songs within that time and it was songs such as opener 'Skeleton', 'Au Revoir (Adios)' and set closer 'Twin Size Mattress' which really stood out the most for me tonight, I sensed that the crowd didn't really know what to make of The Front Bottoms and I have to be honest with saying that the Arena setting and the bright white house lights and general lack of lighting show really didn't work in the bands favour tonight but that didn't stop them from giving it there all and
rocking out through their set and slightly to much during 'Be Nice To Me' where Brian Sella broke his guitar but quickly resolved the problem.

I have been following The Front Bottoms for a fair few years now and have seen them go from strength to strength and I really do believe that they have the potential to go far, and will defiantly be looking out for their next headline tour.

After a quick change around on stage Frank Turner And The Sleeping Souls took to the stage and Frank Turner wasted no time in warming the crowd up for Blink 182, the man
is a true entertainer and started off by asking the crowd to put their hands up if they have never heard of him before and over half the audience out their hands up he then told the crowd that he's here to warm them up for Blink 182 and that they are going to have a good time for the next 30 minutes and that is exactly what they had as during their 30 minute set Frank Turner And The Sleeping Souls played 10 catchy as hell songs and whilst doing so they also invited a member of the audience on stage to learn the Harmonica, got the whole audience to sit on the floor before jumping up and dancing their ass off, and not to
forget Frank Turner himself spending the majority of the last song singing whilst in the crowd as he went for a lengthy crowd surf.

There was not a dull moment through Frank Turners set and the likes of 'Try This at Home', 'Out Of Breath', 'Recovery', 'Dan's Song', 'I Still Believe' and set closer 'Four Simple Words' really got the crowd moving tonight and you could tell that Frank Turner and his band left the stage happy knowing that they just gained a massive amount of new fans.


Just before Blink 182 took to the stage a giant union jack flag with the Blink 182 logo was draped over the stage whilst the theme from Stranger Things blasted out the stereo and moments later the curtain dropped and Mark Hoppus, Travis Barker and Matt Skiba stormed the stage and kicked straight into 'Feeling This' and instrumently things sounded fantastic but vocally both Mark Hoppus and Matt Skiba sounded slightly off but luckily things picked up when the band smashed their way through the next song 'Rock Show' which was quickly followed up by 'Cynical' the first single to be released from the band's latest album 'California' and the first song to feature Matt Skiba on lead vocals and all eyes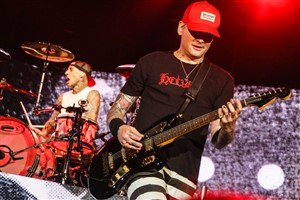 were on Skiba during this performance and he absolutely nailed it.

Like every Blink 182 gig it was hard to take your eyes off Travis Barker as he is an absolute machine when it comes to drumming he oozes in energy and simple can't stay still as one minute he will be sat down smashing his drums and the next he will be bouncing out of his chair whilst still energetically smashing his drums, Mark Hoppus on the other hand made good use of the massive stage in the Motorpoint Arena and run from side to whilst playing his bouncy basslines and Matt Skiba who tonight did a great job of replacing Tom Delonge really was on top
form with his vocals if you forget about the opening song and performance wise he moved around the stage a lot more than what he does when he's preforming with Alkaline Trio and also joined in with a bit of banter between Mark Hoppus and the crowd, however compared to most Blink 182 shows the banter was kept to a minimum.

With their brand new album 'California being out for a year now it made sense that Blink 182 played a fair few songs from that album tonight and that they did as they played 'Cynical', 'Bored To death', 'Built This Pool', 'She's Out Of Her Mind', 'Sober', 'Los Angeles' and 'Brohemian Rhapsody', they also had time to play
many of the songs you would expect to hear at a Blink 182 concert with 'Anthem Part Two', 'What's My Age Again?', First Date', 'I Miss You', 'Reckless Abandon', 'Man Overboard' and 'All The Small Things' going down an absolute storm tonight.

The stage show Blink 182 had tonight could not be faulted as they had lots of flames, co2 and a massive screen at the back of the stage and under Barkers drum platform showing various different clips and animation and also a massive amount of confetti which helped bring the show to a close as the band and crowd rocked out for one last time to 'Dammit'.


The only downside I found from tonight's show was that Blink 182 only played for 70 minutes which is really poor for a band when they are headlining arenas and charging £50 a ticket but on the flip side Blink 182 did play a massive 22 songs and you have to remember some of their songs are really short but fast pop-punk anthems, they also had a top notch stage show and an impressive support line up with Frank Turner And The Sleeping Souls and The Front Bottoms so value for money was defiantly had tonight.


It was good to see Blink 182 back in the UK and it was also good to see Matt Skiba fitting into the band well and doing justice to the songs Tom Delonge helped write and preform all those years ago, and I really hope that Blink 182 don't take as long to return to the UK next time around.

The Front Bottoms 4/5
Frank Turner And The Sleeping Souls 5/5
Blink 182 5/5

Review By Trigger