Black Star Riders
Backyard Babies, Gun
Bristol, Academy
16th March 2017


Black Star Riders have recently released their third studio album 'Heavy Fire' which nicely charted at number 6 in the UK album charts and to coincide with the album release and also to celebrate 5 years of the Black Star Riders they have headed out on a lengthy tour across the UK which Gun and The Backyard Babies in support and tonight I headed down to the Academy in Bristol to catch the show.

I headed in to the venue just before the opening act of the night Gun took to the stage and the venue was steadily filling up, Gun are a five piece band hailing from Glasgow in
Scotland and have been on and off the music scene since way back in 1987 and through that time the band have gone through various line-up changes and also gone on various hiatuses however they have solidly been back on the music scene since 2008.

Gun took to the stage with no warning there were no lights dimming just five men taking to the stage picking their instruments up and playing music, the lightning for the band was also next to none and the reaction from the crowd was also non-existent at least until the band played their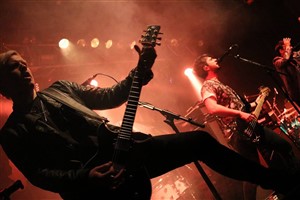 cover of Cameo's 'Word Up' .

Tonight Gun only had a short set consisting of only 7 songs however they played 'She Knows' from their forthcoming studio album which showed good potential and they also managed to play a few classic songs such as 'Don't Say It's Over', 'Better Days', 'Steal Your Fire' and set closer 'Shame On You' which nicely warmed the crowd up.

Up next were Swedish punk rockers Backyard Babies and tonight they did the total
opposite of what Gun did and really showed how to warm the crowd up ready for the headline act as from the moment they stepped on stage they gave it their all and all eyes were on guitarist Dregen for the majority of the set as he absolutely slayed his guitar and put 110% into his performance which featured him constantly spinning around on stage and playing his guitar like a boss.

Just like Gun the Backyard Babies have also been going since 1987 and in that time released 6 studio albums however their line-up has always remained the same apart
from a change of vocalist within their first couple of years as a band and the fact that they have had the same line up since the late 80's works to the bands advantage as they are tight as anything tonight and really get the crowd going with their engertically charged punk driven rock n' roll anthems.

Through the set Backyard Babies fit in 9 songs which consisted of 'Th1re3n Or Nothing', 'Dysfunctional Professional', 'The Clash', 'Brand New Hate', 'Painkiller', 'Nomadic', 'Bombed (Out Of My Mind)', 'Minus Celsius' and set closer 'Look At You' and throughout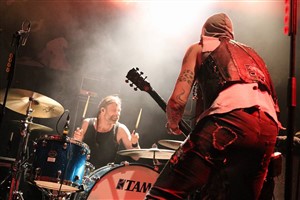 the whole set their was high octane energy and as soon as Dregen kicked in with his solos I found myself getting lost in the bands epic music.

After a short change around on stage it was time for tonight's headliners The Black Star Riders to take to the stage and tonight it was time for something slightly different as since their formation the Black Star Riders have always played an handful of Thin Lizzy songs as prior to becoming the Black Star Riders Scott Gorham and Ricky Warwick had been touring under the Thin Lizzy name playing to sold out venues across the
country, but tonight and for the whole of this tour the band decided to play just 1 Thin Lizzy song in their 18 song set.

Black Star Riders opened their set tonight with the title track from their latest album 'Heavy Fire' this was quickly followed up by 'Bloodshot' and the title track from their second album 'The Killer Instinct' a song which really got the crowd going as hundreds of fans starting singing "You gotta live with a killer instinct, You gotta die a little to survive, you gotta love with a killer instinct, you gotta hurt a little to get by".


With three albums under their belts now the set was spread out quite well with songs from all three albums however song from their latest album 'Heavy Fire' featured more within the earlier part of the set and the later part of the set was crammed full of fan favourites from their debut album 'All Hell Breaks Loose'

Towards the middle of the set Black Star Riders blasted into the Thin Lizzy classic 'The Boys Are Back In Town' and the crowd erupted with excitement as everyone sung along to one of the most exciting songs to come out of the 70's as it is a song which stands the test of
time and one that Ricky Warwick and co do justice.

Just as the Jimmy DeGrasso opening drum beats came in for 'Thinking About You Could Get Me Killed' the band stopped and got the whole venue to sing happy birthday to Jimmy it was an epic moment and one that everyone happily participated in and seconds later the song started back up and Jimmy absolutely slayed his drum beats.


One of the things I like about Black Star Riders is the fact that they come to play music and they don't mess about by over interacting with the crowd they keep it basic by thanking the crowd and they also don't string things out by doing the typical encore routine, instead what you get is 18 tracks played back to back and tonight the set came to an close in such a good way as the band finished with two songs from their 'All Breaks Loose' album which consisted of 'Kingdom Of The Lost' , 'Bound For Glory' and the epic set closer 'Finest Hour' which appeared on their 'Killer Instinct' album and ended the show
perfectly with a massive sing-a-long.

Overall Gun didn't really do anything for me, Backyard Babies are a band I have to see in the future at their own headline show and Black Star Riders have now got to the stage where they can go out on stage and fill a set with their own songs and happily please a crowd, however after the show I did hear a few people muttering how they wished there was more Thin Lizzy songs played, I guess you can't please everyone but I can safely say the hard core Black Star Riders fans walked away happy tonight.

Gun - 2/5
Backyard Babies - 4/5
Black Star Riders - 5/5

Review By Trigger