Sum 41
Bristol, Academy
3rd March 2017


Sum 41 made their UK live return back in February 2016 which saw the band play to sold out venues across the country and marked a big achievement for the band and their frontman Deryck Whibley who has had a massive battle with his health in recent years as he thought back problems as well as addiction to drugs and drink which left his hospitalized and very frail but after a lot of support from all the right people he was on the long road to recovery and embarked on their live return in February 2016 on the Kerrang tour, four
years after they previously had to pull out of the same tour due to Whibleys back problems.

The first time I saw Sum 41 on the live circuit was back in 2002 when they had Reel Big Fish supporting them at the Academy in Bristol and the gig was awesome and its crazy to think that 15 years on both bands are still touring and going strong, I have seen Reel Big Fish numerous times since this show but despite trying my hardest I have not seen Sum 41 since this show due to them pulling out of tours and festival appearances over the years due to ill health, luckily t
onight things were on my side as I headed down to the Academy in Bristol to see Sum 41 make their long awaited return to the venue as they played a sold out show on their well named 'Don't Call It A Sum-Back Tour'.

Over the years Sum 41 have gone through some line-up changes however their line-up is pretty much back to the line-up they had during their pop punk glory days with Deryck Whibley (Vocals, Guitar), Dave Brownsound (Guitars, Backing Vocals), Jason McCaslin (Bass, Backing Vocals), Tom Thacker (Guitar, Backing Vocals) and Frank Zummo (Drums) completing the line-up.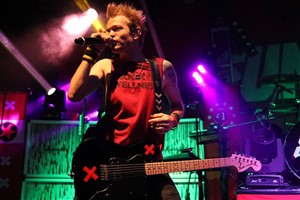 Tonight was an early gig due to a club night being on at the Academy from 10pm so I made it into the venue just before sum 41 took to the stage and the venue was packed to the rafters, easily the busiest I have ever seen the venue and as soon as the lights dimmed and the introduction kicked in the hundreds of fans in attendance screamed out loud as Sum 41 took to the stage one by one and quickly opened up with new song 'A Murder Of Crows' which was quickly followed up by 'Fake My Own Death' which is also taken from the band's latest album '13 Voices'.


From the moment Sum 41 took to the stage you could tell they were happy to be back playing live for their fans as each and every band member put 100% in tonight as they charged the stage and played their instruments with pure passion and power, in-between songs frontman Deryck Whibley had a lot of time for the crowd and on many occasions got the lighting engineer to shine the lights on the fans so he could see everyone smiling and thank them for their support over the years before urging the crowd to form circle pits and mosh till their hearts content.


Back in October 2016 Sum 41 released their sixth studio album '13 Voices' an album which happens to be their most personal and honest to date and it only made sense for the band to play a massive chunk of that album tonight playing a mammoth 6 tracks from the 10 track album and the songs went down well with comeback single "War" receiving a massive sing-a-long from the fans.

As always Sum 41 brought the classics with them and the likes of 'Motivation' and 'In Too Deep' gained massive reactions from the crowd tonight with everyone singing-a-long and generally having a great time partying to the anthems of their teenage years.


Midway through the set Sum 41 went down the metal route as they played a few songs from "Half Hour Of Power" whilst also playing a short burst of Black Sabbaths 'Paranoid' and Queens 'We Will Rock You' and also a drum solo from Frank Zummo and it was fun and energetic to watch but for me the highlights of the night were when the band played 'Screaming Bloody Murder' and 'Walking Disaster' which are up there as my favourite Sum 41 songs ever.


Overall it was great to see Sum 41 on the live circuit again and back on the top of their game, early on in their set there were a few sound problems and speakers nearly blew but it got sorted out pretty quickly and hardly effected the show and during their 1hour and 30miniute set Sum 41 managed to entertain their fans with a massive 24 songs a huge lighting show as well as some pyrotechnics, massive balls filled with confetti and also canons which fired confetti which helped turn this incredible pop-punk show into a massive party.

4.5/5

Review By Trigger