Trivium
Camden, Roundhouse
17th February 2017


Having covered Trivium on their first Silence In The Snow tour, when the news broke that the tour would end in Europe with several shows in the UK, I jumped at the opportunity to see them one last time, before they head home and record the new album.

One show stood out to me to be unique and that was the one not to be missed, this was their gig at the London Roundhouse in Camden.


Upon arriving just before the lights dimmed for Trivium, I was able to browse the merchandise stand and Trivium don't disappoint their fans with the gear they always bring out with them, after a swift purchase i made my way into the Roundhouse and WOW!

The Roundhouse has topped all the venues I have been too, this had the best lighting, sound and just wow factor of any venue I've been too, this made the night that extra unique.


As the lights dimmed, the smoke filled the grand stage in the Roundhouse. Over the PA system the intro tape of The End Of Everything blasted out and with a loud cheer from the stage entered new member Alex Bent on the Drums; who has played with Testament, DragonLord and Battlecross. Swifty followed by Matt Heafy on the Guitar and Lead Vocals, Corey Beaulieu on Guitar and Vocals and then Paolo Gregoletto on Bass and Background Vocals.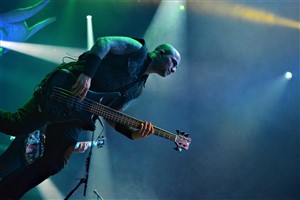 They opened up the set with the neckbreaking Rain, which in no time demonstrated that Alex Bent had some of the best double pedal kick chops.

Trivium played all the usually hits from their back catalog but brought in some of the heavier songs.

Filling out the set was songs Forsake Not The Dream, Entrance Of The Conflagration, The Deceived and a personal favourite Dusk Dismantled.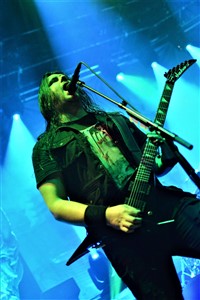 Having seen Trivium twice before, this time was even more better then their previous set's. With Matt Heafy vocal's back to normal after his vocal scare a few years ago, the time spent getting back to where he was before the scare was shown with the last 5 songs of the set, which included Pillars Of Serpents; which is off the re-released album Ember to Inferno: Ab Initio, A Gunshot To The Head Of Trepidation and In Waves.

Highlights of the night was the energy of the band, yet again they come out and give it all they got, this was by far the best set, I've seen from them. With the last song In Waves, Heafy instructed the crowd to partake in a Slipknot kinda jump moment, when he screamed In Waves he wanted everyone to jump up from their crouch position; just have a look at the footage from youtube, was truly a amazing moment. Then lastly the set, this was just bang on, from the start till the end, every song didn't let up and if anything just raised the bar for the next time the band hit the UK with the touring cycle of the next album, if anything from the night was a indication of what the next album will sound like then the screaming vocal talents Heafy was a clear sign that they will make a comeback.

5/5

Review By Robert Knight