Galactic Empire
Sithu Aye
Bristol, Fleece
6th February 2017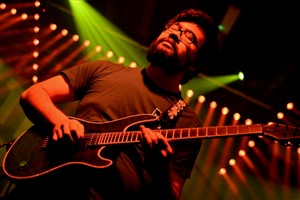 A interesting opportunity came my way, would I be interested in seeing a Star Wars themed metal band, with the members of the band all portraying characters from the films ( in slightly modified outfits to stop any licensing issues with Disney), why not!

Galactic Empire are currently on a UK tour at the moment, with a stop off at The Fleece in Bristol, I headed down to see something out of this world.


Upon entering The Fleece, I was not expecting the venue to be as packed as it was and so early on in the night, there was a broad range of audience members in attendance, families with young kids eager to see Star Wars characters on stage playing metal; which is a great way to get little ones in to the genre of music, to couples and then the rock and metal crowd. This show really bought everyone together and didn't leave anyone out.

Shortly after arriving, the main support band for the Galactic Empire was just setting up on stage and this was a up and coming band called Sithu Aye.


Sithu Aye, is made up of founder and band leader Sithu, who is accompanied at live shows by Martin Collier or Liam McLaughlin on Guitar, Kaung-Myat Aye or Jack Elliot on Bass and Jamie Black on the Drums.

Sithu to date has released 3 full length albums and 4 EP's, his set tonight with his band consisted of material from his new album and songs from previous releases.


This band is purely instrumental, to me they are a mix of slightly indie with the heavy under tones of heavy metal with the slight dibbles of Death and Thrash metal riffs put in for good measure.

Through-out the set, Sithu introduced each song and took time to praise the audience for the their appreciation.

While I'm not a massive fan of pure instrumental sets, I was greatly impressed by the playing ability of Sithu and his band.


Having played other towns and tours, I believe that this tour was the best way for Sithu Aye to get the band out there and being on a such unique tour, I can see the band getting more and more recognized and a stronger following.

After a brief set up change, Galactic Empire was up next.

With The Fleece pretty much at sell out, many kids out past their bed-time, at 10pm the lights dimmed and smoke filled the stage, Galactic Empire hit the stage.


With the names of the band members changed for legal reason's, the band is consisted of Boba Sett on the drums, Bass Commander on bass, Dark Vader on lead guitar, Shadow Ranger on guitar and Red Guard on the guitar.

Dark Vader was last to hit the stage and with a loud cheer from the pretty much sold out crowd in attendance the band kicked off the set with the opening song the main Star Wars theme.


Throughout their set the band played instrumental metal covers of songs from the Stars Wars saga, such as The Imperial March, Cantina Band, The Force Theme and other while known songs which many fans of Star Wars would recognized in a instance.

Throughout the bands set, pre-recorded voices akin to Darth Vader was played, which added humour to the night, along with a rehearsed force choke on a member of the audience, made the night very enjoyable.

With this being their debut UK tour, along with the release of their well received self titled debut album, I can see that in a Galaxy not so far away that this won't be a one off and that the band will be back many more times along with possibly new material, just imagine these guys playing on the main stage at Download festival, I myself can see that happening soon.

I'm not a massive Star Wars fan, but I can easily say that the Galactic Empire brought the goods and definitely made sure they wasn't taken as a one hit wonder.

Next time they hit the shores of the UK, I'll be at the next show for sure!!

Sithu Aye 3.5/5
Galactic Empire 5/5

Review By Robert Knight