Yellowcard
Normandie, The Kenneths
Bristol, Academy
11th December 2016


Back in June Yellowcard made a bittersweet announce that they were releasing their tenth studio album however their tenth studio album would be self-titled and would also be their last album and that they would also be embarking on a final world tour as like all good things they must come to an end at some point and after countless discussions and months of thoughts the band have decided it's the right time to call time on the band.


Shortly after announcing they were splitting up Yellowcard announced the dates of their final ever World Tour and as soon as I saw they were playing Bristol I knew I had to go as like many others Yellowcard and their music has helped me through some tough times in my life especially so over the past couple of years and I couldn't pass up the opportunity of a final night with Yellowcard and hearing those special songs on the live circuit one last time.


Tonight was the first date of their final ever UK tour a tour which sees one of the most iconic pop punk bands celebrate 20 years as a band in a two hour set featuring some of the best songs from their career and to help warm preceding's up Yellowcard brought two diverse support bands out with them with London punk rock trio The Kenneths kicking the night off 15minutes after the doors had opened.

I first stumbled across The Kenneths back in May when they supported Less Than Jake in Oxford and I was instantly a fan of them and made sure I watched them again at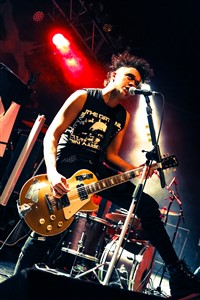 Download Festival in June where I was equally as impressed, so tonight was my third time of see them on the live circuit and they were still as fun and exciting to watch as when I first saw them back in May.

You have to give it to The Kenneths as when they took to the stage the venue was less than a quarter filled due to them being on only 15minutes after the doors had opened, however The Kenneths played their set like they were playing to a sold out headline crowd at Wembley Stadium and absolutely nailed their performance from start to finish with frontman Josh full of energy on and off stage charging about like some Mexican jumping beans, whilst Aichi solidly played her drums and Lewis the bass.

The great thing about The Kenneths is that they are a proper up tempo punk band who write and perform songs that run for 2-3minutes and they are songs that you can get into straight away due to the infectious lyrics and vocals from frontman Josh and the crowd soon experienced this as The Kenneths smashed out the
likes of 'Hollywood', 'What Happened To My Sex', ' All Cried Out', 'Fucked In Love' and a few other tracks from their numerous ep's.

As always The Kenneths put on a great show however after seeing the band for the third time it was clear to see that there set and stage antics was pretty predictable yet it was still as fresh and exciting as the first time I saw the band live and in true Kenneths style frontman Josh Weller ended the set signing in the crowd and going for a mini crowd surf.

Up next were Swedish rockers Normandie, a band who formed back in 2013 and put out their debut album 'Inguz' earlier this year and tonight marked the start of their second ever UK tour with their first being back in the summer playing the small toilet sized venues of the UK so tonight was a massive opportunity for Normandie and they wasted no time and charged the stage whilst blasting into their opener 'Fight' and at this point the venue was pretty packed with the crowd appearing intrigued with the band in front of them.


Despite being a support band Normandie brought their own lighting show to the stage with them and everything was top notch and on par as they played a good portion of their debut album with the likes of 'Awakening', 'Starting Now', 'Calling', 'Believe', 'Loop Hole' and set closer Collide' gracing their set.

Having never heard of Normandie prior to tonight's show I walked away impressed and will defiantly be checking out their debut album 'Inguz' and also be looking at catching them on the live circuit when they return to the UK which I am sure will be soon on the back of the reception they got tonight.


After a 30minute change around on stage the moment everyone had been waiting for was here and the lights dimmed and instead of Yellowcard storming the stage we were greeted with a recorded message about how the band wants everyone to enjoy the show and watch it through their own eyes and not their mobile devices as everything they will be recording can already been found on the internet , the message was done in a comical way and was met by giggles from the crowd and seconds later yellowcard took to the stage opening up with 'Believe' the first song of a massve two hour 23-track long setlist which spanned the whole 20 year career of the band and acted as a massive greatest hits set.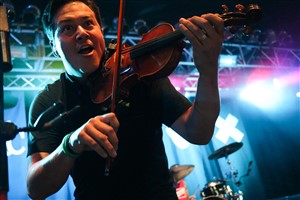 Shortly into the set frontman Ryan Key started joking with the crowd telling them to stop yawning and to wake up because the crowd in Germany was much better than them, he also told the crowd that he wants everyone to sing-a-long until they lose their voices and if they don't know the words to any of the songs then to make them up and judging by the crowd's reaction tonight these words were well taken on board as the majority of the crowd was singing-a-long for two hours nonstop whilst also jumping for joy in the mosh.


On stage the energy from Yellowcard was top notch with Ryan Key smashing his vocals in a pitch perfect way and doing energetic dances and jumps across the stage in-between vocal duties, the highlight however was watching violinist Sean Mackin who really sets the sound for Yellowcard with his exceptional violin skills which was spot on throughout the set and the man is a joy to watch as he was smiling from ear to ear throughout and doing everything in his power to interact with and excite the crowd.


Yellowcard played many classics like 'Lights And Sounds', 'Way Away', 'Awakening', 'Rough Landing, Holly', 'Light Up The Sky', 'Sing For Me', 'Breathing',' Empty Apartment' and also 'Transmission Home' and 'Lift A Sail' from their mixed received 'Lift A Sail' album and also 'Rest In Peace'. 'A Place We Set Afire' and 'What Appears' from their final album and the energy from the crowd remained the same throughout.


The show came to an end with an encore of 'Only One' and 'Ocean Avenue' and the atmosphere in the venue during these two songs was epic with the best part of 2000 people singing and partying to 'Ocean Avenue' with Yellowcard for the final time.

It is sad to say tonight was the last time I will ever see Yellowcard live again however the show was perfect and was spot on for their final ever tour and after being a band for 20 years and releasing 10 albums over the course of that time it is safe to say that Yellowcard have touched many
people's hearts with their music and that they deserve a rest and I am glad to say that I witnessed a show of the bands final ever tour and really hope they have plans to release a DVD of the tour so us fans can relive this epic moment.

The Kenneths 4/5
Normandie 4/5
Yellowcard 5/5

Review By Trigger