Kaiser Chiefs
Spring King, Vitamin
Westonbirt, Arboretum
17th June 2016


I Predict A Riot was the first thing that popped into my head once I heard, I would be covering the Kaiser Chiefs at a local Woodland Festival.

This was the second night of music of the 4 night mini festival, which is held yearly at Westonbirt Arboretum, which is run by the Forestry Commission in England.
If you have the chance to visit Westonbirt Arboretum, please do. This was the perfect
backdrop for a stage and live music.

The set up for the night is very different to anything festival wise I have been too; here chairs, picnic blankets and baskets rule and are all welcomed and it is truly a relaxing, socialising and enjoyable way to take in the atmosphere and music.

This was evident right from the begin as the event had sold out way before the Kaiser Chiefs and support rocked up to Westonbirt Arboretum.


After a quick greeting by the promoter, Friday's night of live music was under way, first to take to the stage was support band VITAMIN.

VITAMIN are a four piece indie soul-pop band, based in Leeds. The line-up consists of lead singer and guitarist Jared Laville, bassist Harrison Smith, guitarist Cameron Fraser and drummer Theo Cookson, who along with Harrison also contributes to the backing vocals.


Vitamin provide the early attendees with a fresh upbeat start to the night, with some slow and up beat tempo songs.

Vocalist Jared Laville took every opportunity to involve the audience, throughout various songs to which they did not disappoint.


The other members of the band, provided a very energetic performance, taking the embracement from the crowd, turning it into a solid performance for the early arrivals.
Whilst I'm more of a Rock and Metal listener, I did find VITAMIN's set very refreshing and easy listen, I would happily recommend VITAMIN to anyone who is in to this genre of music as I believe they won't be disappointed.


As VITAMIN finished their set, Jared notified the crowd that the band would be heading to the merchandise stand to chat and mingle with fans in attendances, to which several did.

After a quick stage turn round, next support band of the night was up, Spring King.


Spring King is a four-piece post-punk band from Manchester, England. The band is made up of Tarek Musa, Peter Darlington, James Green and Andrew Morton.
I have been fortunate enough to attend other punk gigs recently, to which I kinda knew what to expect from Spring King, as punk is a genre I haven't really been interested in.


Spring King offered the punk goods to myself and the many fans in attendance, with their own take on the genre.

Each song for their set had a feel good beat, which was expressed via the band members, which then was passed on and received with appreciation by the crowd.

The song which stood out to me on Spring King set was Rectifier, which is off their debut album, this showed the musicianship of each band member, while highlighting the playing ability of Tarek Musa who handled the singing duties while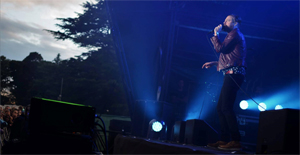 playing the drums, which was a highlight of my night, as each beat and note he sang was spot on.

I was impressed with Spring Kings set, while punk is not my go to genre, I will endeavour to keep a ear open for this young, talented band, will make sure that anyone I know who is into punk should check them out.


After the last and final stage swap of the night, the main attraction for the second night of the Woodland Festival was about to take the stage in the form of the Kaiser Chiefs, I did indeed predict riot!

Kaiser Chiefs are an English indie rock band from Leeds who formed in 2000. Members are Ricky Wilson on Lead Vocals, Andrew White on Guitar, Backing Vocals, Simon Rix on Bass, Backing Vocals, Nick Baines on Keyboards, Synthesizers and Vijay Mistry on Drums.


As I mentioned from the beginning, once I heard I was covering Kaiser Chiefs, their most popular song I Predict A Riot, came straight to my mind. This song was played quiet a lot when I was in secondary school and was the back bone for my musical taste in British rock, along with their other popular songs such as RubyRubyRuby, Everyday I Love You Less and Less, Modern Way and Oh My God.


To which they played each of these songs live for their set which took me back my school years, not only that but the quality of which they was played was better then you could get from their CDs, truly made my night.

Once the Kaiser Chiefs had got mid way through their second song, Everyday I Love You Less and Less, it was apparent that the sold out crowd and myself was in for a real treat!


As mentioned before Kaiser Chiefs played all their popular songs, while playing new material from their yet to be released new album, Stay Together. The crowd in attendance took to the new songs without hesitation, with the energy that Ricky Wilson poured out on the stage, the sold out crowd wasted none of that in their screaming and singing along with the band.

This was my first time seeing Kaiser Chiefs before, it will definitely not be my last, as the band blew me away with each song they played throughout their set.

As their set came to end with the well known song Oh My God, the still energetic crowd gave everything they got into the last song of the night with a great sing along.

Kaiser Chiefs where without a doubt fantastic and gave the fans in attendance the sold out show they was all expecting!

Vitamin 3.5/5
Sping King 4/5
Kaiser Chiefs 5/5

Review By Robert Knight