Andy Black
Creeper
Cardiff, Tramshed
15th May 2016


On Friday the 6th May 2016 Andy Black released his much anticipated long awaited debut album 'The Shadow Side' and 4 days later he embarked on his debut solo UK tour a tour which consisted of 9 dates starting off in Sheffield on the 10th May and ending at one of his favourite venues the Koko in London on the 20th May and we were lucky enough to head down to his show at the Tramshed in Cardiff on the 15th May which was the midway point of the tour.


The Tramshed in Cardiff is a brand new venue which only opened in October 2015 and when walking into the new 1000 capacity venue tonight it was clear to see that a lot of work has gone into making the Tramshed an outstanding new venue in Cardiff where groups of music fans can come together to see their idols live.

The one and only support band tonight were Creeper a band which Andy Black handpicked himself to join him on tour. Over the past year or so Creeper have been going from strength to strength making a name for themselves and it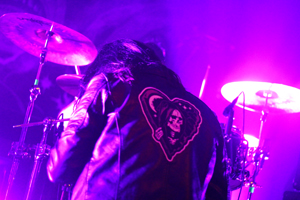 was clear to see that supporting Andy Black on tour was a good move for the band because as soon as they took to the stage the eager fans really took to them with many singing-a-long and a select few even starting off small circle pits throughout the set.

Creeper had an 30 minute set and played the likes of 'VCR', 'Black Mass', 'The Honeymoon Suite', 'Valentine', 'Gloom', 'Astral Projection' ,'Lie Awake' and set closer 'Henley's Ghost' and throughout the whole set they were consistent, oozed in energy and warmed the crowd up perfectly, encouraged some circle pits and even got the crowd to light the venue up with the flash lights on their mobile phones held high and proud.


After a quick change around it was time for Andy Black to take to the stage and it was good to see him in a more stripped back setting with a three piece band which consisted of himself on vocals, a drummer and a guitarist who also handled keyboard duties, at the back of the stage was a massive Andy Black banner and on stage was an impressive lighting set up with Andy Black bringing his own lighting show over for the tour.

The set kicked off with the ever so catchy 'Stay Alive' which had the whole venue singing-
a-long word for word from start to finish, that was followed on by the goth/synth/dance anthem 'Ribcage' which sounded slightly different on the live circuit due to Andy Black and his band wanting to mix things up slightly and it was so good to hear and went down extremely well with the fans. A cover of Billy Idols 'Dancing With Myself' was up next and you could see that Andy Black was in his element playing this song as he was smiling from ear to ear throughout the whole performance and so he should as the cover was spot on.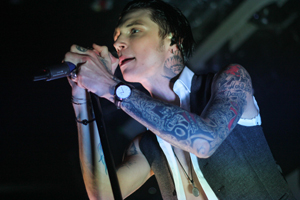 As the set progressed Andy Black played more songs from his debut album and just before heading into 'Beautiful Pain' he paid tribute to his close friend Chris Holley who sadly passed away last year and after the emotional performance of the song Andy Black became a bit emotional as he tried to fight back tears whilst thanking everyone for singing-a-long and helping him through the track.

There were two more cover songs featured in the set, the first being Alkaline Trio's 'Time To Waste' and with Alkaline Trio being Andy Blacks favourite band it was pretty much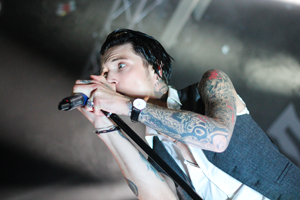 certain that an Alkaline Trio cover would be featured and it was executed so well with Andy Blacks vocals sounding slightly like Matt Skiba's in places and then breaking through to his own unique vocals at times, the other cover song was the Black Veil Brides fan favourite 'Saviour' a slow ballad which had the whole crowd singing-a-long.

The set came to a close with the debut single 'They Don't Need To Understand' and as soon as Andy Black left the stage the fans started chanting "Andy Black" and "one more song" and after a five minute wait Andy Black and his band returned to the stage with Andy Black apologising to the crowd for taking so long to come back out due to some technical difficulties and moments later the set closer 'We Don't
Have To Dance' started and the fans went crazy, out singing Andy and jumping along like they had waited their whole life for this moment and it was seriously epic to witness.

Overall it was great to see Andy Black take his solo project out on tour and also to see that the hard work has paid off as the venue was close to selling out tonight and everyone in the crowd knew the words for every song which is pretty special considering the album has only been out for a week. Throughout the set you could see Andy was so appreciative about everything, praising his band members, giving shout outs to Creeper and spending a lot of time interacting with his fans and most importantly it's not every day you get to see Andy Black in smaller intimate venues because as soon as the Black Veil Brides regroup in 2017 the band are going to be aiming at taking arena sized venues by storm.

Creeper 3.5/5
Andy Black 5/5

Review By Trigger