Exodus
Lost Society, Mordrake
Bristol, Fleece
9th March 2016


Well I would like to take this quick time to introduce myself, my name is Rob.
I've recently joined Trigger @ Alternative Vision, we both share a great interest in music and live events.
I'm a massive fan of Rock and Metal (all types), but my passion is 80's Metal and Thrash Metal.

So I was very fortunate when the opportunity arose for me to review and photograph a recent Exodus show, with support from Lost Society and Mordrake at The Fleece in Bristol.

Exodus have just completed their UK tour which included 17 stops across the country, playing in city's such as Birmingham, Glasgow, Liverpool, London, Bristol and many others.

My initial thought when I first heard of this massive UK tour was it just too many dates??

Before the doors opened at The Fleece, I ventured into the adjoining pub, to take shelter from the bitter cold Bristol wind and also to see how many other concert goers had arrived early for the show.


Whilst it was only a small pub, the pub had a steady stream of rockers and moshers wearing various types of Exodus shirts from previous tours and the odd Lost Society and Mordrake shirts passing through its door.

With 5 minutes to go till the doors opened, the queue for tonight's show had already gone round the side of the venue and the few rockers and moshers which was in the nearby pub had increased quickly and proved that the 17 date UK Tour for Exodus was in high demand.


As the doors opened, concert goers quickly went to either the bar or to the bands merchandise stands to check out the goodies on show.

Shortly after a quick breather and a moment to socialise with others, the first supporting band of the night was up..... Mordrake!

Mordrake are a local Bristol band consisting of 4 members; Lead Vocals and Guitar - James "Drakkar" Mardon / Guitar and Backing Vocals - Chris "Mor" Kerfoot / Bass and Backing Vocals- Gordon "Gordric" Amos / Drums and Backing Vocals - Jake "Sparrow" Squire.

Their genre of metal is Darkened Melodious Metal, which combines Black, Groove, Melodic Death and Doom Metal into a very interesting package on paper and really does live up to it live.

During their set, they played songs from their mini album "Unhallowed Chambers", which was released in 2014.


I really got into their setlist, each song delivered the goods, while being unique to them. Each song made me tap my foot while taking photos and when I was able to chill I was able to headbang.

All the members of the band showed a lot of energy and put every ounce of energy they got from the crowd into each song they play during their set, their sound was tight and the band played tight.


I would highly recommend anyone who has the chance to see this band, they must. If I personally have the opportunity to see the guys in Mordrake again, it would be a honour, I had never heard of them until tonight and went in with a open mind. I really enjoyed the sound, the energy, the kindness that they showed to people and myself at their merchandise stand after their set.

After a quick set change, Lost Society was up next.

Lost Society, formed in 2010 are a Thrash Metal band which class themselves as "Braindead Thrash Metal" hailing from Jyväskylä, Finland.
The band is made up of 4 members; Samy Elbanna - Guitar & Vocals // Arttu Lesonen - Guitar // Mirko Lehtinen - Bass // Ossi Paananen - Drums.
As with Mordrake I had never heard of Lost Society, so was able to go into their set with a open mind.

Wow was I blown away, don't let their young, fresh faces fool you.... These guys can play thrash while melting your face and brain with their guitar and bass sounds, then leave you with a broken neck from the assault from the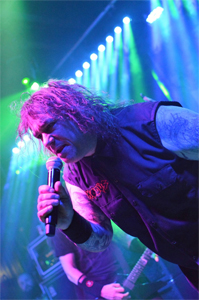 drums.

Out of their 8 song set they played some of their well known tracks such as Kill (Those Who Oppose Me), Overdosed Brain, Riot, Braindead, I Am The Antidote. Personally favourites from the setlist was Hollow Eyes, Terror Hungry and Only (My) Death Is Certain.

All the members brought the goods to their set and had the crowd in their hands for the song Terror Hungry, which got one of many moshpits of the night going.

Then they was able to tone it right down and play a dark very slow starting but true thrash song, Only (My) Death Is Certain. Which got me headbanging with the verse riff, then your left wondering what could be coming next, that was a highlight of their set. To finish off my personal favourites is the track Hollow Eyes, which got me hooked within the 1st 20 seconds, the opening riff was a absolute beast to hear live for the first time and while listen to the song at home is great, hearing it at home does not do it justice, with that
another moshpit of the night formed.

Each song Lost Society played, more and more the intensity of the crowd grew. After each song there was loud cheers and shouting, Lost Society had awoken the Toxic Pit ready for the Thrash Legends Exodus.

Yet again, I had never heard of these guys and after their set, I can fully say that these guys are destined for big things, next time they are in the UK, I will be seeing them!


After a full stage change, the Bay Area Thrash Legends Exodus was up next!

With the announcement of the massive 17 date UK Headlining Tour I was wondering if it might have been too many dates...... Just before Exodus hit the stage, The Fleece was packed and I was proved wrong!br>
Exodus, formed back in 1979, with a career spanning a massive 37 years of thrash metal and rightfully taken their place as true metal legends.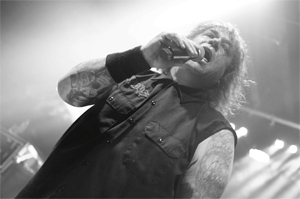 Their current touring line up is - Steve "Zetro" Souza - Vocals // Kragen Lum - Guitars // Lee Altus - Guitars // Jack Gibson - Bass // Tom Hunting - Drums.
Gary Holt who would be normally handling Guitar duties is currently on the road with Slayer in the US touring with Testament and Carcass.

Exodus hit the stage and opened with Black 13 from their recent successful album Blood In, Blood Out.


Within seconds of the whole band being on stage, 2 moshpits erupted then formed into 1 big one, this was the case for the rest of the set!

Soon after Black 13, they went straight into the title track from their recent album Blood In, Blood Out.

With the crowd chanting Exodus, Steve Zetro Souza took to the mic and welcomed everyone to the show and asked if there was any "old school" fans in attendance, to which a lot of the crowd responded with a loud roar, in return Steve said "its time to unleash some good old friendly violence, it's time to go back to the very first album Bonded By Blood and play a track you might all know "And Then There Were None"", young and old Exodus fans joined into yet another moshpit!

Exodus played many songs from their back catalog of albums, Blood In Blood Out - Pleasures of the Flesh - Bonded By Blood - Fabulous Disaster - Tempo of the Damned and The Atrocity Exhibition - Exhibit A.


The band played a 16 song set which included - Salt The Wound, Body Harvest, Piranha, War Is My Shepherd, Bonded By Blood and many others.
As this was my 3rd time seeing Exodus I had my own personally favourites that I wanted to hear live again and they did not disappoint with - Blacklist, The Toxic Waltz and Strike Of The Beast.
Even with Gary Holt on tour with Slayer, Kragen Lum who filled the mighty boots of Mr Holt was note for note and at times when you closed your eyes you really thought Gary was there. Kragen is a amazing guitar player, he nailed every single solo while headbanging with his long curly hair!!

One song which took me by surprise, which appeared on the set was a song called "Impaler" that was originally written when Kirk Hammett of Metallica was in the band and was meant for the first album Bonded By Blood but finally made it on to the Tempo of the Damn which Steve referenced to Kragen's guitar as it was nick named the Impaler!
Steve's voice was on top form from the get go, minus a few mic/sound issues, from start
to finish he nailed every song and got the crowd in the palm of his hand. Jack laid the foundations for the heavy bass notes for every song, while Lee and Kragen gave the Toxic Pit the dulling guitars that all Exodus fans have grow up with. Tom started and finished all songs the way his fans know and that was with the big, heavy, snare and bass kicking beats of his Yamaha drum kit!

Exodus encore ending with Bonded By Blood, The Toxic Waltz and Strike Of The Beast.

At the end of the show any new Exodus fans in attendance where left knowing what was meant by the Toxic Pit, Exodus's name for their legendary mosh pits.

As the band put down their instruments and joined Steve on stage for the final goodbye of the night, he took the time to thank everyone for attending and supporting the bands that where on early on, he said one last goodbye and told the crowd that Exodus would be back very soon.

As the show came to a end, I took a moment to reflect on the night and overall I really couldn't fault it.

Everything from the excitement of Exodus playing in Bristol for the first time since 1989.

To the support bands, Mordrake and Lost Society, that I had no previous knowledge of before the show, they both really blew me away.

As a night as a whole the bands where all perfectly set up for each other.

It was a great tour package for the Bristol fans at The Fleece.

It was a top night for Metal a even better one for Thrash.

I'm now a fan of 2 bands and hold a greater respect for the guys in Exodus.

Mordrake 4/5
Lost Society 4.5/5
Exodus 5/5

Review By Robert Knight