Sepultura
Evile, Baron Greenback
Bristol, Marble Factory
19th November 2015


Tonight Sepultura brought their 20th Anniversary Tour to the Marble Factory in Bristol and they brought Baron Greenback and Evile to open the show up and warm the crowd up tonight.

Doors for the show opened at 7pm and fifteen minutes later opening band Baron Greenback took to the stage playing to an handful of people and within minutes of them being on stage I realised that people had made a very good and wise decision to stay in pubs or at home until Evile were due on stage.


Now Baron Greenback are a four piece progressive rock band from the South West who formed back in 2009 and named after the froggy bad guy from Danger Mouse however musically the are pretty shocking, the band are progressive to the point of boredom and sounding more like a group of friends who like metal music and one day had a meeting and were like right lets form a band don't worry about writing songs we will just jam for 30minutes and that is exactly what they did tonight everything was very samey there was no breaks in-between songs and their 30 minute set sounded more like 1 massive
jamming session which failed to energise the slowly filling up venue at all.

Up next were Evile who happen to be one of the most talked about UK thrash metal bands at the moment and they came out tonight and delivered the goods throughout their 30minute set in fact they were so good that myself and many others in attendance wished they had a longer set as they really did unleash the metal tonight and warmed everyone up nicely for the headliners Sepultura.


The members of Evile are talented musicians and whilst on stage you could tell that they truly love playing live as the whole band were smiling from ear to ear throughout their set which saw them unleash 8 fast paced hard hitting songs which consisted of 'Underworld', 'Words Of The Dead', 'Armoured Assault', 'Cult', 'Skull', 'Head Of The demon', 'In Dreams Of Terror', 'Thrasher'.

Evile had the crowd in the palm of their hand from the moment they took to the stage and the only downside to their set tonight was the fact that they only had 30minutes which is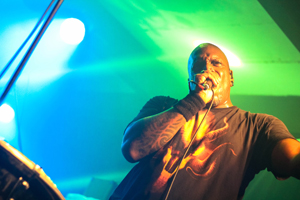 tough for any band letalone one who have been together for 11 years and have 4 albums and various ep's behind them.

At 9pm the lights dimmed and the tribal Brazilian metallers Sepultura took to the stage with the band consisting of Paulo Xisto Pinto, Jr (bass, backing vocals), Andreas Kisser (guitar, backing vocals), Derrick Green (lead vocals, percussion) and Eloy Casagrande (drums) and as soon as they took to the stage they were met with loud screams from the fans who pretty much filled up the whole venue at this point.


Now over the years many people have classed Sepultura as a Sepultura covers band due to the various line-up changes over the years but mainly because of the departure of the Cavalera brothers and Derrick Green joining the fold on lead vocals back in 1998 but it is safe to say that Derrick Green has brought something very special toSepultura and the fact that they have gone on the release 7 studio albums since he joined the band on lead vocals and are now celebrating 30 years as a band with 17 years of the 30 being from the Derrick Green era.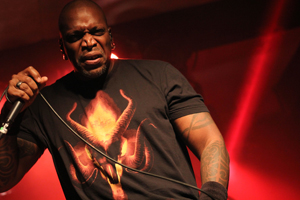 I managed to catch a couple of songs from Sepultura at Bloodstock festival back in August and thought they were good but it doesn't compare to how good they were tonight as it seems that playing an intimate sized sold out venue in the dark on a small stage is where Sepultura are at their best as tonight Derrick Green had control of the fans from the moment the band took to the stage right up until the end of their set and the sound was insane in fact it was so powerful and loud that myself and a few people I spoke t after the gig left a constant ringing in their eyes from the outstanding drum beats which were clearly turned up to sound level 11.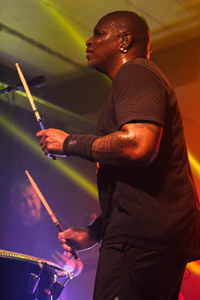 The set that Sepultura played was a greatest hits set but mainly featured songs from their earlier years with the likes of 'Troops Of Doom', 'Kairos', 'Propaganda', 'Breed Apart', 'Inner Self', 'Dead Embryonic Cells' ,'Cut-Throat', 'Sepultura Under My Skin', 'Ratamahatta' and set closer 'Roots Bloody Roots' going down a storm with everyone in attendance.

Overall tonight was a great show however Baron Greenback should have stayed at home, Evile should have been given an hour set and Sepultura came out and did exactly what their fans wanted and also proved the haters that Sepultura are as relevant now as they were when they first hit the metal scene 30 years ago and if I was ever going to take up drumming on the back of a gig then tonight is the one as the drumming from Eloy Casagrande and Derrick Green was fantastic.

Baron Greenback 1/5
Evile 4/5
Sepultura 4.5/5

Review By Trigger