Epica
Eluveitie, Scar Symmetry
Bristol, Academy
11th November 2015


I headed down to the Academy in Bristol to catch Epica on the biggest show of their headline tour across the UK and tonight they brought Eluveitie and Scar Symmetry with them and Scar Symmetry were up first and took to the stage when there were only a handful of people in the venue but that didn't stop them in their tracks as being the heaviest band of the night they unleashed their progressive metal sounds for their whole 30minute set where they managed to fit in 7 hard hitting songs.


Scar Symmetry opened their set with 'The Iconoclast' a song which oozes in European speed metal sounds with the extremely fast instrumental work yet it is the aggressive vocals from Roberth Karlsson which brings the metal to the song whilst clean vocalist Lars Palmqvist perfect sing-a-long vocals get stuck in your head within seconds and that is what's so appealing about Scar Symmetry the fact that one minute they can be laying down some hard hitting riffs and the next really fast melodic riffs whilst the clean and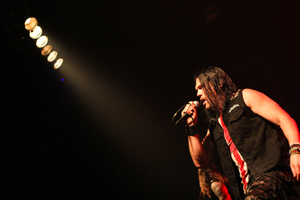 aggressive vocals from Lars Palmqvist and Roberth Karlsson work so well and timed to perfection.

Through their set Scar Symmetry played 'The Anomaly', 'Chaosweaver' ,'Mind Machine', 'Morphogenesis', 'Neuromancers' and by the time they got to the set closer 'The Illusionist' the venue was starting to look full and so many people were moving along to the music of Scar Symmetry.


Up next were the 8 piece Swiss folk-metal band Eluveitie and from the moment the band took to the stage you could tell that a lot of people were here tonight for them and it was easy to see why as they are such a fun energetic band with such a wide selection of instruments and the majority of their lyrics are in the extinct language Gaulish.

Equipped with Pipes, Violin, Hurdy-Gurdy and the regular instruments of Bass, Guitar and Drums Eluveitie gave it their all tonight and it was
mesmerizing seeing the 8 members grace the stage of the Academy and give it their all, and just like Scar Symmetry, Eluveitie have dual vocalists with Chrigel Glanzmann covering the more aggressive vocals and Anna Murphy covering the more clean cut vocals.

The crowd went crazy to Eluveitie from the moment they took to the stage as they played for a massive one hour and fifteen minutes and managed to play 14 songs including coming back on for a short one song encore after huge chants from the crowd when they left the stage.


There set was full of huge songs with the likes of 'King' ,'Nil', 'Luxtos', 'From Darkness', 'Kingdom Come Undone', 'Neverland', 'Havoc', 'Alesia' being amongst the highlights and also not to forget 'Scorched Earth' where Anna Murphy preformed beautiful lead vocals being backed up by Chrigel Glanzmann with his flute whilst the rest of the band take a short breather.

Eluveitie proved themselves tonight and judging by the crowd's reaction the next time
they head back to the academy in Bristol I would imagine that they will be headlining the venue rather than subbing however for me for the first 45minutes I really enjoyed their set but by the end everything seemed to samey and over ran for my liking.

Up next were the band that everyone had been waiting for the headliners Dutch symphonic metal band Epica who took to the stage to an amazing lighting show and wasted no time in entertaining a nearly sold out venue of eager fans and it
seemed that Epica were having as much fun on stage as their fans were in the pit as the band stormed back and forth across the whole stage with Mark Jansen, Isacc Delahaye and Rob Van Der Loo playing side by side and posing and joking about at nearly opportunity and also Coen Janssen who moves from his massive Keyboard to his portable strap on keyboard to storm the stage at every given opportunity.

Vocally Simone Simons was at the top of her game singing her little heart out with her
massive vocal range which is executed to perfection throughout the set whilst Mark Jansen beefs things up every now and again with his growly vocals with hundreds of fans in front of them equally singing their hearts out and bopping their heads along in energetic fashion.

Through their set Epica play various songs from their back catalogue and manage to cram in 'Originem', 'The Second Stone', 'The Essence Of Silence, 'Sensorium', 'Chemical Insomnia', 'Unleashed', 'Cry For The Moon', The Obsessive Devotion' ,Design Your Universe' before coming back on
stage for a three song encore which consisted of 'Sancta Terra' , 'Unchain Utopia', and epic set closer 'Consign To Oblivion'.

Overall Scar Symmetry warmed things up nicely, Eluveitie had an amazing party on stage and Epica came and delivered and off the back of tonight's I feel that Epica should be up there with Nightwish and Within Temptation headlining Arenas and playing near the top of the bill at festivals as they are such a talented band whose music should be picked up for major movie scores.


Scar Symmetry 4.5/5
Eluveitie 4/5
Epica 5/5

Review By Trigger