Deathcrusher Tour
Bristol, Motion
Carcass, Obituary, Napalm Death, Voivod, Herod
27th October 2015


I headed to Motion in Bristol tonight for The Deathcrusher Tour and what a mission it was to find the venue, a massive warehouse which has been turned into a couple of gig venues named Motion and The Marble Factory, from the outside the venue looked dire with the box office being a shed situated outside the venue but once inside I was impressed with the size of the venue and the general layout however a bit of work needs to be done within the venue as once a band finishes and the stage needs to be changed over for the next the toilets are made out of order for a good 10minutes whilst this happens due to the awkward location of them.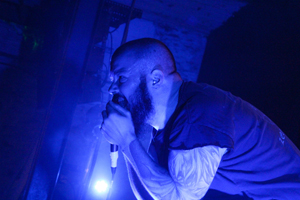 Now The Deathcrusher Tour is the best value death metal tour to hit the UK in a long time as for £25 you got to experience live music from 6.30pm until 11pm from 5 very different bands with the likes of Herod, Voivod, Napalm Death, Obituary and Carcass making up the extremely heavy line up on the tour.

First band up were Swiss metellers Herod who have come to the UK for the first time and had a short 20minute slot where they manage to fit 3 songs in as the band have a hard progressive sound where their songs go on for around 7minutes each, frontman David Glassey looked the part on stage and looked an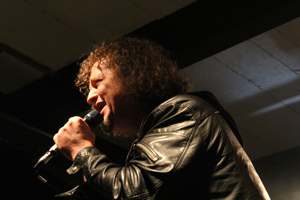 absolute menace with his serious poses in between the other band members jamming and him waiting to unleash his aggressive vocals, overall their set was enjoyable but slightly too short to form a solid opinion on the band.

Next up were retro French-Canadian thrash metal band Voivod and tonight they were on top form and really got the crowd moving to their fast paced energetic music. The hair was flowing on stage with Michel Langevin, Denis Belanger, Daniel Mongrain and Dominique Laroche giving it their all and loving every minute of
being on stage and playing to a sold out venue, and within moments they got the mosh pit flowing as they played the likes of 'Ripping Headaches', 'Tribal Convictions', 'Kluskap O'Kom', 'Order Of The Blackguards', 'Forever Mountain' and regular set closer 'Voivod'.

Next up were Napalm Death the band who were announced as special guests for the Deathcrusher Tour days after the played a storming mainstage set at Bloodstock Open Air back in August, and if was safe to say that many people at the show tonight must of bought a ticket on the back of them
being announced as many Napalm Death t-shirts were in the crowd and the crowd went crazy for them from the second they stepped on stage for their 16 track 40minute set of pure Grindcore mayhem.

As soon as frontman Barney Greenway took to the stage he was like a man on a mission who executed so much energy running all over the stage buy mainly back and forth from the drum kit to the front of the stage like a possessed man doing the bleep test being chased by a pack of wasps, it was epic to watch especially as he screamed his lungs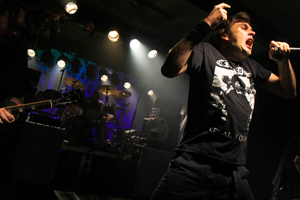 out whilst the rest of the band laid down some heavy instrumental sounds.

The set Napalm Death played was awesome with the likes of 'Silence Is Deafening', 'Smash A Single Digit', 'Scum', 'The Kill', 'How The Years Condemn', 'Cesspit', and also an impressive cover of Dead Kennedys 'Nazi Punks Fuck Off' thrown in for good measures.

In between songs Barney Greenway spoke a lot of sense in his strong Birmingham
accent as he told the crowd that anything you want to do in life or any changes you make do it for yourself not because of religion or because someone has told you to do it, he also said that in life we are all equal despite power, religion, money etc and moments like this make me have massive respect for the man and his band.

Up next were Florida's Obituary a band who formed back in 1984 and judging by the cheers for the band seconds before they took to the stage I could just sense we were in for a treat and that we were as the band took to the stage minus
frontman John Tardy as the band went all out with a massive rifftastic instrumental introduction with John Tardy making his big entrance about 5minutes later.

From start to finish Obituary sounded huge and laid down some of the best instrumental work of the night withtheir progressive sounds and heavy as fuck duel guitars which sounded massive throughout and were perfectly backed up by the growly vocals from John Tardy.


Their set featured the likes of 'Redneck stomp', 'Don't Care', 'Violence', 'Find The Arise', 'Slowly We Rot' and 'Visions In My Head' and the heaviness of the band caused many people to be daring and go crowd surfing which kept the security on their toes throughout.

The main act of the night Carcass took the stage at 10pm and they played a storming set which over ran by 15minutes but Carcass couldn't care and neither could the crowd as everyone was loving every minute of their set and just like Obituary they started off with an instrumental song Jeff Walker
took to the stage to lay down his heavy growls.

Considering some of their songs go on for a long time Carcass managed to fit 11 tracks into their set with the likes of 'Unfit For Human Consumption', 'Buried Dreams', 'Incarnated Solvent Abuse', 'Cadaver Pouch Conveyor System', 'This Mortal Coil', 'Captive Bolt Pistol', 'Mount Of Execution', 'Corporal Jigsore Quandry' and 'Heartwork' making up their set.


Frontman Jeff Walker was as humorous as ever talking to the crowd in-between songs and building up the banter and he got a huge reaction when he spoke about always being asked what advice he would have for young bands during interviews and his reply was to find a really talented musician like guitarist Bill Steer to carry all the weight and from this moment Bill Steer took centre stage a lot and eyes were on him more throughout the set.


Overall The Deathcrusher Tour was amazing, I only headed along to see Napalm Death live again after being blown away by them at Bloodstock Open Air and I have walked away from the tour wanting to check out the back catalogue of Obituary, Carcass, Voivod and also see what the future holds for newcomers Herod.

Herod 4/5
Voivod 4/5
Napalm Death 5/5
Obituary 5/5
Carcass 5/5

Review By Trigger