Papa Roach
Coldrain
Bristol, Academy
10th March 2014

Papa Roach Coldrain

Papa Roach played the Academy in Bristol tonight and the venue was packed to the rafters after selling out many months in advanced and leaving the near two thousand hardcore fans sweating due to the pure excitement and energy experienced from the moment the doors opened until Papa Roach left the stage like summer had come a few months early.

When I got to the venue the main support band Coldrain were just taking to the stage, a
band who formed way back in 2007 who I first came across in early 2004 when they released their 'Through Clarity' EP in the UK which myself and many other members of Alternative Vision rated highly which left me with high expectations for tonight's set and those expectations were smashed to pieces as Coldrain put on an fantastic show and won the majority of the hardcore Papa Roach fans over within seconds.

Now Coldrain have come all the way from Nagoya Japan to support Papa Roach and they
had a 30minute set tonight and during that set Masato David Hayakawa (vocals), Yokochi (guitar), Kazuya Sugiyama (guitar, vocals), Ryo Shimizu (bass, vocals) and Katsuma Minatani (drums) put on one hell of an energetic performance with front man Masato David Hayakawa taking control of the whole stage bouncing across like a true front man in control, whilst Yokochi, Kazuya Sugiyama and Ryo Shimizu were equally energetic spinning and jumping around playing their guitars and bass to perfection.


The likes of 'The Revelation', 'Evolve', 'Die Tomorrow', 'Time Bomb', 'The War Is On', 'Voiceless' went down extremely well with the crowd but it was set closer 'No Escape' which happens to be the song which got me into Coldrain got the crowd moving in a much more hectic way as the song has that perfect big catchy in your face pop-punk cross over sound.

After Coldrain left the stage there was a short wait whilst the stage got changed over for Papa Roach and before we knew it the lights had dimmed with the full capacity of the Academy chanting "Papa Roach" over and over again until the nu-metal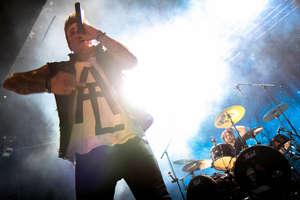 heroes took to the stage and cracked straight into 'Face Everything And Rise' which happens to be the opening track from their latest album 'F.E.A.R'.

The atmosphere in the Academy Is incredible from the start of the set right up until the end from both the band and the fans with front man Jacoby Shaddix charging and jumping around the stage like he's cracked open some Mexican jumping beans, whilst the fans unleash mayhem in the pit and sing word for word to their favourite songs.


Now Papa Roach have been a band for over 20 years and tonight was their first ever appearance at Bristol, Academy and they pulled all the stops tonight playing a few songs from their most recent album 'F.E.A.R' but also playing what seemed to be a greatest hits set with the likes of 'Getting away With Murder', 'Between Angels And Insects', 'Blood Brothers', 'Hollywood Whore' 'Kick In The Teeth', 'Lifeline' all going down a storm with the fans, but for me the highlights of the night was when they played 'Snakes' a rap-rock song from their 'Infest' album which happened to be the first time they have played live since 2001 and it was as raw and powerful sounding
as the first time I heard it on the 'Infest' album all those years ago. The other highlight of the night for myself was hearing Papa Roach play 'Tightrope' live, I have seen Papa Roach live so many times but never managed to catch them play 'Tightrope' and it was a pleasure tonight and it wasn't just myself who was impressed as the whole crowd were singing along beautifully to Jacoby Shaddix.
Towards the end of the show Jacoby Shaddix got the crowd to sing happy birthday to Jerry Horton as it was his birthday before finishing off with one of the strongest triple threat encores I have ever heard as they blasted out 'Last Resort', 'Scars' and 'To Be Loved' and minutes later an incredibly pleased and sweaty crowd left the Academy probably struggling to speak after singing their hearts out for the past hour and a half.

Coldrain 4/5
Papa Roach 5/5

Review By Trigger