The Kerrang Tour 2015
Don Broco, We Are The In Crowd, Young Guns, Bury Tomorrow, Beartooth
Bristol, Academy
10th February 2014

The Kerrang tour is a tour which runs every February and see's a diverse line up of alternative bands tour across many different cities and towns across the country and over the years the likes of New Found Glory, All Time Low, Good Charlotte, Biffy Clyro, Black Veil Brides, Bring Me The Horizon and Bullet For My Valentine have headlined the tour, yet last year Limp Bizkit were signed up to headline the tour and it happened to be a record sell out for the Kerrang tour with many shows selling out within hours of going on sale. This year marks the tenth anniversary of the Kerrang tour and we all knew it was
going to be hard to follow up on last year's amazing line up, yet this year features Don Broco headlining with We Are The In Crowd, Bury Tomorrow and Beartooth completing the bill and as soon as it was announced it was met with mixed reactions with many people slating the bill saying Don Broco were not big enough to headline and I have to agree that on paper the tour looked extremely weak and judging by the fact that no show on the tour has sold out a lot of people didn't see the line up warranting them spending their hard earned cash which left Kerrang teasing that a special guest band were being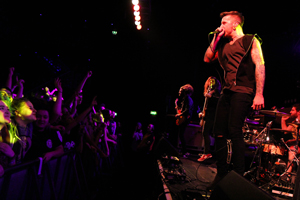 added to the tour and it was a band who have previously played the O2 arena in London and also Wembley arena, this led to many people expecting the likes of Green Day, Fall Out and many other ridiculously massive bands to be the special guest but instead it was revealed to be the Young Guns which was also met with a mixed reaction but saw a steady rise in ticket sales.

Tonight I headed down to the Academy in Bristol which happened to be the fourth show of this year's Kerrang tour and I got into the venue just as the opener Beartooth were due to take to the stage, now anyone
who has never come across Beartooth before they are an hardcore punk band from Columbus, Ohio who formed back in 2012 and they are fronted by ex Attack Attack! Vocalist Caleb Shomo and released their debut album 'Disgusting' back in June 2014.

Beartooth had a short 30 minute set tonight to show Bristol what they were all about and they wasted no time opening up with the heavy 'Beaten In Lips' and straight away I noticed there were a lot of Beartooth fans in attendance tonight screaming back every word to Caleb Shomo, the set consisted on 8 songs and featured the likes of 'Relapsing', ' In Between', 'The Lines', 'I Have a Problem' and not to forgot the outstanding chant-a-long 'Body Bag'
which even had people who had never heard the song before shouting "one life, one decision" towards the end of the song. The only downside to Beartooth was the fact that they took long breaks to get their breath back and rehydrate between each and every song.

Up next was Southampton five piece Bury Tomorrow and they ran into a few technical difficulties to start with but they were soon sorted out and from that moment the band owned the stage especially front man Daniel Winter-Bates who spent the majority of the set charging the stage and spitting water at every opportunity he had.


They had the crowd on their side from really early on in their set and when Daniel Winter-Bates told the crowd to form a massive circle pit they listened to his every word with many people in the crowd moving back as a massive circle formed which within seconds was full of people charging at each other. Bury Tomorrow played a mixture of songs from both of their albums with the likes of 'Man On Fire', 'Of Glory', 'Watcher' and 'Lionheart' being highlights of the set and just before they left the stage Daniel Winter-Bates shouted out "One of my pet hates is when bands charge fans to meet them via meet and greets, it's bullshit you should not have to pay to
meet the bands you are supporting and right after this set I will be at the merch stand and want to high five every single one of you.

Next up was the moment that many people had been looking forward to, the return of the Young Guns and they were fantastic they stormed the stage to 'I Want Out' and the sheer energy from the band was fantastic and the excitement and cheers from the crowd was massive, they then went on to play 'Speaking In Tongues' and 'Bones' and then told the crowd that it has been a pleasure to play a short but sweet set for them and that they will be back in Bristol in March on their own headline tour.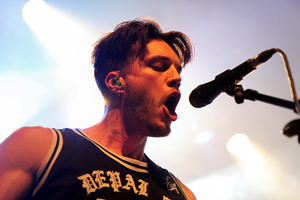 Despite playing one of the shortest sets in history Young Guns were amazing and they left myself and many others wishing that they could have stayed around for a bit longer to play a few more songs but then that's good promotion for you as I am sure many people who caught Young Guns for the first time on the Kerrang tour will snap up tickets for their own headline tour, myself included.

We Are the In Crowd were up next and for myself it was good to see them playing so high up the Kerrang tour as they are a band that at Alternative Vision we have supported pretty much from the start and tonight was easily the best show I have ever seen
them put on and it seemed like they were loving every minute tonight especially Rob Chianelli who was constantly smiling whilst beating his drums and Tay Jardine who energetically worked her way around every inch of the stage whilst belting out her melodic vocals.

The set that We Are The In Crowd played was like a mini greatest hits set as they played songs from both their debut album 'Best Intentions' and their more recent album 'Weird Kids' with the likes of 'The Best Thing (That Never Happened), 'Manners', 'Reflections', 'Come Back Home', 'The Worst Thing About Me' gaining a massive reaction from the crowd but it was
set closer 'Rumor Mill' which was the highlight for many fans as Tay Jardine got right up close with the crowd.

The headliners tonight were Don Broco a band who I have seen on the live circuit a number of times in the past and thought were quite average however tonight they were fantastic, they took to the stage with streams of smoke blasting into the air and for the next 50minutes they treated us to nonstop energetic pop-punk and when I say energetic I mean it as none of the band members could stay still for more than 5 seconds as they made the most of the massive space they had on stage and they also brought an impressive lighting show with them.


Don Broco managed to squeeze 14 songs into their headline set and they had the crowd on their side from start to finish as everyone was singing and moving along to the likes of 'Money Power Fame', 'Actors', 'Fire'.'Let's Go Back To School' but for myself the hightlights were when they went old school and played the ever so heavy 'Thug Workout' which was followed up by the super catchy 'Hold On' and the quality sounding new song 'Superlove'.

There was no encore tonight instead Don Broco just ploughed through their set one song at a time with a slight bit of interaction between their fans for good measures and as their set came to an end Rob Damiani announced that the band will be back in the summer with an new album and tour.


Even though this year's Kerrang tour looked weaker than previous years , everyone that attended tonight seemed like they had a lot of fun and you really can't complain getting to see 5 bands for £20, there were a few technical difficulties tonight but then that is to be expected when a tour has so many bands playing and only a 10-15 minute change over time between bands, however there was not a dull moment in sight and each and every band put on a great show and many band members decided to join the audience to watch the remaining bands after their set which gave the crowd ideal opportunities to meet some of their musical heroes.

Beartooth – 4/5
Bury Tomorrow 4/5
Young Guns 5/5
We Are The In Crowd 5/5
Don Broco 5/5

Review By Trigger