Caro Emerald
Kris Berry
Cardiff, Motorpoint Arena
12th October 2014

Caro Emerald Kris Berry

When Caro Emerald was back in the UK in September 2013 she announced an massive arena tour for March 2014 which sold out straight away but then soon had to be rescheduled to October 2014 due to Caro Emerald falling pregnant and needing to take some much needed time off to start her family, however it seems like that time has flown by as tonight I headed down to the Motorpoint Arena in Cardiff to check out the third night of Caro Emerald's lengthy headline UK Arena tour.

Now im not used to going to all seated concerts, I prefer to stand myself so I have the freedom to go to the bars when I want or generally stand wherever I want however after tonight's show I have to say that I am more up for seated concerts as everything was professionally organised tonight, pretty much every seat in the venue was full and everyone was ready to have a good time and be entertained.


The one and only support act of the night was a young and beautiful lady called Kris Berry and she had a good 45minute set tonight and during that time she played a number of sweet and soulful songs where her flawless vocals shined throughout, she was backed up by a solid backing band which featured Nick Croes on guitar, Andret Tijsma on Bass and Bas Bouma on drums and they did a great job of complimenting Kris Berry and her wonderful vocals.


The songs that Kris Berry played tonight were so relaxed and peaceful sounding, they always flowed for a long time but never at any point did things start to get boring as Kris Berry has such a wonderful voice which happened to draw you in from the very start, the set came to an end with 'Rocket Man' a song which was written for the tour and finished the set off nicely.

After a good 45minute break it was the time for what everyone had been waiting for as Caro Emerald and her amazingly talented 8 piece band were due to take to the stage and in no time Caro's band took to
the stage playing away and moments later Caro Emerald appeared backlit from behind a screen which soon dropped as she opened with the quite serious and moody sounding 'I Belong To You', as soon as the screen dropped Caro Emerald revealed her true beauty dressed fully in red and looking as stunning as ever.

As the set progressed Caro Emerald really got into things along with her backing band she played her way through the likes of 'Coming Back As A Man, 'Tangled Up', 'Pack Up The Louie', 'That Man', 'Paris' and so many other amazing songs from her back catalogue and
the great thing was that during each and every one of these songs Caro was smiling so much and putting so much energy into her vocals and dancing whilst her band played solidly.

In stylish fashion Caro Emerald left the stage a couple of times for a much needed outfit change which fitted the themes of the next few songs of the set and what was amazing was that when Caro left the stage her band continued to entertain and they pretty much played constantly for a good hour and a half and were at the top of their game throughout.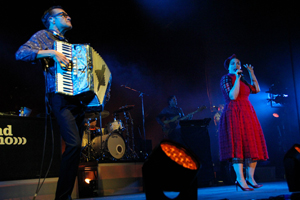 Towards the end of the set Caro played her more famous and upbeat material such as 'Liquid Lunch', 'Back It Up', 'Stuck', 'Dr Wanna Do' and 'A Night Like This' and throughout all of these songs everyone got up from their seats and sung, danced and clapped along to the catchiness of these songs, you even had people dancing down the aisle giving it their all.

The show came to a close after Caro Emerald did a little speech to the crowd telling them that she is going to finish the night with a cover of Mama Cass's 'Dream A Little Dream Of Me' because it was the first song she performed in public at the age of 11 and was made her realise that she wanted
to be a singer and the cover was beautiful and left everyone who was up dancing like their lives depended on it seconds ago back sat in their seats taking in every emotional word that Caro belted out.

Caro Emerald is easily one of the most talked about female artists at the moment and it is easy to see why as it's not every day that an artist comes around who appeals to pretty much every age range, as looking around tonight there were people in their early teens right up to oap's and everyone seemed to know the lyrics and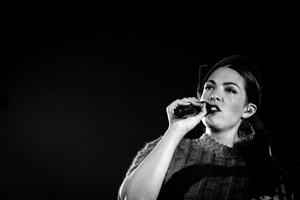 easily left the venue with a massive smile on their face so it is safe to say that Caro Emerald came and delivered the goods tonight and the only downside is that I would imagine it will be a long time until Caro Emerald is back in the UK as it's been a good 18 months since she released her second album 'The Shocking Miss Emerald', which means it must nearly be time for work to commence on album number 3.

Kris Berry 4/5
Caro Emerald 5/5

Review By Trigger