Toseland
Electric River
Bristol, Fleece
22nd September 2014

Toseland Electric River

So festival season is now officially over and the gigs are back in full flow with cities and venues all over the country hosting some great gigs pretty much nightly for the rest of the year so tonight I decided to head down to Bristol and check out Toseland at the Fleece, a band who I originally came across back in November 2013 when they supported Reef on their 20th anniversary tour and I was instantly impressed with their stage presence and range of classic meets stadium rock songs.


The main support band tonight were a punk meets rock n roll band called Electric River who hail from Ashford in Kent and from the very start of their set they had the crowd in the palm of their hands as they played their way through various classic songs such as 'In Your Name'. 'Keep The Engine Burning', 'Calling Out', 'Queen Of Hearts', 'Watersong' and many others and in-between songs front man Sponge spent a lot of time interacting with the crowd which went down a treat as he told various different stories, introduced songs and generally thanked the crowd for their support and participation and
I can honestly say that I will be keeping a close eye on where they are touring in the future as they are a great live band who showed serious potential tonight.

Toseland took to the stage at 10pm tonight and Zurab Melua (guitars), Rebea Massaad (guitars), Dave Hollingworth (bass) and William Stokes (drums) all took to the stage first and jammed constantly for a good couple of minutes fully pleasing the awaiting crowd with their instrumental skills and then James Toseland stormed the stage and kicked things off in a proper loud and energetic way strutting his stuff on stage whilst laying down his massive vocals.


Through their set tonight Toseland played pretty much the whole of their debut album 'Renegade' with the likes of 'Life Is Beautiful', 'Gotta be A Better Way', 'Comin To get Ya', 'Just No Way' and the epic 'Singer In A Band' really getting the crowd moving tonight, however it was the surprise inclusion of two new songs 'Broken Bones' and 'The Closer I Get The Less I See' which really pushed the boundaries tonight as both songs came as a surprise yet both shown great potential of what the future of Toseland holds with 'Broken Bones' just taking the edge of 'The Closer I Get The Less I See' as the best of the new songs.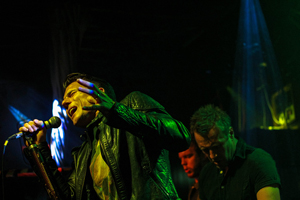 In-between songs James Toseland interacted with the crowd asking them who has seen them before, telling them that they have some merch on sale and some very special union jack t-shirts and then he broke the exciting news that he has been working with Toby Jepson again on material for their second album which was met with such a positive reaction from the fans in attendance.

As the show progressed the mood and pace of songs changed as James Toseland revealed his keyboard and beautifully played his way through 'Kingdoms' and various other epic keyboard numbers which really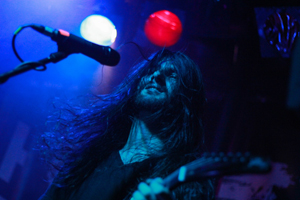 showed off the more serious and soft rock side of Toseland considering that the majority of the set was full of high octane energy with the band solidly jamming for over an hour.

Before the show came to an end James Toseland said to the crowd "You know the score we are going to disappear for a few minutes as you pretend the show is over and then we will be back to play a couple more songs" and that happened yet unlike most bands Toseland found time to play a 3 song encore which featured a cover of 'Pump It Up', 'Crash Landing' and then the epic album title track and single 'Renegade' which features James Toseland playing the
keyboard for the last time of the night and the rest of the band generally going all out as Toseland finished off an superb night with one of their best songs played to perfection.

When I saw Toseland support Reef back last year I thought they were good and had potential and after seeing them tonight they have proved just that as they were much more tighter as a band tonight, much more energetic and each and every band member looked like they were having the time of their lives throughout the 1hour and 30minute duration of their set and for a measly £8 everyone in the crowd must have walked away thinking all their Christmases and birthdays had all come at once. I personally can't wait to see Toseland on the live circuit again but more importantly can't wait for that all important album number 2 which is currently in the works.

Electric River 4/5
Toseland 5/5

Review By Trigger