Katherine Jenkins
Celeste
Westonbirt, Arboretum
20th July 2014

Katherine Jenkins Celeste

The once ex teacher now classical music superstar Katherine Jenkins headed back to Westonbirt Arboretum tonight to play her first show at the venue since her sold out show back in 2008 and luckily for everyone tonight the weather was on our side with thunder storms, flash floods and Westonbirt being announced the wettest part of the country only 24 hours prior to the show.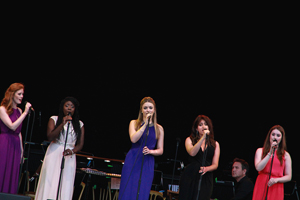 We arrived at Westonbirt Arboretum just after 7pm and at this point the whole field was packed out with people sat down with their camping chairs and tables and a massive selection of picnics on offer with some people having a basic set up of a few savoury items and cold non alcoholic drinks whilst others went to the other extreme with flowers and expensive bottles of wine and champagne gracing their tables as tonight the Forestry Commission lifted their no glass bottle policy so everyone could make the most of the final Forestry Commission show of 2014.


Support act Celeste opened up proceedings tonight, the all-female beautiful looking and beautiful sounding five piece had been given 20minutes stage time and during that time they played through the likes of Louis Armstrong's 'What A Wonderful World', Charlie Chaplin's 'Smile' and it was clear from the start that these girls had talent as each and every one of the members had a powerful sounding classical voice yet it was slightly sad that the majority of the crowd were still busy enjoying general chit-chat with one another and tucking into their picnics to fully appreciate the music of Celeste.


As soon as Celeste left the stage, the National Symphony Orchestra lead by Anthony Inglis entertained the audience for a good ten minutes as they played a couple of solo shows before Katherine Jenkins made her grand appearance dressed in a beautiful long baby pink ball gown as she song her heart out to Agustin Lara's 'Granada' which started to bring the very un-motivated crowd to life as some people left their chairs and picnics and gathered at the front to get more involved.


Through the next 45 minutes Katherine Jenkins, The National Symphony Orchestra entertained the crowd and even Celeste a couple of returns to stage whilst Katherine Jenkins headed out the back for one of the nights seven outfit changes, this did provide a slight irritation to the night but at the same time Katherine Jenkins seemed to make up for it by returning to the stage looking that little bit more stunning than she did before.


Towards the middle of the first half of the show Katherine Jenkins dedicated a song to her Fiancee Andrew Levitas who was in the crowd tonight this was met by huge cheers from the crowd as Katherine Jenkins played 'A Nightingale Sang In Berkeley Square' followed by the classic song 'We'll Meet Again' and also her version of the Walsh National anthem.

When the first half came to a close there was a 45minute break and during that break everyone rushed to the toilets,
stocked up on more food and drink and patently watched the sun go down until Katherine Jenkins and the National Symphony Orchestra took to the stage and when they did take to the stage Katherine Jenkins spent a good 10 minutes reading out cards and messages from people in the crowd tonight which I thought had a nice feel as Katherine Jenkins really got her fans to join in as she wished various people happy birthday, happy anniversary and general played songs that people requested.


The second set of the night was the more upbeat proms set and time seriously flew from this point as everyone was in their element getting up off their chairs to join in dancing and singing-a-long to some classic songs , during more outfit changes Anthony Inglis entertained the crowd in a comical way by teaching them to clap in a certain way and the way he used his charm and comical presence was fantastic as he had the whole crowd laughing by the end of it.


Katherine Jenkins returned to the stage in a sparkly dress with a Union Jack flag draped around her as the show came to an end with the likes of 'Jerusalem', 'Hallelujah', 'Rule Britannia' and 'Who Wants' To Live Forever' which saw the crowd get right behind her and sing-a-long whilst moments later everyone made a mad dash to their car to beat the queues leaving the venue.

Overall Katherine Jenkins proved why she has been at the top of her game for the past ten years and with a new album coming out at the end of the year it is safe to say that Katherine Jenkins still has many
more years in the music industry and I am sure tonight was not the last time we will see her performing at the beautiful grounds of Westonbirt Arboretum, however I have to say that the majority crowd tonight were very serious and more interested in their expensive bottles of champagne rather than the music that was beautifully being played from the stage in front of them and that is why I feel that Katherine Jenkins is more suited to the likes of the Royal Albert Hall rather than these outside venues which have a much more casual approach and feel, but saying that I am sure a good night was had by all as I fore sure left the Arboretum feeling truly entertained.

Katherine Jenkins 4/5
Celeste 4/5

Review By Trigger