Suede
Gruff Rhys
Westonbirt, Arboretum
21st June 2014

Suede Gruff Rhys

Every year the Forestry Commission put on a trio of gigs across a weekend in June and July and this year the likes of Little Mix, Suede, Rebecca Ferguson, Boyzone, Deacon Blue and Katherine Jenkins have all been booked up to play outdoor shows in the stunning forest setting of Westonbirt Arboretum and tonight I headed down to catch 90's Brit-pop sensations Suede who were supported by Super Furry Animals front man Gruff Rhys.


Tonight was the perfect night for an outside concert as the sun was rising high, the temperature was extremely warm however when I arrived at the Arboretum I was shocked at how empty the field was looking but in typical fashion the people that did come along to the show was a mature crowd who came to make a day of it with their camping chairs and picnics enjoying a good chit chat to their friends whilst enjoying the sun as they wait for the music to start.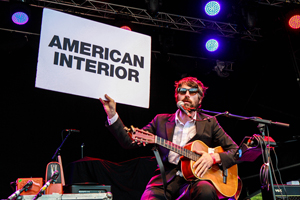 Main support act Gruff Rhys took to the stage at 7.45pm and played for 30minutes yet by the end of his set it felt like he had been on stage for hours as for the whole 30minutes he spent sat on a chair playing his guitar, singing, playing with his record player and holding a few huge signs up which encouraged participation from the crowd yet everything came across so samey and already heard after 10minutes.


When Gruff Rhys started he got the crowd on his side straight away by playing a song and then he suddenly stopped singing yet his vocals were still coming through the speakers and then we caught sight of his record player as he got a new record out to put on and he started making fun out of people who get a career out of miming.

Through the set Gruff Rhys played '100 Unread Messages', 'The Court Of King Arthur', 'Walk Into The Wilderness', 'American Interior' and a few others but by the end of the set I was glad it was over and looking around at the rest of
the crowd it looked like they were as well, however I really hope Gruff Rhys regroups with the Super Furry Animals in the near future and returns to what he shines at.

Back in 2013 Suede made a comeback and released 'Bloodsports' their sixth studio album and first in eleven years the album was met with rave reviews and saw it go straight in at number 10 in the UK album chart and since then Suede have forever been on the road touring playing sold out headline shows across the country as well as heading out to perform at most mainstream festivals.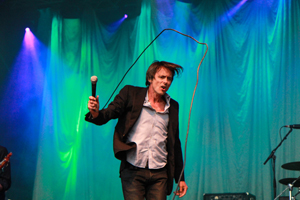 As soon as Suede took to the stage at 9pm the crowd all moved forward ready to see the brit-pop legends perform in such a beautiful setting and within minutes you forgot about how empty the field was tonight and got lost in the music of Suede and their energetic performance.

Neil Codling, Simon Gilbert, Richard Oakes and Matt Osman all took the stage first and moments later Brett Anderson walked on stage as they opened with 'Pantomime Horse' and for the majority of the song
Brett Anderson stood pretty still but as soon as the song finished and Suede went straight into 'Killing Of A Flashboy' Brett Anderson leapt across the stage like he was still in his early twenties and this is one of the things which make Suede such an entertaining band to watch on the live circuit as if Brett wasn't leaping across the stage he was spinning his microphone stand around and if he wasn't doing that he was spinning his microphone around by the wire which is something he has obviously mastered over the years as the manoeuvre has health and safety issue written all over it yet no one was hurt in the process.


A few songs into the set Brett Anderson spoke to the crowd and told them to put their cheese and pickle sandwiches down and come closer as there were still a few people at the back spread out enjoying the show from their comfort of their camping chairs and then moments later Brett Anderson took to the crowd to perform and this was the first of many occasions that he got up close and personal with his fans tonight.

Suede played through a collection of classic songs tonight with the likes of 'Trash', 'Animal Nitrate', 'We Are The Pigs', 'Filmstar', 'The Wild Ones', 'She's In Fashion', 'Beautiful Ones' and the one song encore 'Stay Together' going down very well with crowd tonight with the majority of people getting involved and singing-a-long word for word alongside Brett Anderson.

Overall Suede were on top form tonight and had as much energy and if not more than when the first started off in the 90's the only downside of the night was the lack of people at the gig as it was a shame for the band to play to roughly 1000 people when the venue holds more like 4000 but it didn't affect Suede as they rocked like usual and after tonight's performance I personally can't wait to see them on the live circuit again.

Gruff Rhys 2/5
Suede 5/5

Review By Trigger