Slam Dunk Midlands 2014
Wolverhampton Civic
26th May 2014


It's getting to that time again, that time where bands stop doing full tours, and start getting onto the festival circuit for the summer, so to mark this occasion Slam Dunk has returned in full to the Midlands, brining plenty of great bands our way! The sun is out, which is awesome, as we have 3 outdoor stages this year, and a hell of allot of merch and signing tents dotted around. The crowds are already being let in by the time I arrive at the press entrance, and it's not long after I get in, then the fun starts with the first band of the day.


Light You Up (3/5) are opening up the Atticus Stage and when I checked them out before the festival I thought they were mellow and downbeat, but I was pleasantly surprised that they're actually a pop punk band. They kick things off with a bang, bouncing around the stage, and then off into the crowd all grinning from ear to ear at the massive turn out that had come to check them out. They sound great and put on a good set, they've already warmed me up ready for what's to come.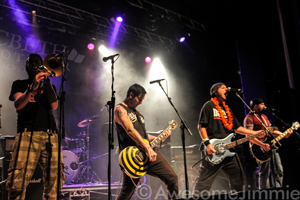 Fandangle (2.5/5) are the openers for the Macbeth Stage, they haven't been a band for about 6 years and I've never really listen to them before, yet I'm a huge Ska fan, so I was happy when they came out on stage all bouncy and catchy like good Ska should be. They look a bit tired and express to the crowd how they had a heavy one last night, but they do a great job of getting this early afternoon crowd going.


Modern Baseball (1/5) are a band I've wanted to see for a while now, they're nerd rock style is something that really appeals to me, as I'm a massive Weezer fan, but for some reason they just don't cut the mustard for me. Whether it's the fact I can't hear the vocals due to the Bass blasting out loud and distorting everything or whether it's the fact they just seem to smirk at each other on stage, whilst making little in jokes about Swing Swing instead of engaging with the audience, either way it's not good and I hope this was just a blip as they've been touring over here in the UK for a few weeks now, and instead of leaving with a bang they just fell apart.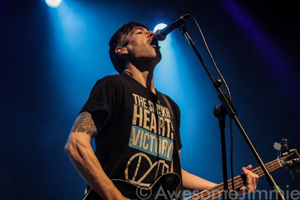 I head through the main room to get to my next band, and catch some of the Kerrang Stage openers, Blitz Kids, who due to the half deadness of the room echo around like crazy, it's a shame but I don't have time to mull on it as I'm off to the Macbeth Stage.

Jesse James (2.5/5) pick my mood up, as they come on stage and play some great Ska punk music, which starts of a bit slow due to some mic issues with the trombone, but it sorts itself out then the great tunes flowing. These are another band, who aren't a band anymore, I mean they don't
even have a Facebook page, but they do a great job of getting the older fans back to their early teens and getting the teens into a hyper state, and they even play the classic song Shoes, which puts a huge smile on my face.

Canterbury (2.5/5) lead me back to the main room and it's good to see that it has filled out some more, as these Brit rockers blast into some catchy songs. I've seen Canterbury quite a few times and it's good to see them get onto the main stage, there set dwindles a little in the middle but that's only because I'm not a huge fan of the slower stuff, but they pick it up before the end and put in a solid performance.


Decade (4/5) are ready to go on the stage back in the Wulfrun, so I get there just in time to see this bustling room go crazy, as they tear this stage a new one. They blast into some anthemic sounding songs from they're debut album Good Luck, and get this crowd going. Singer, Alex Sears can barely stay still and spends allot of the time on the front barrier getting to know his fans. By the time they play the single Coffin, the room erupts and they show how they're just going to get bigger and better.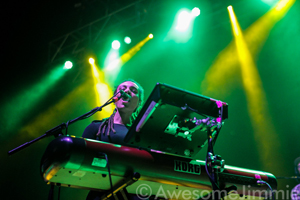 The Skints (3.5/5) are on the main stage this year, and to me it seems odd, they are awesome, but I'm sure the Macbeth Stage would have been better suited, but either way they tear down the walls and get everybody dancing along to their dub reggae sound, it's hard not to dance when there's four people on stage all smiling and putting in allot of work to get this sound across to the masses. They tell people how they have a new album coming soon before ending on the pounding Culture Vulture.


Gnarwolves (3.5/5) are a band I've always seemed to miss, but not today I get to the stage ready to check out what this classis 3 piece punk band are all about, and I can tell you that they're about tearing this room apart! They come out and blast into some fast paced skater rock songs, which get this crowd going crazy, causing me to see the first crowd surfer of the day. They play a great set, of short angry sounding songs and also pay tribute to Jason from Let Lives beard as he watches from the side of stage.


We The Kings (3/5) are as upbeat as normal, and get this full main room singing and dancing as they play there happy go lucky pop anthems. The fans love every second and give the first true sing a long of the day as they play Say You Like Me, as the fans almost sound louder than the band. They continue the fun atmosphere that has been happening in the main room, before ending on Check Yes Juliet.


Ghost Town (4/5) are a band I know nothing about, but I've been told to give them a try by my missus, and not wanting to let her down I head along, and I'm pleasantly surprised. This 4 piece are already huge in their home country of the states, so it seems strange that they're playing a room with about 50 people in it, but these people can scream as the band erupts into a mixture of pop rock punk dubstep with crisp vocals and pounding drums. They're fun they're catchy and by the time they play their single You're So Creepy they have this room in the palm of their hands. It's a shame not more people
came along, but I suppose that's what makes a band, if they can put on a show like this to just 50 people, imagine what they can do in front of 5,000!

Now for the days big dilemma, 5 bands all on at the same time, I could go heavy and see The Devil Wears Prada or Landscapes(who actually didn't make it and where replaced by Aurora) or I could go punk with Zebrahead of Neck Deep or I could go for some synth pop rock with Motion City Soundtrack. Now I'm not a huge fan of the heavier sound, and I've seen Zebrahead a few times over the past few years, Neck Deep and MCS both disappointed me the last time I saw them, but I eventually chose


Motion City Soundtrack (4/5), as it has been 11 years since I first saw them, and I didn't want the last show to mar my memory as I'm sure that was just a blip, and I was happy I saw them. They instantly looked better than the last time, coming out to Andrew WK's Party Hard, before locking in 3 solid opening songs in Better Open The Door, When Your Around and The Future Freaks Me Out, which gets me dancing and singing along as I take photos of them. They have so much energy and it seems I wasn't alone in choosing MCS as the room is busy even with this tough choice of bands. They sound great and put on an
awesome setlist of 12 great songs, including at least 1 from all their albums. It's good to see them back on form and I hope they come back and tour soon.

Marmozets (3.5/5) are my next choice, and this band have been one of my live favourites for quite a few years, I've never enjoyed listening to them at home, before they released Move, Shake Hide and Why Do You Hate me, but with a more refined sound I wondered would they still have the same craziness live? The answer is yes, yes, yes! They come out scowling at the crowd before dropping some ear blisteringly loud songs to this quite
impressive turn out, they rip the stage apart with each member wandering around into the room, before they decide to bring the drums into the middle of the crowd and play there instead. They're truly a band to behold, and why the sound may not be the best live, you'll still go away smiling.

Capdown (5/5) are yet another band who are not actually a band, they come and go every other year and play the odd date and festival but for some reason this lack of touring only makes them better, as they embarrass all these hard touring bands by smashing the crowd in the face with they're punk rock ska
classics. They get this crowd jumping and singing along, even if it is hard to see them on stage due to the rubbish lighting. By the time singer Jake brings out his saxophone and plays Cousin Cleotis as the third track people are already lagging behind as the pace is relentless! Amidst the chaos I end up forgetting what I was meant to be doing and end up wandering to shoot another band, before heading back and catching the end of this stonking set! Truly phenomenal, I hope that they will be back sooner rather than later!


We Are The In Crowd (2/5) are the band I wandered off to shoot instead of catching all of Capdowns set, but these were doing their best to get an equally powerful atmosphere but unfortunately failing. They sounded ok, and as I walked into the room to hear Settle they were having fun running and jumping around the stage and putting on a show, but as the set progressed they just seemed to be running out of steam, the sound got worse as the set progressed, almost seeming as if the band where fleeting, it would be wrong to say they were bad, but they were definitely not the same band I saw a few months ago in Birmingham.


Feed The Rhino (4/5) are just like the Marmozets for me, not a band I would listen to at home, but a band that I can't help but love live, and why? Because they go crazy. The band take to the stage in this small Civic bar which has a hundred fans in at most, and instantly set the tone for the set, with singer Lee Tobin already shirtless and running for the barrier as he dives into the crowd and pushes them into a circle, where he rocks out screaming down the mic, as he is joined by one fellow fan who moshes next to him. The rest of the band carry on
regardless, rocking about the stage, jumping and flailing around to the heavy rhythms they're producing. Each member again takes to the crowd throughout the set, whilst Tobin scales anything he can, including the massive speaker stack and the bar. This band know how to put on a live show, and I know it's not a gimmick, it's the energy and adrenaline running through them that make them this rowdy. I wouldn't want to be around them when it wears off though, as coming down that hard would make them unbearable.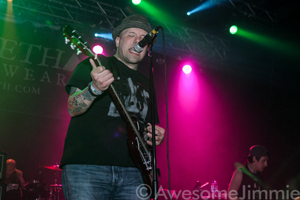 The Ataris (3/5) are a band I've always wanted to see, but haven't. I have a ticket to see them from 12 years ago, but I can't remember going to the gig. So after all the messing around over the years with line-up changes and Chris Roes solo career it's good to see a band on stage who can play the songs well. They take me on a journey through my youth playing 8 songs from two albums, So Long, Astoria and Blue Skies, Broken Hearts… Next 12 Exits. It's a shame the lighting is just as bad as you can hardly see what anyone is doing, but it sounds great and Chris's voice is a clear as it is on cd, the wrap up with the long ending from You're
Boyfriend sucks and they do a great job of filling the gap left by Goldfinger who had to pull out.

Mallory Knox (4/5) are on the main stage and this will be the 6th or 7th time I've seen them in the past 2 years! They just keep getting bigger and better, playing higher up the bill than last year and with that comes some fancy stage set up and lighting which add to their awesome stage presence which sees them move around the stage all commanding the crowd to get involved, and this crowd is as this almost full civic hall sings along to songs like Wake Up and Hello. They also keep the
crowd entertained as they play 2 new songs too which is no easy feat. So I look forward to hearing more out of this 5 piece British Band as the year continues with a new album and no doubt a headline tour.

Less Than Jake (4/5) are the headliners of the Macbeth Stage and they do an amazing job of closing the day with over an hours set which sees them play 19 songs from around 7 albums and every single one goes down great with this crowd full of skanking patrons. They take time to have a laugh and joke between songs, which is always good to see as they've been playing for
22 years and still find the time to connect with the crowd and enjoy the thing they do. I can't say enough good things about Less Than Jake as they keep the energy up from this tired crowd, who've had a long day of drinking and skanking. Less Than Jake leave the stage after an encore of The Rest Of My Life, Plastic Cup Politics and The Science Of Selling Yourself Short, and everyone disperses the room with huge smiles and tired legs.


Chiodos (4/5) are playing whilst four other headliners are on stage, which could mean a quiet room, but no the small civic bar is full of screaming fans already to end the night on something a bit heavier than the other bands. They come out onto the stage all smiling and happy and ready to end this festival on a high, as they burst into Ole Fishlips Is Dead Now which goes down a storm as the band and the fans erupt into head banging crazy people. They sound awesome, as the music and the vocals come across with great impact and force. Singer Craig Owens doesn't want to be out done by the earlier bands, and so decides to scale the pa system, much to the despair of the tired security. He has a struggle to get down, but then carrys on this great set of post hardcore vibes with more passion and fun. The set isn't a long one but it sends people home happy, as there's even a moment on stage where the band dances, which I can honestly say I've never seen a band in this genre do before. They end with If I Cut My Hair, Hawaii Will Sink before leaving to huge screams.


All American Rejects (4/5) are the headliners in the main room, and they pack out this room, and it's no wonder as it's been a few years since they last did a proper tour of the UK and it's definitely been too long, but the wait is worth it. They kick things off with Dirty Little Secret, which immediately sparks a fire in the room, and we know that were in for a great show. The band sound and look great, with crystal clear music and vocals and the best lighting I've seen in a long while, with powerful lights illuminating they're every move as they bounce around the stage. Tyson Ritter adds his dowse of theatrics and comedy, as he re-enacts parts of the songs by doing
things like falling to the floor acting drunk and then staggering up the microphone. He also interacts well with the crowd, as part way through the set people are wanting to hear Swing Swing to which he replies, we should have just played that first if it gets you going that crazy. The set list covers all 4 of their albums and hit songs, and they perform great and have a little help from this awesome lighting as they play Kids In The Street in darkness as the guitars and mic light up giving a stunning and unique look, which is even better when Tyson swings his mic in the air creating an almost firework style display.
They wrap the set up with Give's You Hell before coming back with an encore of Gonzo, Move Along and finally The Last Song, which ends this night on a high. The people leave the room looking thoroughly impressed.

Overall today has been amazing, lots of great bands, lots of fun, the crowd all seemed to enjoy it, even if it did seem like there was less people about than last year. But the bars where always busy and I didn't see one person look like they were having a bad time. The security where great, if not a littler perplexed at what was going on with bands at times(Feed The Rhino and Marmozets I'm looking in your direction), the
only let down was the poor lighting on the Macbeth Stage and the fact I only saw a little of Kids In Glass Houses set as I was walking around, but it was all good as I saw 19 bands, some I knew and some I didn't and I can honestly say I'd watch them all again in the future. I hope that it comes back next year as it has been one of the best festivals I've been to, even topping last year's awesomeness!

To see more of James Daly's photos from the event Click Here

Review By James Daly And Elizabeth Aston
Photos By James Daly