Lit
Blame, Electric River
Birmingham, Institute
15th May 2014

Lit Blame Electric River

I've been hanging around the venue now for a few hours, and as I pick up my pass and walk down the steps I expected the room to be wall to wall, but I remembered it's a Saturday in Birmingham, and tonight's band aren't bringing a room full of kids there bringing a mish mash for tonight they are playing their biggest album 'A Place In The Sun' in its entirety, as it is the albums 15 year anniversary. So the room is a bit dry as the first band take to the stage, but I'm sure this will change as the night progresses.


Electric Rive are a punk rock and roll band from Ashford, Kent and they kick things off with a bang. Their electric guitar jams sound amazing, as they blast complicated and well worked riffs around, the venue as it slows fills up. This band sound like they could be a stadium band very easily, with a lovely crisp sound with gritty vocals and plodding powerful drums. When they walked out I wasn't sure what I was going to get along with them, but this four piece are wicked, they change the pace throughout, seemingly getting faster as there set progresses, as at one point we had fast punk rhythms and heavy metal style guitar solos that mix so well. They set the night off on a great start and I hope they go on to bigger and better things!


Blame are not quite as brash as Electric River, with a more relaxed style as they're in the same vein, with rock n roll punk but with a more, grunge edge. This 4 piece are from Uttoxeter, Staffordshire and they have been around for only a few years, but have already supported bands like Everclear. Throughout their set they stay relatively static, not moving about the stage too much, but it doesn't matter as they pull of some nice songs. Unfortunately the vocals are not on par as the high notes seem to go out of touch in parts, but singer Sam Johnson apologises and says it's down to his
throat being soar, which means this is just the one drawback of touring and partying hard with a legendary band like Lit. They give it a great shot and sound progressively more alive towards the end of the set with the highlight for me being a dedication to Kurt Cobain with a cover of Molly's Lips which Nirvana famously covered. I'm sure this is an off day in regards to Sam's voice so I hope to catch them again in future and see the full power of Blame, they end to big applause and seem like nice people as they invite the crowd to come and talk to them and let them know what people thought of them.


Lit need no introduction, but in case you don't know Lit are a pop punk band from sunny Orange County California, they've been rocking out since 1988 and are here to play their biggest album in full, an album that took me through my late teens and on throughout my twenties, an album that sounds great all the way through and has a mixture of styles from ballads to grunge rock, it's an amazing album and even before Lit get on stage I'm more excited than I have been at a gig in a long while. So it's no surprise that they come out to huge screams and cheers from this now heaving venue,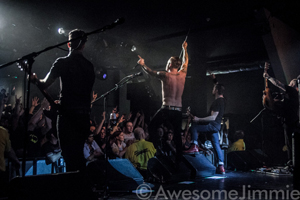 with people of all ages getting as close to the stage as they can to get a glimpse of this awe inspiring band. They come out to a pre-recorded medley of different tracks, sounding like a radio tuning in through the ages, and as everyone is on the stage, singer AJ Popoff does his best HHH impression and spits a mist of water upwards as the band jump into heavy riffed track Four, before going into possibly their biggest hit straight away, My Own Worst Enemy, which gets the room pumping, everyone and I mean everyone is singing along, the crowd is going berserk as people crowd surf like wild, causing someone to land on the odd photographer in the photo pit, as this anthem for the late 90's takes people back 15 years, the song comes to a close and the band look hyped and ready for more as they continue
with Down, and then into the more ballady track Miserable, which gets everyone doing the famous intro of "You Make Me Come, You Make Me Complete, You Make Me Completely Miserable", they continue with No Big Thing and then during this track I'm taking in the awesomeness of Lit on stage as I pack my camera away, only to be signalled towards the end of the song by Bassist Kevin Baldes, who when he's not rocking out with Lit is a photographer, he beckons me to come to the side of stage and then quickly tells me I can shoot from the back of the stage for the rest of the show which for me is a dream come true, to be stud on the stage whilst one of my favourite bands is playing is something special and then they go into the next track the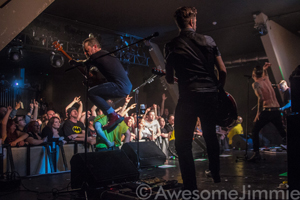 poppy and riffy track Zip-Lock. Lit are sounding awesome, the bass and guitars are coming over great with singer A Jays vocals sounding as good as they do on cd and now they've also got the addition of an extra guitarist which makes the sound allot more fuller and the riffs allot more chunky which all makes for a more rocking gig, the drums are also fast and fluid setting the pace for each and every anthem. They continue with Lovely Day, Perfect One, Quicksand and Happy and I'm impressed that no-one has decided to leave, as I know how people can be, they here they're favourite songs and then go, "I've had enough now" and head for the door, but
not tonight, tonight people are glued to the floor, they're watching in awe as Lit are playing and having fun on stage. They take the sound down a little and play the slowest song on the album in The Best Is Yet To Come Undone, which has this crazy crowd swaying from side to side. Finally they end with A Place In The Sun, and then leave the stage to massive cheers and whoops, then there's silence, as this crowd don't know whether that's it, or whether there's more to come, the band has played for 45 minutes which is about what most headliners do in this venue, and with that thought process the band come back out, and talk to the crowd for a while. They do the normal thanks for coming and for the support over the years, and explain how through many things happening they've not really been able to come back to the UK in about 10 years, and they promise to be back soon, maybe with even with fellow Orange County punks Zebrahead on a co-headline tour. They then go on to thank the fans who came out and saw them last year at Download and the London Koko show and then go on to play more songs from they're other 4 albums, kicking off with Too Fast for a U-turn, You Tonight, The Broken and Over My Head. They then take a moment
to thank their dead and departed former drummer Allen Shellenberger who passed away from a brain tumour almost five years ago, before dedicating the next track to him a lovely sweet slow song from the album Atomic called, Happy in the Meantime. They then kick things back into gear with Lipstick and Bruises before Kevin takes a moment to tell the crowd about a guy who he met before the show, who said he was coming to the gig and could he get an autograph, to which Kevin replied, "do you have a car?" the guy said "yeah why" to which Kevin said, "can you drive me around so I can take some photos of Birmingham" to which the fan was delighted, he said "no problem" and thanks to that the band let him in early for sound check along with giving him some drinks and signing his things, which is a really awesome thing that I'm sure most bands wouldn't do. As Kevin finish's his story A Jay tells the crowd how they're going to play a track that hasn't been played before live and how they're excited to play it, to which the audience goes crazy shouting Same Shit, Different Drink over and over, to which Lit reply, "wow we were going to play the wall, I mean we could give it a try but don't get mad if we sound shit." They then play Same Shit Different Drink in full which goes down a storm, and it's great to see
that even the new songs have a place in people's hearts, they then say stuff it and play The Wall anyway, before ending the night with Something to Someone which closes this epic almost hour and a half set in style. The crowd walk away happy and the band leave the stage grinning from ear to ear.

Tonight has been awesome, from the two great support bands to the amazing Lit who played an extra two songs in Birmingham which they didn't play anywhere else on this tour, who looked like they were having an amazing time and who sounded phenomenal. This was a gig I wanted to be good, and I'm so glad it was even better, it'll take allot for a band to top this in future, and who knows it could be Lit if they keep their promise and come back soon!

Electric River – 3.5/5
Blame - 3/5
Lit - 5/5

Review By James Daly