Hit The Deck Festival 2014
Bristol - Academy, Thekla, The Fleece, The Exchange
19th April 2014


Hit The Deck Festival is quickly becoming a great yearly festival which always has a wide variety of bands playing various different venues across Bristol and Nottingham, the festival started off in 2011 in just Nottingham and then last year the festival became a duel city festival with things kicking off in Bristol on the Saturday and then moving on to Nottingham on the Sunday and this year things were exactly the same except the festival fell on Easter Weekend due to the constant moving of Easter.


The first band announced for Hit The Deck 2014 was the main stage headliner Brand New and as soon as they were announced I just knew that I had to attend Hit The Deck Festival in Bristol for a second year running and as the time got closer to the festival the line up started getting better and better with the likes of Saves The Day, The Blackout, Kids In Glass Houses, The Front Bottoms, Patent Pending and many other awesome bands being added to the line up.

A
s soon as we got to Bristol we headed down to the Thekla to get our wrist bands which was quick and easy and then we stood outside the Thekla by the Jagermeister acoustic stage and caught a bit of Chris Webb (3/5) who was playing to pretty much no one bit did not let this bother him as he put on a performance like he was playing to hundreds of people, Chris Webb is a Bristol based singer/songwriter who plays acoustic folk/rock which is quite pleasing on the ears.

After listening to a bit of Chris Webb we headed down to the Academy to catch The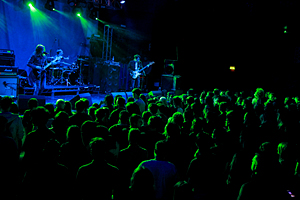 Xcerts (3.5/5) a three piece band from Aberdeen in Scotland who have been on the music scene since 2001 and have released 2 albums, various ep's and gone on to play shows with the likes of Fightstar, Get Cape Wear Cape Fly, Twin Atlantic, Brand New and many festivals across the UK yet they are still struggling to make a solid name for themselves and their early slot at today's festival proves that, The Xcerts however put on a powerful set full of noise with a mixture of tracks from their two studio albums being played with the likes of 'Cool Ethan', 'Do You Feel Safe?', 'Shaking In The Water', 'Scatterbrain' and 'Slackerpop' being played out to a really empty Academy.


We then caught the Australian six piece Hands Like Houses (4/5) now over the last couple of years I have heard nothing but good things about these guys so decided that it would be a good idea to check them out on the live circuit and that idea turned into a great idea as Hands Like Houses truly blew me away, their sheer energy and passion on stage was phenomenal as the band gave it their all running all over the stage in a mad mixture of smoke and strobe lighting. In places the band reminded me of Fall Out Boy and Panic At The Disco! But with a lot more going on and a damn sight more
heavier, during their 30minute set they managed to play 6 songs which consisted of 'Shapeshifters', 'Wisteria', 'Antarctica', 'Lion Skin', 'No Parallels' and 'Introduced Species' which all bright the pit alive today.

After Hands Like Houses we headed back to the Thekla for Rat Attack (3/5) who were already on stage by the time we did the 15minute walk from the Academy to the Thekla. I have been a big fan of Rat Attack for a couple of years now and have seen them on the live circuit many times and each and every time they have truly smashed it but today something didn't seem right and after listening to one song I started to question if
they had a different front man which was then revealed moments later as he explained that he is a temporary fill in for the band and that the band are holding auditions to find a new front man, instrumentally the band were solid today but vocally things weren't that great as the stand it kept running out of breath and spent the majority of the set looking at a sheet of lyrics but with a bit of crowd participation especially during the fast paced 'Heartbeat' things started to look up for the band, with their vocalist leaving two weeks prior to the festival Rat Attack could have easily of pulled out but they came together and made the best out of a bad situation.


After Rat Attack we headed outside the Thekla to catch Bristol rockers Syren City (4/5) play an acoustic set and they had a nice little following watching them and treated us to 30minutes of acoustic music which featured some of the bands original songs in acoustic format as well as a few cover songs thrown in for good measures with the bands cover of Avenged Sevenfold's 'Bat Country' going down an absolute storm.

We then headed back into the Thekla to catch Jaret Reddick and Ryan Hamilton's new
project People On Vacation (4/5), like true Jaret Reddick style there was a lot of banter between the band and the crowd in-between songs but when the band got on with their music the likes of 'Lonely Fish', 'You May Not Believe In God', 'The Bitch Song' (Bowling For Soup cover) and 'Cum On Feel The Noize' (Slade cover) sounded really good in the intimate setting of the Thekla.

After People On Vacation we headed back to the Academy just in time for The Front Bottoms (5/5), now The Front
Bottoms are a band that I have been wanting to see on the live circuit for as couple of years now and I am really glad that I got the chance today as they are as good live as they are on record, on record the band are a two piece consisting of Brian Sella (vocals,guitar) and Matt Uychich (drums) yet on the live circuit the band add Tom Warren (bass) and Ciaran O'Donnell (Keys, trumpet, guitar) for a more in your face fuller sound, the whole band put on a great performance tonight but it was drummer Matt Uychich who stood out the most due to the brutal and energetic way that he was hitting his drums, forever jumping out of his stool to ensure his hits were as hard as
possible, vocally Brian Sella sounded exactly like he does on record as he told various different stories throughout the likes of 'Skeleton', 'Au Revoir (Adios), 'The Beers', 'Fuck, Jobs', 'Funny You Should Ask', 'Maps' and 'Twin Size Mattress, and after their performance tonight I can't wait to see them at their own headline show.

We returned to the Thekla for the final time of the night and caught Versechorusverse (3/5) play short acoustic set and this Mick Hucknall look-a-like rocker played to a near empty car park with a few people sat around the sides but no one stood
directly in front of the stage however he gave it his all and eve had time to speak to whoever would listen in the extremely small crowd.

After Versechorusverse we were going to head into the Thekla to see Kids In Glass Houses play one of their final shows but the queue to get into the venue was massive and was operating on a one in one out policy so instead of hanging around with a small possibility of seeing Kids In Glass Houses we headed back to the Academy ready for Saves The Day and Brand New.


Saves The Day (4/5) have been around as a band for 20 years now and have just released their self titled eighth studio album which happens to be their happiest and most accessible album in years but instead of dominating their set in all new material the band played three songs from their latest album and then 10 other songs which spanned throughout their whole career.

The band unleashed the pop-punk for a solid 30minutes and had the crowd bouncing around from start to finish as the likes of
'Freakish', 'Z', 'The Tide Of Our Times', 'Holly Hox, Forget Me Nots', 'Undress Me' and many other songs were blasted out with maximum energy across the venue.

Up next were Brand New (5/5) the band that everyone had been waiting for and the Academy was packed to the rafters and operating on a one in one of policy from just after Saves The Day took to the stage which meant that the massive queue outside the venue which spanned right around the corner had a very long wait to try and catch a moment of Brand New.
Back in the venue Brand New took to the stage dead on 8.30pm and kicked things off in
heavy fashion with a cover of Nine Inch Nails 'Wish' before laying down some more heavy sounds with the likes of 'Vices', 'Gasoline' and 'At The Bottom'.

Now the last time I saw Brand New live was when they played Wembley Arena back in 2010 and I walked away majorly disappointed but tonight things were different as Brand New were fantastic and left me wanting more after they played their massive 1hour and 30 minutes set which consisted of 18 tracks which spanned across the course of their 4 studio albums.


Fan favourite 'Sic Transit Gloria... Glory Fades' was played early on in the set and the reaction from the fans was phenomenal as it was initially met with loads of screams and then followed up with the best part of 2,000 people singing word for word to the song.

The likes of 'Mix Tape' and 'Seventy Times 7' sounded a lot more beefed up than what they sound on the bands 2001 'Your Favourite Weapon' album as Brand New have a knack of making each and every one of their songs sound heavier on the live circuit than they do on record.


For me the highlight of the set was 'Jesus', 'Degausser' and set closer 'You Won't Know' three songs which really show of Jesse Lacey's vocal range whilst the rest of the band show just how much noise they can instrumentally make.

Brand New were the perfect headliner for Hit The Deck Festival and it is safe to say that everyone who managed to catch them walked away extremely happy knowing that Brand New are back on form whilst the many fans who spent hours queuing outside to not even see a glimpse of their heroes must of been truly gutted but like any festival you are going to get clashes and there are going to be restrictions on getting into
venues at time but with a choice of 4 venues and 6 stages there was always something on to keep people entertained.

Last year my main criticism of Hit The Deck festival was their lack of food places and this year they brought the Pieminister truck back with them but also teamed up with various different shops and eateries across Bristol to offer money off discounts for showing your Hit The Deck Festival wrist band which easily solved the food problem.

Overall Hit The Deck 2014 was a fantastic day out where we did a lot of walking and managed to see a lot of bands and I personally can't wait to see what the organisers have in store for the 2015 festival because as the years have gone on the line ups have got better and the headliners have got bigger.

(Please note there are no photos of Brand New due to not being allowed to take photos of them on the night)

Review By Trigger