Alkaline Trio
Bayside
Bristol, academy
25th April 2014

Alkaline Trio Bayside

I headed down to the Academy in Bristol tonight to catch Alkaline Trio on their headline UK tour in support of their ninth studio album 'My Shame Is True' along with 1,300 other fans of the band, I got to the venue just as main support Bayside took to the stage.

Now the New York punk rockers have been together since 2000 and tonight was the first time for me seeing them on the live circuit and they put on a great show opening with 'Big Cheese' which also happens to be
the opening track from their latest studio album 'Cult' which was released back in February, Bayside had a good 40minute set and managed to play 11 tracks in that time which featured a big mixture of their back catalogue whilst also finding room to play three tracks from their latest album 'Cult' and also an amazing cover of Elvis Costello's 'Oliver's Army' which had the majority of the crowd singing-a-long loud and strong.

The most striking thing about Bayside is the stand out vocals from front man Anthony Raneri
who seriously has a powerful set of vocals which are truly infectious at the same time and tonight he gave it his all with each and every song played sounding exactly what they sound like on their studio albums.

After Bayside left the stage there was a 20 minute wait for Alkaline Trio to take to the stage and within minutes chants of "Trio, Trio, Trio" were heard all over the venue as the fans couldn't contain their excitement that the cult-pop-punk-rockers Alkaline Trio were to take to the stage in mere minutes.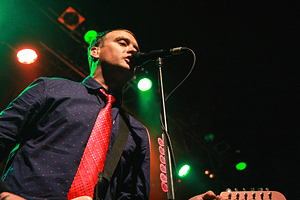 From my experience of going to thousands of gigs I feel that Alkaline Trio have some of the most hardcore fans as the majority of the people in the crowd tonight were kitted out in their Alkaline Trio t-shirts, showing off their Alkaline Trio tattoos and talking about how many shows they have gone to on the tour and how many miles they have clocked up doing so and that is one of the things that make Alkaline Trio shows so special as you are more than likely to bump into someone you know or someone you have seen at a past Alkaline trio show.


As soon as the lights dimmed and Derek Grant, Dan Andriano and Matt Skiba took to the stage and smashed straight into 'This Could Be Love' the crowd erupted with excitement as 'This Could Be Love' is easily one of the most loved songs within the Alkaline Trio fan base and was such a perfect opener which really got the crowd moving.

The set that Alkaline Trio played tonight was a lot different from their previous tours as this time around they cut out a lot of songs that you would expect them to play and added in a lot of rarities and b-sides and that is what made tonight's show so special as the band played through the likes
of 'Jaked On Green Beers', 'Sadie', 'Warbrain', 'Dine, Dine My Darling', 'Cringe', 'Time To Waste', 'Stupid Kid' as well as four tracks from their latest album 'My Shame Is True'.

The band were clearly on top form tonight with Derek Grant laying down his drum beats to perfection whilst Matt Skiba and Dan Andriano did a great job on guitar and bass and also laying down their vocals with the only downside being that there were not enough Dan Andriano lead vocal tracks featured in the set yet in the 5 songs he got he proper showed how he has grown as a vocalist over the years.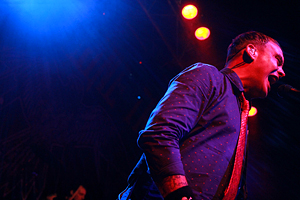 The set came to an end with 'Private Eye' and 'Radio' two songs which really got the crowd singing-a-long to the point that voices were nearly lost especially when 1,300 fans gave it their all screaming "shaking like a dog shitting razorblades, waking up next to nothing after dreaming of you and me, I'm waking up all alone, waking up so relieved, while you're taking your time with apologies" along with Matt Skiba.

Tonight was another amazing Alkaline Trio show added to the list, they truly mixed things up with their setlist tonight and the only criticism I have is that Alkaline Trio have been together for nearly 20 years now have released 9 studio albums plus various ep's, splits and general rare collections yet they only managed to play for 1hour and 20minutes yet they have enough material to play a proper mammoth sized set like Green Day have been doing for the past 5 years or so.

Bayside 3.5/5
Alkaline Trio 5/5

Review And Photos By Trigger