Heaven's Basement
Glamour Of The Kill, The Dirty Youth
Birmingham, Academy 2
29th March 2014

Heaven's Basement Glamour OF The Kill The Dirty Youth

This is the first gig I have reviewed for what seems like an eternity, have to say it's feeling great to be back!

First band up on this lovely sunny evening in Birmingham are The Dirty Youth, just after 6:30pm.

Entering to a calming string track, that calm is quickly broken with a marching guitar riff and drum beat and opening track 'Narcissistic Cannibal'. Fronted
by the energetic Danni Monroe, this quintet from Wales pack a serious punch sound wise with very slight hints of Paramore, though only now and then and with more attitude. Ending on a cover of RATM 'Killing In The Name', mixed with Will Smith's 'Boom Shake The Room' is a pretty brave way to go, however the crowd seem to really enjoy it. The room is pretty much full already, and very much warmed up for Glamour of the kill.

Entering the stage to huge cheers, Glamour of The Kill take the Acadamy in their grip and squeeze every last drop of breath out of the mixed crowd from the off, with set opener 'Break'.


Second Chance' is the third track in, taken from the guys second album, 'Savages' released last year and what a killer track it is, with easy to sing along to 'woah- oh -oh's' and impressive riffs along with the sight of the band enjoying every god damn second of it!

Mid set includes 'Only One' and 'If Only She Knew' track opener from first album 'The Summoning', which is so darn catchy, everyone is singing and having a blast. Then for something a little different, a cover of 'Love Gun' by Kiss.


'Live for the Weekend' another new track from the latest album is up next to the delight of the crowd, even the girl stood next to me is doing some bizarre sideways dance on the spot next to me. Music video for 'A Freak Like Me' has just been released by the band, which is the next track commanding the room tonight.

Finishing on 'Feeling Alive' (I know I am after witnessing this!), I can see the first few rows going for it, but what of the rest of the room....only one thing left to do, call a 'Wall of Death' yes!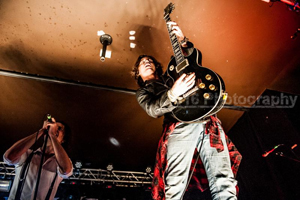 Ridiculously awesome performance from these guys tonight .

The academy 2 is currently full to the brim with folk eagerly awaiting the arrival of headliners, Heaven's Basement, none the wiser that the band are running 10 minutes behind as they enjoy random conversation with complete strangers, about beards and the close proximity of the bar and toilet....told you, random!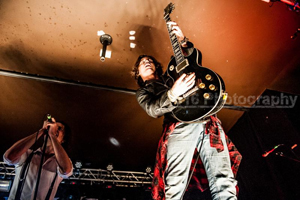 A little after 8:45pm Heaven's Basement storm the stage with 'Welcome Home' and the entire room is once again singing their hearts out.

The last time I saw these guys was back in 09 supporting Papa Roach and with previous vocalist, Richie Hevanz, It's pretty amazing to see how this band have grown and changed over the years, the following they have is really huge and deservedly so.


'Can't Let Go' is up next with it's melodic guitar and easy to sing along lyrics, it's the type of music everyone, old and young can really get behind and enjoy. Next track up is 'Fire, Fire', which sees the room erupt even more, with the stage presence of frontman Aaron Buchanan becoming increasingly energetic as the night goes on, it's exhausting but fun to witness.

A brief pause for conversation and banter with the crowd from Aaron and it's straight into 'Heart Breaking Son Of a Bitch'
and the ridiculously dirty groove induced 'Straight To Hell' the crowd are going mental!

Continuing on with the fast pace of 'Nothing Left To Lose', 'Paranoia' and then taking it down a notch with acoustic track, 'The Price We Pay',

As we head to the latter end of this evenings show, Aaron goes for his well known crowd walk during 'Jump Back' much to the delight of the adoring fans, then it's back to the stage for 'Reign On My Parade' and set closers, a cover of The Stones, 'Jumpin' Jack Flash' and 'Executioner's Day'.

A very, exhaustingly sweaty and entertaining evening had by all, good times!

The Dirty Youth 3/5
Glamour Of The Kill 5/5
Heaven's Basement 5/5

Review By Jude Onions
Photos By Robert Lawrence