Daughtry
Charming Liars
Birmingham, Academy
24th March 2014

Daughtry Charming Liars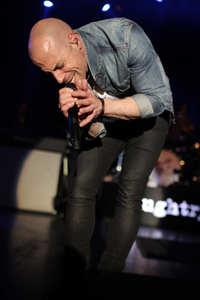 California-based Londoners Charming Liars are in full force tonight, warming up the stage for North Carolina native Chris Daughtry and his band of the same name. All five members of Charming Liars quit their University courses and day jobs to move across the pond to the US where they are currently taking Los Angeles by storm – appearing at such notorious haunts as The Whiskey A-Go-Go, Viper Room and Roxy.

Tracks from their debut EP 'New Disorder' (2010) are showcased tonight, hooking new fans in their droves. 'Break Away' is a great rock track which gets the crowd going yet the prove their mettle in the track 'Wasted' which displays a more sensitive side. These guys are set for great things – their debut album produced by Bob Rock (Metallica, Aerosmith) and John Fields (Jimmy Eat World, Andrew WK) is now complete and the attitude of the frontman Charlie Cosser ensures this band get noticed. Period.


The momental rise of Daughtry is truly staggering since Chris Daughtry hit the rock music scene five years ago. Since then, the band have racked up four No.1 hit singles, achieved four Grammy nominations, gained four music awards and both albums have gone platinum – their debut album 'Daughtry' having gone platinum four times over since it was released in 2006. The band are the fastest selling rock debut act in Soundscan history and their popularity is proven tonight as the gig was originally scheduled for The Birmingham Institute and is has now been moved to the O2 Academy to accommodate ticketholders.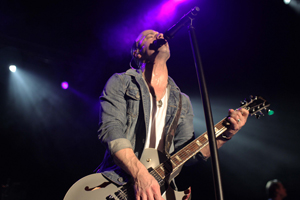 The band come on stage and Chris Daughtry's voice is full bodied and totally mesmorising as is his presence on stage as he is emotion personified. The audience sing along to every song which is proof of how amazing the following of this band has become. They have the presence and big sound of a stadium rock band in a small venue and the quality of their sound is phenomenal. Members of the band are guitarists Josh Steely and Brian Craddock, drummer Robin Diaz and bassist John Paul – all brilliant instrumentalists who provide the backing while Chris prowls around on stage like a tiger (or if you squint slightly, Vin Diesel – lol).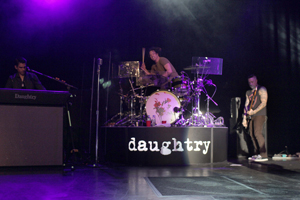 The anthems 'Crawling Back to You' and 'It's Not Over' engage the audience and are reminiscent of Alter Bridge in their sound. If you listen closely, you can hear influences of Def Leppard in their music, particularly on the rack 'Home'. Daughtry's music appeals across the board to everyone – tonight's gig held a cross-section of all age groups. Going to gigs where the band sounds as great or even better than on recording is a hallmark of an amazing gig. Absolutely brilliant – the Daughtry juggernaut will continue to roll into the future without stopping…

Charming Liars 4/5
Daughtry 5/5

Review By Claire Whelpton