Me First And The Gimmie Gimmies
Old Man Markley
Bristol , Academy
1st March 2014

Me First And The Gimmie Gimmies Old Man Markley

Tonight I headed down to the Academy in Bristol to watch Me First And The Gimmie Gimmies and Old Man Markley play to an almost sold out venue.

The doors had been opened for over an hour before first band Old Man Markley took to the stage which meant that by the time they took to the stage the venue was busy and the crowd were buzzing for a band to take to the stage.


Old Man Markley are a seven piece bluegrass-punk band who have been signed to Fat Mike's Fat Wreck Chords label for many years now and the band is made up of John Carey (guitar, vocals), Annie DeTemple (autoharp, vocals), Jeff Fuller (drums), Joey Garibaldi (bass, vocals), Ryan Markley (washboard), John Rosen (banjo) and Katie Weed (fiddle) and if you have never come across the band you can kind of gather than they are full of energy and a lot of fun just by reading their line up and the instruments that are featured within the band.


As soon as Old Man Markley took to the stage John Carey shouted out to the crowd "Sorry it's been a long time but I told you we would be back" and from that moment the band entertained the crowd nonstop for the best part of an hour and the crowd were in their element singing, dancing and drinking along to the band whilst they whipped up a frenzy with their interesting selection of instruments.


Despite the band looking slightly cramped on stage with seven members of the band gracing the small stage of the Academy they still managed to let off a lot of energy with Annie DeTemple spinning around constantly playing her autoharp, Joey Garibaldi laying down some solid basslines whilst also constantly striking a pose for the waiting photographers and John Rosen and Ryan Markley charging all over the stage playing their banjo and washboard.


The band managed to fit 15 songs into their set with the likes of 'Party Shack', 'Train Of Thought', 'Blindfold', 'Living And Learning' all going down well with the crowd but it was the extremely catchy 'For Better For Worse' and their No Use For A Name cover 'The Feel Good Song Of The Year' which they dedicated to the late Tony Sly who sadly passed away in 2012.

It is clear to see how Old Man Markley have had a successful career so far however I did feel that towards the end of the set the excitement of them was starting to fade away as things started to sound ever so repetitive.


Up next were the band that everyone had been waiting for, Me First And The Gimmie Gimmies and they took to the stage dressed in orange Hawaiian shirts like they were ready for a party and straight away I noticed that both Fat Mike and Chris Shiflett were absent from the band which I am guessing was due to them having commitments with their other bands and lines of work however Chris Shiflett was replaced by his brother Scott Shiflett who looked so much like his younger brother but just a few years older and Fat Mike was replaced by bad Religion's Jay Bentley which was good news for me being a massive bad Religion fan.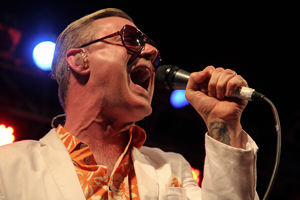 They started off with covers of 'I Will Survive', 'Danny's Song' and 'Leaving On a Jet' and for every song after this moment front man Spike Slawson would announce in a serious tone "The next one's a cover" which became a running joke for the whole show as Me First And The Gimmie Gimmies played out loud and clear all the classic covers that the fans tonight were expecting.

Through the set Me First And The Gimmie Gimmies play songs from every genre from
pop to punk to movies to RnB but the most enjoyable was when they played the likes of Dolly Parton's 'Jolene' and Vaughn Monroe's '(Ghost) Riders In The Sky' which caused the band to crack some country music jokes with Jay Bentley shouting out "We put the cunt in country and also there is no I in team but there's a u in cunt" which was met with a lot of drunken cheers from the crowd.

Normally at Me First And The Gimmie Gimmie shows Fat Mike and Joey Cape take centre stage with the banter and encouraging the crowd to get involved but due to Fat Mike's absence tonight it was Jay
Bentley who was on top form with the banter with a bit of help from Spike Slawson as they spoke about everything from cover songs to getting drunk to winding the Bristol crowd up saying that the crowd in Liverpool will be better tomorrow night and throughout they got an excellent reaction from the crowd.

The majority of the crowd were loving the show tonight but a select few idiots towards the back of the venue thought it would be fun kick a fight off as a group of about 6 males and females started lashing
punches at each other, luckily the security stepped in managed to sort the situation out quickly chucking the brainless idiots out whilst the band and majority of the crowd were unaware and continued to have the party that everyone came to have tonight.

The highlights of the show were the covers of Stevie Wonders 'Isn't She Lovely', R Kelly's 'I Believe I Can fly', John Denver's 'Country Roads' and Elton John's 'Rocket Man (I think it's going to be a long, long time' and despite the band playing well over 20 songs it felt like the show was over far too soon as it is not every day you get to witness a show as fun as tonight's was and we all know it will be a long time until the band return to the UK again.

Old Man Markley 5/5
Me First And The Gimmie Gimmies 5/5

Review By Trigger