Kerrang Tour 2014
Brixton, Academy
21st February 2014

Limp Bizkit Crossfaith Nekrogoblikon


For the past 9 years the Kerrang tour has seen a diverse range of bands touring across various different cities and towns across the UK throughout February with the likes of All Time Low, Bullet For My Valentine, New Found Glory, Biffy Clyro, Black Veil Brides and various other bands headlining in the past and this year Kerrang reached even higher and signed up Limp Bizkit to headline the tour with the tour being announced way back in August which is a few months earlier than ever
before, the line up was completed by Japanese metalcore band Crossfaith, Kerrang's new favourite band Nekrogoblikon and newcomers Baby Godzilla.

Tonight we headed to Brixton Academy in London to catch the Kerrang Tour and we made it through the doors just before Nekrogoblikon took to the stage and straight away I was shocked at how empty the venue was as we quickly made our way to the front of the venue with no hassle at all and moments later Nekrogoblikon took to the stage for one of the most random live performances I have ever seen.


Nekrogoblikon are a band who formed back in 2006 and have gone on to release 3 studio albums with their most recent album 'Power' being released back towards the end of the summer 2013 and since then the band have been heavily featured in Kerrang magazine and it is easy to see why as they are seriously heavy and have an official goblin mascot called John Goblikon who spends the whole of their set running around, chanting, fist pumping and generally encouraging the crowd and band to rock out.


The energy from Nekrogoblikon was fantastic and during their set they managed to play 6 songs which features 'Bells And Whistles', 'Friends (In Space)', 'Powercore', 'Nothing But Crickets', 'Giraffe' and set closer 'No One Survives' and throughout the whole set the band managed to keep the crowd entertained with their big in your face ear bashing grindcore music whilst also brewing up a storm on stage with their sheer energy where you seriously didn't know where to look in case you missed something exciting.


Up next were Crossfaith and when they took to the stage the venue was starting to fill up and anyone who got in on time to catch Crossfaith were in luck as Crossfaith put on one hell of a show tonight where the energy was flowing and the music was grabbing everyone's attention.

Now a few months ago I reviewed the latest Crossfaith album 'Apocalyze' and gave the album 5 out of 5 as it simply blew me away and tonight's show reminded me exactly what it was I enjoyed about
'Apocalyze' and so much more as I witnessed the band play songs from that album as well as songs from their back catalogue and I also witnessed their explosive live show which is seriously going to gain them the recognition they truly deserve.

From the opening of the set Frontman Koie Kenta had the crowd in the palm of his hand as he kept screaming out "circle pit" to the crowd and they listened to his every word as the pit opened and it opened heavy with people smashing into each other in such an hectic way as Crossfaith laid down killers riffs and pounding synths.


Synth wizzkid Tamano Terufumi was just as much of a showman as Koie Kenta was with his constant dancing and swigging of alcohol when he wasn't behind his equipment and he even took things one step further with a quick trip into the crowd where he went for a little crowd surf and then moments later after he climbed back on stage he was climbing up a massive stack of speakers before jumping back down on the stage.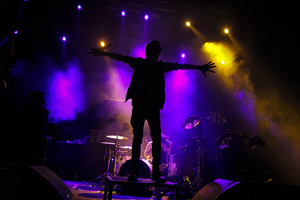 Crossfaith played some great songs tonight but it was the likes of 'Jagerbomb', ' Eclipse', 'Leviathan' and their epic cover of The Prodigy's 'Omen' which really made them stand out tonight and just as their set was coming to an end Koie Kenta shouted out for the crowd to make some noise for Limp Bizkit and reminded them that they will be back in June for the Download festival and I am sure that it a set that the majority of tonight's crowd will be hoping to go to.


Up next were the band that everyone had been waiting for and like usual everyone was wondering what kind of costume guitarist Wes Borland would be taking to the stage in tonight and it wasn't long before we found out when Wes Borland took to the stage on his own with a Ukelele dressed in a pair of pants and a set of wild and bright clothing which made him look like he had just come back from a drunken beach party.


Moments later Fred Durst and the rest of the band took to the stage, Durst was dressed in a pair of tracksuit bottoms a Limp Bizkit hoody and a fisherman style hat and straight away the band started laying down some of their greatest hits and throughout their hour long set the pit was moving in a hectic way with the crowd shouting and chanting along to some of their favourite songs.

The set Limp Bizkit played tonight was proper mixed up as they played the fan favourites such as 'Hot Dog', 'Rollin', 'My Way', ' Faith', 'My Generation', 'Gold Cobra' but then they
also played the likes of Metallica 'Master Of Puppets' Guns N Roses 'Welcome To The Jungle' and Nirvana's 'Heart-Shaped Box' and 'Smells Like Teen Spirit' with the later of the two sounding vocally poor from Fred Durst but then again it is pretty difficult to live up to the grunge vocals of Kurt Cobain.

As the show progressed Sam Rivers was showing off his light up bass which had loads of red lights running down it, Wes Borland was in his element running around the stage in not much showing off just how good he is on guitar especially when laying down riffs from Nirvana, Metallica and Guns N Roses songs whilst drummer John Otto was doing what he
does best and taking us to the Matthews Bridge and Fred Durst not wanting to be out done by the support bands took a long walk to the back left hand side of the venue and preformed stood on a pillar surrounded by security with thousands of fans looking on trying to touch their hero.

The set came to a close with three great songs the first was 'Ready To Go' the most recent Limp Bizkit song which happens to feature Lil Wayne on guest vocals and as Limp Bizkit went to play the song Fred Durst introduced Lil Wayne and on came the Kerrang new music editor Jen Walker and it was quite a random experience but one that Limp Bikzit managed to pull off, this was followed by 'Take A Look Around' which had the crowd singing and then 'Break Stuff' which sent the mosh pit into a mad frenzy for the final time of the night.

Many shows on this year's Kerrang tour sold out within a couple of days of going on sale and it was easy to see why as for the price of £20 you got to see 4 amazing bands and let's face it when was the last time you were able to pick up a ticket for a Limp Bizkit show for £20 or less.

Nekorgoblikon 3.5/5
Crossfaith 4.5/5
Limp Bizkit 5/5

Review By Trigger