A Day To Remember
Mallory Knox, Every Time I Die, Story So Far
Birmingham, Academy
14th February 2014

A Day To Remember Mallory Knox Every Time I Die Story So Far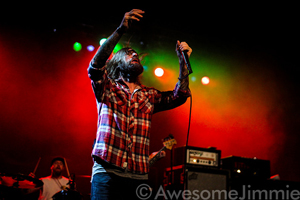 The venue is its normal chaotic self as fans wrestle to get inside as the queue goes all the way round the block. The bill tonight is a huge one, topped by the mighty A Day To Remember, who haven't been on a UK tour in a while but are hot of the back of a massive gig at Alexandra Palace where they filmed a live dvd. The room is bustling and so the first band takes to the stage.


The Story So Far are up first and this band sound like allot like A Day To Remember, heavy flowing riffs, with crunchy vocals, there's no slowdowns and harmonies like there headline counterparts but they're definitely the punky side to them. The fast circle pit inducing music gets the crowd instantly pumped with sweat already starting to form on many a person's brow. They sound slightly muffled, but nothing that affects the enjoyment of seeing a punk band shred and growl through a set. They aren't too energetic but they
do move about a little, they play a nice 20 minute set that gets over what they're about, and leaves the crowd pumped for the next act.

Every Time I Die take to the stage and take 5 seconds to blow it up, they are, to me, just noise, but amazing noise, beautiful angry noise. They move around the stage like decapitated chickens whilst thrashing out caterwauling screeches and angst. It's hard to detect the last song from the next apart from the change in pace, it gets faster and faster as the set progresses with the crowd going crazy in the pits, jumping and moshing as if it was all going to end! This band is the perfect opener as they don't talk too much. They're constantly moving and it's hard
not to move along to their cries of pure passion and rage! They play a twenty minute set and look completely knackered towards the end, they take the time to thank all the bands and take a good look at the beautiful crowd on Valentine's Day.

Mallory Knox are up next with a more rhythmic and slower take on the rock genre that the band before. They blast onto the stage and get all the teenage girls screaming, they sound great and come across crisp and clear as they blast into the bustling academy. They do a great job of keeping the energy brimming not quite as chaotic as before, but a
good sing along vibe never the less. The blokes in the crowd get into the more refined harmonies and clean cut guitars and start moshing their heads along with the girls. By the time the band hits Death Rattle the crowd are all singing along and making themselves heard especially in the oooh oooh oooh part. They do a great job of using the space around them and it's clear that a year of touring has worked well for them as they seem allot more at ease and work the stage with pride. Again they take little time to talk to the crowd, with the occasional thanks for coming, who's excited for a day to remember. But it's fine as we get
to hear more songs including one that is in progress from their next album. The also play resuscitate from their Pilot EP which gives the show a heavier vibe and still reminds me of Down With The Sickness. They put on a great show and I can't wait for their next headline tour to come around.

A Day To Remember don't have to do allot of work as this crowd is already warmed up, and with a nice sing along to System Of A Downs Chop Suey helps the crowd stay ready before they blast onto the stage with All I want, I'm Made Of Wax Larry, What Are You Made Of? And Homesick. Which sets a statement, we're here to rock out and have fun! And they do,
they control the stage and move around the open and bare stage giving everyone a clear view of each member no matter where you are in the crowd, they sound great and are coming across nice and clear with the dynamic vocals of singer Jeremy McKinnon dominating the sound to pure bliss. The rest of the band sound great too, with the heavy guitars and booming bass all whisping together with the ever changing pace of the drums, which add something to this bare stage with their light up LED's which shine when the lights go down on the stage. These Florida pop-punk/hardcore rockers know how to have fun with the crowd, along with the light up drums, they have blasting confetti cannons,
and smoke cannons that blast the crowd and the stage. They also bring the Beach Balls and flood the audience with them during 2nd Sucks and Right Back At It Again. The fans are making the security work with tonnes of them crowd surfing and going crazy, more so than I've seen in a long time! The band don't talk to the crowd to much but that's because they have a 18 song setlist, to get through which includes songs from all 5 albums, including the latest Common Courtesy, they go to play City Of Ocala as Jeromy says "Were gonna play a new one, whilst we throw some free t-shirts into the crowd!". They slow things down and ask "Who's seen us before? We thought we'd play some songs people didn't expect, so were doing acoustic songs from our first albums" and go into You Had Me At Hello, If It Means A Lot To You before speeding things
up and playing It's Complicated in which Jeremy gets into a giant Zorb (or hamster ball) and goes out into the crowd for 30 seconds before being unzipped and getting back on stage to finish the song. The sound then took a downward spiral during Mr Highways Thinking about The End, when Jeremy sings "it's like speaking in tongues" his mic sounds distorted and the guitars are too loud, I'm guessing this is due to switching from acoustic to electric, or even the use of samples, but it puts a dampener on an otherwise impressive set! The sound does get better, but it's never as good as the start. Before playing Sometimes You're the Hammer, Sometimes You're the Nail Jeremy announces "This is the last new song we're going to play, thanks for all the support during the hard time we had making the album, if it wasn't for
you guys we wouldn't be a band". They wrap up the set with Have Fair In Me and The Plot to Bomb the Panhandle, before taking a quick break and coming on to finish the night off with Violence, All Signs Point to Lauderdale and The Downfall of Us All.

Tonight's gig has been a long one with 4 great bands playing their hearts out. It started with the awesome Story So Far, before getting a heavy twist with Every Time I Die before a sing a long with Mallory Knox and then the main act, A Day To Remember hit the ball out of the park with a stonking set of old and new which got everyone in the building singing and dancing. It's been 4 years since they were last in Birmingham and we've missed them, they put on a great show and know how to work a crowd. Hopefully they'll be back allot sooner and with the same great songs and stage presence.

Story So Far 3/5
Every Time I Die 3/5
Mallory Knox 4/5
A Day To Remember 4.5/5

Review By James Daly