Killswitch Engage
Trivium, Miss May I, Battlecross
Birmingham, Academy
6th February 2014

Killswitch Engage Trivium Miss May I Battlecross

Battlecross are the first band on tonight. A metal band from the US, they open their set sounding somewhat a bit like Slayer in the mid 90's, the vocals are somewhat on the screamy side though maybe taking after Tom Araya somewhat. They have some good riffs and solid drumming but they do really sound like a toned down version of Slayer, some of the guitar tones are pretty similar, but some of the solos range from really fucking good to being a bit too noisy and trying to cram as much as they can into the solo, sometimes chaps less is definitely more.Overall, they are a solid band with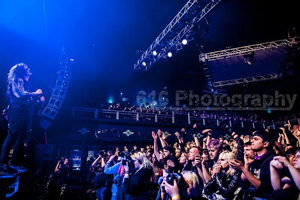 some pretty decent material at their disposal and if you are looking for a band to quench your Slayer thirst these guys may just do it, if only for a while.

Next band up are Miss May I, the last time I saw them was March of last year, supporting BFMV, and then they suffered from the drums overpowering everything, this time not much has changed it's a little better for the opening songs, "Relentless Chaos" and "Masses of a Dying Breed" I could barely hear the vocals and occasionally got snippets of the lead guitar, but not much else, for the remaining songs in their set the sound
somewhat improved, "Gone" and "Day by Day" are pretty decent songs, but still very bass heavy but the guitars are clearer and they close out their short set with the Superb "Hey Mister" getting the crowd to join in with some clapping to the drum beat, again it's a very heavy aggressive song. Overall I think maybe trying to steer away from the heaviness a bit and taking a slightly less aggressive approach might make the songs a bit more easy to listen to live or just a different mix or just turn them guitars up a lot, they are a really decent band but I don't think they should try to crush their audience with the bass


Trivium are the joint headliners on this tour, this must be at least the 10th time I've seen this band, probably my most watched band as it happens. I thoroughly enjoy their music and have done since the release of the first album.

They open their set with "Brave this Storm", it's solid opener unfortunately for one fan on the barrier she couldn't quite brave the crowd, to the bands credit they stopped the song dead to let security do their thing and get the girl out of harms way. This happened again later in the set to someone else in the mosh pit, again the band stopped the song and then picked up where they left off without losing focus or
aggression. This is swiftly followed by "Light to the Flies", "Thai" is a song from the second album and surprisingly it's holding up quite well to the test of time.

I've seen this band grow and mature with me over the years but they're still something quite juvenile in some of their songs, this is not a bad thing by any means, it crops up less in their later songs, but it's there.


They continue their set with the likes of "No Way to Heal", "Strife", "Shattering the Skies Above", it's a very aggressive set as they have little time as it is and no time for let up, this is a full on heavy set.

"A Gunshot to the head of Trepidation" really get's the crowd bouncing on it's feet this is easily the highlight of the set and will go down as one of their classics. "In Waves" and "Pull Harder on the Strings of Your Martyr" close out their set, these are easily their best songs both super catchy and heavy and firm fan favourites and I didn't headbutt my camera during "In Waves", which is a bonus.


This band really still has it and hasn't lost any of their youthful exuberance over the years, they seem like old hands at it now while being still young.

The last time I saw Killswitch Engage was in 2007, it's been 7 years, I can't believe this to be true. The last time I saw them, Howard was the vocalist, but he had to leave the band to deal with his health problems, (type two diabetes), then Jesse Leach the band's original singer returned to the vocals, it's weird hearing him sing songs that the band wrote when Howard was on vocals, but they sound pretty damn good.


They opened their set with "A bid Farewell", "This is Absolution", and "The New Awakening", all decent and worthy of opening the set, and they get the band off to a solid start and the crowd are well pleased that they have finally come on, it's a lively opening for the band too bouncing around with energy to spare, really giving it some umph, the years have certainly taken their toll on one of Adam Dutkiewiczs knees, it's heavily strapped up, but it doesn't seem to slow him down at all.


They really entertain the crowd with the likes of "Arms of Sorrow", very odd hearing Jesse sing this song, but it still sounds amazing, "This Fire Burns" and "Beyond the Flames" keep the set kicking along at a fast pace with the odd bit of banter between the crowd and Adam.

"My Last Serenade" is one that really gets the crowd singing along, it's certainly their 100% classic song and one that I imagine many like me got me into the band, watching it on Kerrang! when it used to be good, Jesse still does this song justice. Strangely this song also seems to lead to somewhat of an exodus of fans hearing many as they leave that they only wanted to hear last serenade, I guess it holds some nostalgia for them.


MLS leads into the final few songs of the set which are "In Due Time" and "The End of Heartache", the last being another classic, one that everyone should really have stuck around for, people just seem to trickle out past me as the night draws to a close, it just seems a waste of money to me to leave early.

They close out the night with "My Curse", it will probably stand as their most well known song of all time, it's such a belter of a song, getting the remains of the crowd singing again, me included. Overall this band is still on top form, they don't seem to miss a beat and are just as strong as they were the last time I saw them. 4.5/5

Battlecross 3/5
Miss May I 3.5/5
Trivium 4.5/5
Killswitch Engage 4.5/5

Review By Robert Lawrence