Mayday Parade
Man Overboard, Decade
Birmingham, Institute
31st January 2014

Mayday Parade Man Overboard Decade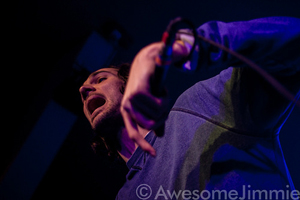 I arrive early for an interview, to see the massive queues already forming outside a venue. It reminds me of the You Me At Six show at the ballroom a couple of years ago but on a smaller scale, after a of interviews I nipped out for some food and arrive back at the busy venue as Decade blast into their intro, in a panic I pick up my photo pass and push through all the screaming fans at get to the front and start taking some photos of the first band.


Decade are loud rocky and proud, they remind me of a more varied lower than Atlantis, mixing punk rock grunge and indie all into one great sound. They're fast they're fun and they highly energetic. This bath 5 piece take over the stage (albeit because they are forced to play at the front) but it really helps get them over to this young audience allot better when the fans can almost touch them. They play a blinding set including songs of their debut album Good Luck and self-titled EP, and you'd be forgiven to think that they've been going for years as they sound pronominal, and all of this out of The Institutes sometimes lackluster sound system, this something amazing for a support band, especially one with so much energy that singer Alex Sears likes to get of stage and join the crowd.


Man Overboard are up next, these self-professed heroes who are here to defend pop punk get on stage and give it all they've got. The sound quality is less than decade, but this is mainly due to some top end distortion due to ear blistering levels of volume but everyone enjoys it none the less. It's fast energetic, loud and catchy, everything pop punk is meant to be. They put on a great show with little talking in between so they can fit more songs into the set including a song which they change the words to "its Jesses birthday" so they don't have to spend time talking. The two vocalists harmonize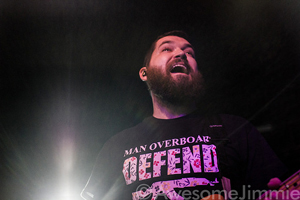 well and get across the raw power that's in their songs with sweet and screamy vocals when the song depends on it. They wrap up their set with Where I Left You and it goes down well with a room that's used to more pop rock than pop punk(as is proven by the complete lack of pits and crowd surfers), but then again this room is full of underage girls.

Mayday Parade are the main act tonight and this Tallahassee 5 piece take to the stage amongst utter chaos, with the fans doing their best to scream so loud that it makes birds fall from the sky. The band take to the stage and kick into Ghosts from they're latest album Monsters In The Closet, they sound better than Man Overboard,
but strangely not as good as Decade, with some distortion in the speakers, I know this is down to the night and not down to the band, but it's such a shame when the main act gets knocked down a bit by some poor sound, but I suppose it's because the band mix it up with some ballads and so it's not the easiest getting the sound ready for fast loud numbers and quiet mellow numbers. But as I always say, that's just my opinion, and the crowd didn't care one bit as they're favorite rock band where on stage doing a great job of controlling the stage, with each member wondering about and giving everyone in the room a great view of themselves whilst franticly jumping around and having a good time. They continue they're set with Jamie All Over, When You See My Friends and then take it down a notch with a slower song 12 through 15 before which singer Derek Sanders, thanks the fans for coming out and for
getting so into the show. They continue with Girls, Black Cat and then slow things down even more with Derek getting his keyboard and playing Miserable At Best which goes down great with the crowd getting highly emotional at this song from they're debut album Lessons In Romantics, which is played beautifully. They keep this slow pace for the rest of the set with Stay, Hold Onto Me and Three Cheers For Five Years, before kicking things up with Oh Well Oh Well and then leaving the stage to huge cheers before coming back to play one more, a fast catchy song called Jersey.

Tonight has been a great gig, that was underwhelmed by Decade stealing the show for me, but then again I'm not a huge Mayday Parade fan, and well as a 30 year old bloke I'm not really they're target audience, but they did great and the fans where clear with they're favorite band of the night, as they almost tour the roof down with they're screams. It was a good mix of bands with a good mix of styles with none of the bands sounding the same, which is always great as you never know what you might find, so weather you're thing is rock, punk or pop tonight had it all and myself and the audience had a great time.

Decade 4/5
Man Overboard 3/5
Mayday Parade 3.5/5

Review By James Daly