Don Broco
Birmingham, Institute
4th December 2013

Don Broco

Well tonight is my last gig of the year, it's been a great year for bands and an even better one for live music, I've seen loads of great acts and If I'm not mistaken I started this year off with Don Broco as a support act, so it's only fitting that I end the year with them as the main headliners!

Tonight is the normal cold winter night in Birmingham, its breezy its damp and it's clear that instead of the yule tide spirit we have the Christmas blues, but fear not the institute is warm and bustling and in the main room is a sell-out gig for a band who just keep getting bigger and better with every show, and let's hope tonight is no different for the Bedford four piece.


Don Broco take to the stage in front of the hundreds of screaming fans that have packed this multi floor venue, the come out slowly with more of an experienced style instead of previous outings where they rush out as fast as possible and jump straight into the main songs to get there music over, no tonight they can take their time and pace themselves, as everyone here knows every word to every song, as they're playing mainly their debut album Priorities which has gone down hugely since release and shows no signs of stopping. They start of the 16 song set with their last single You Wanna Know which goes down a storm, everyone is singing and dancing along, and the band sound great.
The guitars rattle through the PA, crisp and clear with all the technique and effects pedals it really makes it sound great through the venues awesome system, the bass plods along with jamming rhythms whilst the drums rattle and crash all making the unique vocals of Rob Damiani sound even better as the sweet upper pitch tones intertwine with the instruments to make awesome sounds.

The set continues with Whole Truth, Dreamboy, Back In The Day and You Got It Girl before the night takes a heavier turn with the fan favourite Thug Workout where Don Broco scream into a dark track with comical vocals that gets everyone moshing. The line "Sexy girls come up to me, and they always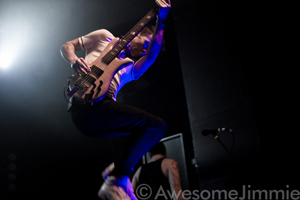 come, if you know what I mean" gets me laughing every time and it's this mixture of tongue in cheek vocals with great musical styling's that make Don Broco one of this year's success acts. They continue the madness by getting there fan club "The Push Up Squad" to do push ups in the instrumental which means in the middle of the room, people get down on the hot messy floor and do push ups whilst the band plays, it's an amazing sight and adds to the charm of the live show. Damiani takes a moment to thanks the fans for coming out and tells everyone that he loves Birmingham and that his parents are from Solihull (which gets a mixture of boos and cheers) and that they always love coming back here to play to such wonderful crowds. The last time they were here they
were supporting Four Year Strong so it's amazing for them to be headlining such an amazing venue. They continue their set with Lets Go Back To School, Yeah Man and Fancy Dress before taking another trip back to their old EP which Damiani tells the crowd "this is for all the old school fans, who here saw us before Priorities came out? (Huge screams) Well that's a bit of bull, as we never got these crowds before it came out, but I jest, here's one from Big Fat Smile, it's called I'm Good". They wrap up the set with Top Of The World, Here's The Thing and Actors in which they tell the crowd this is the last chance to crowd surf, as these lovely security guards are having a long night and need a bit of a rest.


Don Broco leave the stage, but as is normal at a rock gig, they come straight back out and play there three biggest hits, Hold On, Beautiful Morning and Priorities which goes down a storm, the band leave the stage to huge cheers and the crowd leave the building happy.

This year has been an amazing year for Don Broco, and with the size of the venues increasing and the stage show getting better, its glad to see the boys haven't let it go to their heads as they're still as charming and as down to earth as ever, with such a great set list and awesome stage presence its clear to see why they're so popular and I'm pleased that I leave tonight happy in the fact I've ended the year on a high. Hopefully the boys will be back with bigger and better things in 2014 and I can't wait to see what's in store.

Don Broco 4/5

Review By James Daly