Defenders Of The Faith IV
Amon Amarth, Carcass, Bleed From Whitin, Hell
Birmingham, Academy
12th November 2013

Amon Amarth Carcass Bleed From Within Hell

Kicking off tonight's night of heaviness is Hell, and damn are they awesome, the other bands on tonight's bill are going to have to be on top of their game. I haven't seen or heard of this band before and I really can't stress enough that you should see them, they put on a really good show, the 3rd song in is great theatre as the vocalist brings out a cat o' nine tails as a prop and uses it to good effect enhancing the song and set alike. This band have got some mighty tunes at their disposal, the 4th song is the clear highlight of the set for it's awesome opening riffs that continue throughout the song. Fantastic opening to the tour.


Next up are Scottish metallers, Bleed from Within, a band that are all about the aggressive heaviness with a stage presence to go with their music. Opening their set with 'Colony' a good start and delivering their intentions for what seems to be an aggressive but short set, 'Leech' followed delivering more heaviness under red light to maybe give a bit of menace to the song. The band blast through their set with relative ease with the vocalist bounding around the stage trying his best to get the crowd worked up, and to some extent it works. They are not the most original band but they play and craft well.


Main headliners tonight are Carcass, I wasn't sure what to expect, I was expecting it to be wall to wall unintelligible noise but thankfully that proved not to be the case, they sound more akin to Amon Amarth but definitely melodic death metal for the most part, as they blast their way through the likes of, 'Buried Dreams', 'Incarnated Solvent Abuse', which open the set, it's definitely melodic. But the set gets more aggressive and heavy as they go on with, 'This Mortal Coil' and 'Cadaver Pouch Conveyor System'. The vocals are not my favourite as half the time you can't understand what's being growled but you get through it as bits are understandable. This band is all about the music no stage craft to speak of but I don't think they care much for it, as their focus is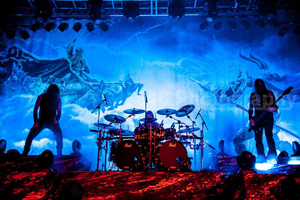 playing the best they can and it shows, there are some good riffs on show here with bags of heavy aplomb. Its's good to see a band that has been around for 25 or so years via various line up changes and are still going. Overall it's not a bad set, feels a bit lengthy at times but they have warmed this crowd up nicely for the headliners.

It's been some time since I last saw these mighty Viking metallers, Amon Amarth, everyday should have some Viking metal in it, I hope their popularity has gone up due to the recent Marvel Films, this band definitely deserve more
recognition. They open their set with 'Father of the Wolf', a strong opening song to get the crowd going again which they do, going just a tad mental, it really is about time this band started headlining in this country, they follow the opening song with 'Deceiver of the Gods' and 'Death in Fire', two great songs to really keep the party cooking along, Their newer songs fit in nicely with the older stuff sticking to the formula is a good way to keep the fans happy especially when they are well written and these fit the bill perfectly, these new songs being 'Deceiver of the Gods' the latest albums title track and 'As Loke falls'.


Amon Amarth do perform one of my favourite songs, 'Guardians of Asgaard', I enjoy this song thoroughly, such a good riff and great song overall, as I'm sure it is for most of the crowd judging from the roar when the songs announced by Johan (vocals). I would have been well pleased with them playing all of that album as there are so many great songs.

They only have 70 minutes to perform their set, with chit chat between songs could have squeezed another song in but Johan keeps the crowd well entertained. They continue their set with the likes of 'Runes to My Memory' and yet another of
my all time favourites, 'Varyags of Miklagaard', my set highlight, what a tune that is, sending the crowd a tad mental with that superb riff. 'Destroyer of the Universe' and 'War of the Gods' bring this set ever closer to it's finish, the set really has flown by due to it being rather entertaining to say the least.

The final two songs of the night are my favourite albums title track, 'Twilight of the Thunder God', it's a great song with a really catchy riff and lyrics about Thor, awesome really! And the final song of the evening is 'The pursuit of the Vikings', rounds off a really top night of entertainment.

Hell 4/5
Bleed From within 3/5
Carcass 3.5/5
Amon Amarth 5/5

Review By Robert Lawrence