[Spunge]
Hey You Guys, Slagerij
Birmingham, Academy 2
16th November 2013

[spunge] Hey You Guys Slagerij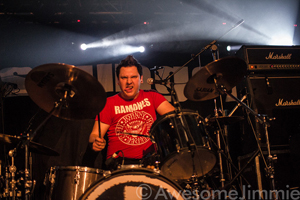 Well tonight is a cold night in Birmingham, the winter cold is upon us and it's only going to get worse from here on in, so what do we have in store to warm those frosty body's, well in the main academy is indie rockers The Editors, who are great in their own way, but they're not really the type of band that would get you dancing, so we head to the academy 2 for some gold old English Ska Punk in the form of Tewkesbury's finest Spunge.


Slagerij are first to take to the stage, this 3 piece Ska Punk band from Swindon do well to get the cold crowd warmed up, they play funky catchy rhythms which go from reggae esc to fast shouty punk all in the same song. They take over the front of the stage and get the still arriving crowd to move in close and dance and sing along with them, which is great work for a first support act. They play loud, so loud in fact that the bass rumbles through your throat making you feel every part of the song. They play a short set with Can't Stop A Nation rounding everything up. Slagerij give a good start to the night let's hope that the next band can continue the energy.

Hey You Guys are a band who are different to the most, they're a relatively new band who have been going for just over a year and who hail from Worcester (like the sauce). They're a punk rock band that has lyrical rants and raves over the top of the beats, which then mixes into vocal harmonies and group shouty choruses. Now I apologise if that makes them sound bad, but believe me they're not, they're amazing. It takes a few songs to get into the uniqueness but once you're in, you're hooked and
they're not going to let you go. The 4 piece are all in shirts and are led by front man Pete Adams who leads the crowd into their chaotic world. The band are all kitted out with 1950's style microphones that give crisp clear vocals and this carry's well over to the crowd, they kick things off with the title track from their album Gasp Shock Horror and then call Spunge to the stage to help them play Earth 616 which has the killer chorus "Oh My God There Goes My Heroes" which gets the crowd fired up and dancing around, after this, Adams comes into the crowd to get more on level and shares out his bucket of sweets before clambering back up and continuing their set. They play a fast and loud set
of great songs including their latest single, the amazing Do Not Resuscitate: Make Me Robocop, where they sing about wanting to save the world from crime as a robot, it's this kind of madness and humour which sets Hey You Guys apart from the rest and I'd thoroughly recommend them.

Spunge enter the stage to an almost packed out room, this 4 piece have almost been going for 20 years and are showing no signs of stopping, they walk out to huge cheers and say hello before jumping into a greatest hits set list of all they're classic songs starting with Lyrical Content. They sound great over the academy 2's some times temperamental pa system, blasting out the clean guitar rhythms and plodding bass lines, topped off with some top class fast paced drumming and lead singer Alex Copeland's gravely up-tempo tones.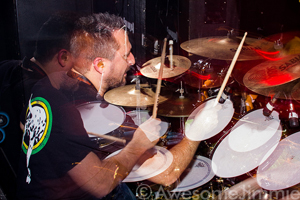 They bounce around the stage having a great time and the audience sings and skanks along, they go into Roots and Backstabber before getting the crowd almost exploding at an early point in the set with Skanking Song. The audience is loving every minute and it's clear that them going back and redoing the songs and making a greatest hits was a great idea. The album itself was a pledge music campaign where the fans chose the songs and it's clear with tonight's crowd that it was the right thing to do as they're loving every second. Spunge take some time between songs to have a chat and catch their breath thanking the crowd for all the support and making sure they put everything in to this last night of the tour to make it a great one. They continue with Old c
lassics Ego and No Woman No Cry which has been changed to feature a little of The Police's So Lonely which makes it a great tribute to reggae acts of the past. Jump On Demand is next which gets the floor bouncing and drinks go flying as people jump around, making the floor almost uncontrollably slippy, it's amazing no-one hurts themselves but the band bring out a slow sing along classic to calm the mood with Angel With A Pint Glass, this gives Spunge a chance to breath before going into Friend Called Fred, Some Suck Some Rock and the greatest hit of them all Kicking Pigeons, which sees the stage get enveloped with members of Hey You Guys along with friends and family as the room erupts into a frenzy of emotions with everyone dancing and singing like crazy. The stage clears and what normally would be the end of their set in
recent years continues with the band knowing that if they don't play the song early they're going to get idiots shouting play Kicking Pigeons which ruins the atmosphere, so they continue with Live another Day and Change Of Scene before ending with the amazing cover of Centrefold which Alex gets the crowd chanting the Nah Nah Nah Nah Nah Nahs before the band start to play. They end on a high with a bass guitar going flying onto the floor and massive cheers. Spunge don't like to do encoures but seeing as it's the last night on the tour they come back on stage and play a song that didn't make it on the album but is still awesome, Nothing At All which gives them time to say thank you to everyone who helped them make the album and who came out to the tour before bowing out and coming to meet the fans who have supported them.


Tonights gig was awesome show, it had two great supports and a main act who are top of their game, they know how the songs go and they know how to get a crowd pumped, they're still playing fun fresh music and are showing that you can't stop a good thing. So if it's been a while since you've seen or heard Spunge, or if you've never heard of them yet like some ska punk, then go and check out their greatest hits and keep an eye out next year for another tour some festivals and maybe even a new album of new songs!

Slagerij 3.5/5
Hey You Guys 4/5
Spunge 5/5

Review By James Daly