The Blackout
Framing Hanley
Birmingham, Institute
25th October 2013

The Blackout Framing Hanley

Tennessee natives Framing Hanley arrived on stage tonight in The Library at The Birmingham Institute to a warm reception from a packed crowd of enthusiastic UK fans – some of whom have followed the band around the UK to be at every show. Frontman Kenneth Nixon thanked fans for their dedication to the band's cause and made time to meet and greet in the front row.

Fresh from the growing Nashville rock scene that includes the likes of Paramore and Kings of Leon, Framing Hanley have a bittersweet, haunting rock sound that is particularly evident on the likes of the smash hit Here Me Now and You Stupid Girl. They deftly move from quiet, melodic riffs to crashing choruses that keep the crowd on their toes. Tonight's set included the band's cover of 'Lil Wayne's Lollipop which went down a storm with their fan base and provided the perfect opening for the Welsh rockers, The Blackout.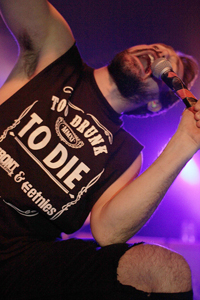 Hailing from Methyr Tydfil, The Blackout have more energy on a stage than the National Grid so the band's performances are always worth watching. Providing optimism for the world where it has sorely been lacking in recent times, the band got the crowd buoyed up and jumping around to such audio delights as We're Going to Hell… so Bring the Sunblock and Children of the Night with Sean Smith leaping off into the crowd shortly after arriving on stage reappearing during the band's third song with a bloody elbow.

The Blackout may not be everyone's cup of tea in the world of rock but they give every performance their all and it's seriously refreshing to see a band doing things their own way instead of following the beaten path as so many do. Promoting their current Start the Party album, which features Pritchard from Dirty Sanchez on it, Gavin and Sean's vocals balance each other out over the crunching guitars and bring a smile to even the most miserable of faces.

Framing Hanley – 4/5
Blackout – 5/5

Review By Claire Whelpton