Bowling For Soup
Patent Pending
Birmingham, Academy
19th October 2013

Bowling For Soup Patent Pending

Tonight is a good night in Birmingham, the weathers a bit soggy but better than it has been, the dark is drawing in, and Birmingham Academy is opening its doors early to the lucky fans who bought VIP packages to meet Bowling For Soup, on this their Farewell Tour. The main room feels weird as Bowling For Soup take to the stage to play a few acoustic numbers for the VIP's, then they pose for photos and sign the crowds merch, then they leave the room and go backstage as the venues doors open to the huge crowds that are outside and queuing all the way up to the Pagoda, the room starts to swell with fans, and then the first band comes on stage.


Patent Pending, are the one and only support tonight, which means they've got a tough job as there's not much time to entertain the fans due to the fact that Bowling For Soups will be playing a massive set, but somehow they pull it off fantastically. The band comes onstage like their on fire, they run around the stage bouncing like headless chickens. Singer Joe Ragosta instantly jumps down into the crowd and gets stuck into the show. These New York pop punkers know what they're doing and get this crowd raging. They sound great, with fast drums, popping bass and power chords a plenty all with Ragosta's unique fast pace vocals on top. Patent Pending have been around for about 12 years and so know how to put on a show, and this involves dance
moves, crowd swimming and climbing up to the upper balcony and having the guitarist Marc Kantor play a guitar solo, its different it's fun and its fantastic. The crowd swimming is genius Ragosta gets dressed up in arm bands and swimming goggles and has a race with bassist Corey Devincenzo, they get the crowd to split leave a gap in the middle for them to judge how far back they have to go, and then they dive into the crowd moving all the way back to near the sound desk and back to the stage, Ragosta wins as he jumps over the barrier and onto the stage but Devincenzo takes his defeat gracefully and
one of the security guards carries him back onto the stage. All this stage antics would make up for poor songs, but Patent Pending have great songs up their sleeves too, including a very catchy song called Hey Mario which is about Super Mario and his never ending quest for the princess, throw in a couple of covers and you have the best warm up act I've ever seen. Luckily if you missed this tour Patent Pending are back in April (along with 2 members of Bowling For Soup) for a headline tour, so you can enjoy a full set of crazy antics a fun pop punk songs.


Bowling For Soup are obviously the main act and after Patent Pending's amazing display, it does put a little doubt in my mind that they won't be able to top them, but as soon as they come out onto the stage they put my mind at ease as they start a 31 song setlist! The crowd chant BFS then the lights go dim and the Bowling For Soup theme song plays and the band walk out slowly all waiting quietly and still as the music stops playing they start by blasting off an almost none stop 3 songs which includes Criticially Distained, Almost and No Hablos Ingles. They sound amazingly clear, with the catchy tones of Jaret Riddick's voice harmonised with the gravelly tones of Eric Chandler make the vocals loud and clear, mix this with the bouncy bass, guitar riffs and solos along with the pounding drums and you have a perfect sounding
Bowling For Soup. After blasting through the first 3 songs, the band take some time to talk to the crowd (as they continue to do throughout the set, they play 3 songs then talk to the crowd, 3 songs have a drink, 3 songs talk to the crowd etc etc) as they announce the bar is open and fish out 2 fans to come join Patent Pending at the bar on the stage, where there's plenty of booze and a onetime chance to sit on stage and watch Bowling For Soup from a unique angle. Bowling For Soup have a great onstage chemistry and they banter between each other about things like, Birmingham, boobs, tables(as Eric gets a table brought on stage for him to put his drink on, much to Jaret's distain), girls, guys, balls, sex outside and how much they love the UK. They continue with their huge set and play; Let's GO To The Pub, Hooray For Beer, Emily, Since We
Broke Up, Turbulence and High School Never Ends. They then play Ohio (Come Back To Texas), and as they go into the last verse Patent Pending take over the instruments (almost seamlessly) and finish the song for them as they go to the bar and have a drink, it's this kind of random spontaneity that keeps your eyes locked on the stage. They continue with Right About Now, A Really Cool Dance Song, My Wena, I Don't Wanna Rock and then play the Phoneases and Ferb Theme before which they announce this "this next song is for all the parents that brought they're kids because they knew we do the music for a cartoon, next time you're probably best checking out the bands other songs before presuming we just play songs from the show". They continue the madness with Envy before telling the crowd that "this next song were playing isn't our song, lots of people think it is, but it's not, but it rocks so we started playing it" before blasting into Stacys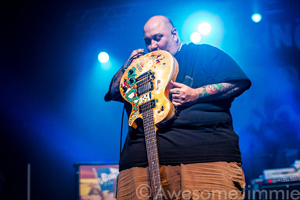 Mom by Fountains of Wayne. They continue with The Last Rock Show, Punk Rock 101 and then do a cover of People On Vacation's song(which is Jaret and Eric's other band who will be back in April with Patent Pending), Prettiest Girl In The World. Now up to this point the band have played 20 songs, and since about My Wena, every song has been sped up and its needed as they've been playing for an hour and a half and still have another hour left and still have 11 songs to play, you can see the band look tired but the breaks between songs are helping them get their energy back before they continue with; My Hometown, Suckerpunch, When We Die, The Bitch Song, Shut-Up and Smile, Girl All The Bad Guys Want Friends o' Mine and Circle before they leave the stage ready for their Encore. They
come back onstage and finish this amazing set with a song about missing their family whilst they're on tour, Belgium, a cover of Baby One More Time and finally wrapping the set up with 1985.

Bowling For Soup say this is farewell and not goodbye and that they will be back to play festivals and with their separate band People On Vacation, but I personally don't believe them, I'm sure in 2 years they'll be back touring as Bowling For Soup and although some people might feel annoyed that they thought this was goodbye I for one will be happy as Bowling For Soup have so many great songs and have such a fun live show it would be a shame if this was the last tour they did over in the UK.

Overall tonight has been amazing, a great support and an awesome headline band. Unique stage shows and fun banter and chats between the bands and the crowd, all topped with bouncy songs make this one of the best shows I've ever been to and I hope it isn't the last time.

Patent Pending 4.5/5
BFS 5/5

Review By James Daly