HIM
Caspian
Wolverhampton, Wulfrun Hall
21st October 2013

HIM Caspian

Support this evening is from Caspian, a five piece post-rock band from Massachusetts. They are a little slow to start really doing anything much more than a bit of gentle strumming....then BOOM!, we are woken up by some glorious sounds, emitting from the Wulfrun stage. The guitar work, and energy of the band are quite something, visually they are certainly making the most of the stage, it's a little chaotic, but yet if you close your eyes for a minute through some of the tracks, you get a feeling of calmness almost, quite tranquil.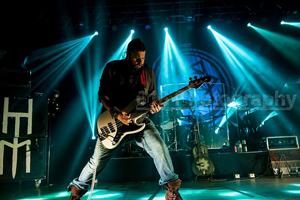 Caspian play a good set of around 45 minutes, and the crowd seem to have taken to them quite well tonight, giving the lads a generous applause as they finished, which I am sure also helped to wake up the few crowd members that had nodded off to this beautiful melodic chaos.

For more information on Caspian, check out the link below:
https://www.facebook.com/CaspianTheBand


Tonight I for one am really excited to see HIM, it's the first time I have actually managed to catch them live, after failing miserably the last I don't know how many times, and after Rob and I were lucky enough to interview Ville prior to tonight's gig, I'm pretty certain not one person will be disappointed.

Kicking things off with 'All Lips Go Blue', from 8th and latest album 'Tears On Tape' Ville's vocals are on top form, and I've already got goose bumps! The crowd are in their element, singing their hearts out as 'Buried Alive By Love', 'Wings Of A Butterfly' and, 'Right Here In These Arms' are performed with such pride, it's apparent from the
expressions on every band members face and in their presence on stage they are enjoying it just as much as we are, Ville has not stopped smiling yet! It's such a rare quality in many bands these days to just be themselves, to be the same off stage as they are when performing to hundreds of people, there is no 'fakeness' with HIM.

Another new track,'I Will Be The End Of You' is received just as well as the older tracks, but then 'Tears on Tape' as an album is back to a more classic sounding HIM, no doubt regaining a few stray fans after 'Screamworks'. The set rages on, only seeing the band take the odd second to catch
their breath and enjoy the chants and cheers in between from their energetic crowd, 'Join Me In Death', 'Your Sweet Six Six Six' and 'Passions Killing Floor', with it's epic riffs are just that, 'epic'. Title track from new album,'Tears On Tape' goes down stupendously, following suit of the previous tracks, I really think having a little break has done great things for the band they look and sound better than ever, working together like a well oiled machine with a lot of heart and soul, it's fantastic to witness.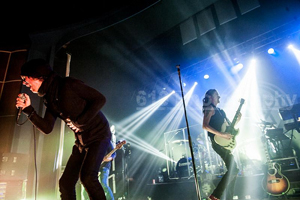 Heading towards the end of tonight's set with the cover of Chris Isaak's 'Wicked Game', (immense guitar solos included!), quickly followed with 'It's All Tears (drown in this love)', 'Soul On Fire', the beautiful 'Into The Night', and dedicated track to the crowd and Hogs Head pub in Broad Street, 'Funeral Of Hearts'.

'Sleepwalking Past Hope' ends what has been a truly awesome evening for all involved, and I think it's safe to say that HIM are not 'Buried' are definitely 'Alive' and there is a hell of a lot of 'Love' for them!

Caspian 3/5
Him 5/5

Review By Jude Onions
Photos By Robert Lawrence