Alter Bridge
Shinedown, Halestorm
Cardiff, Motorpoint Arena
20th October 2013

Alter Bridge Shinedown Halestorm

Back in April Alter Bridge announced a 6 date UK headline Arena tour for October and also announced that label mates Shinedown and Halestorm would be joining them on the tour and with tickets priced at £25 tickets flew out the door straight away, and after months of waiting tonight I headed down to the Motorpoint Arena to witness the triple whammy rock 'N roll tour of the year.
I got to the venue moments before Halestorm took to the stage and like normal Halestorm were on fire tonight putting everything into their fast paced energetic 30 minute set where they only had time to play 6 songs but they picked the songs well as the likes of 'Love Bits (So Do I)', ' Mz. Hyde', 'Freak Like Me', 'I Miss The Misery' and Judas Priest cover 'Dissident Aggressor' really warmed the crowd up tonight but it was the sing-a-long set closer 'Here's To Us' which really got the thousands of fans singing along. For the majority of the set most eyes were on drummer Arejay Hale as he is super talented and spent the whole set showing off and beating his drums in a way that most drummers lack, by the
end of the set Halestorm announced that they will be back for a headline tour in April this was met by huge cheers and I am sure if you give it a few years Halestorm will be ready to headline the arena circuit themselves.

Shinedown were up next and the response they got from the crowd was like they had just stepped on stage to headline but then again Shinedown have spent quite a few years playing sold out shows across the UK which has helped make them a big household name in the alternative music industry and as soon as the band blasted into set opener 'Devour' you just knew that the next hour with Shinedown was going to be a pleasure to witness.


Now every time I have seen Shinedown on the live circuit front man Brent Smith has looked different and tonight carried on that routine with Brent Smith taking to the stage built like a brick with slicked back hair which looked like something out of the military and throughout the set he took control by spending a fair bit of time crowd surfing and greeting his fans and whilst back on stage he spent a lot of time interacting with the crowd talking about how this may be the first time some people have seen Shinedown but it won't be the last and also how it is important for all bands and artists to remember the fans and bands who have supported them through the years or they would be playing to empty venues.


The set that Shinedown played was full of big hitters such as 'Sound Of Madness', 'Enemies', 'Unity', 'Second Change', but it was 'Diamond Eyes (Boom-Lay Boom-Lay Boom) and set closer 'Bully' which really got the crowd moving tonight and it is safe to say when Shinedown left the stage I am sure that the majority of the venue were left thinking that it won't be long until Shinedown are back to headline the Motorpoint Arena as they seriously had the crowd in the palm of their hands tonight and that's a tough thing to do and achieve for any support act.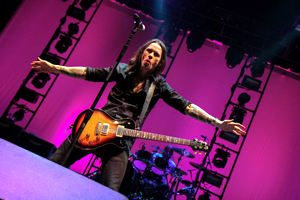 Now Alter Bridge are no strangers to headlining arenas as the last time they were headlining the UK was back in 2011 when they were playing the same venues and with label mates Black Stone Cherry in support and what makes an Alter Bridge headline shows great is the fact that unlike most bands when they hit the arena circuit they don't need any special stage props, no big screens, no pyro, just a massive stage, their instruments, a half decent lighting show and thousands of fans who love and appreciate their music and that is exactly what tonight's show was a straight up rock 'N roll show where the music did all the talking.


By the time Alter Bridge took to the stage tonight the crowd was already warmed up from solid sets from both Halestorm and Shinedown so the crowd was truly ready for Alter Bridge to take to the stage, and they did just that opening with 'Addicted To Pain' which happens to be the lead single from their fourth studio album 'Fortress' and it was the best possible move as the song is new and fresh, one that the hardcore fans love and one that helped draw a whole new generation of fans into the music of Alter Bridge and it really set the bar for a solid 18 song set.


Vocally Myles Kennedy was on top form, but then again when is he not as every time I have seen Myles Kennedy he has blown me away with his vocal range, Mark Tremonti like usual was at the top of his game with his fast paced technical guitar riffs and it was a pleasure to see Myles Kennedy, Mark Tremonti and Brian Marshall all lined up next to each other jamming along whilst Scott Phillips was delivering on the drums showing just how solid the instrumental work in Alter Bridge is.


The set Alter Bridge played was solid they played quite a few songs from their latest album 'Fortress' but they also found time to include many classics and ended up playing songs spanning throughout their whole 9 year musical career with the likes of 'Before Tomorrow Comes', 'Cry Of Achilles', ' Waters Rising', 'Broken Wings', 'Metalingus', 'Blackbird' and even 'Watch Over You' featuring a guest appearance from Lizzy Hale all going down amazing with the thousands of people in attendance tonight.


The show came to an end with 'Open You Eyes' which was then followed up by a short two track encore of 'Slip To the Void' and 'Isolation' and moments later the thousands of fans poured out into the cold streets of Cardiff knowing that they easily got their £25 worth and more with tonight's outstanding show and I personally think that the next time we see Alter Bridge back in the UK it will be to headline a festival or to headline the likes of Wembley Stadium or one of the many other football stadiums in the UK that have been hosting concerts over recent years.

Halestorm 5/5
Shinedown 5/5
Alter Bridge 5/5

Review By Trigger