Sleeping With Sirens
The Summer Set, Hands Like Houses, The Getaway Plan
Birmingham, Academy
11th October 2013

Sleeping With Sirens The Summer Set Hands Like Houses The Getaway Plan

It's that time of year again, the time when days get shorter the nights get longer and the cities venues start to have bands on almost every night of the week. Tonight's gig is that of Sleeping With Sirens who are here to bring their own unique brand of emo/metal to the sold out venue of screaming girls here in Birmingham, but we don't want to jump ahead of ourselves as we have 3 support bands to go, and first up is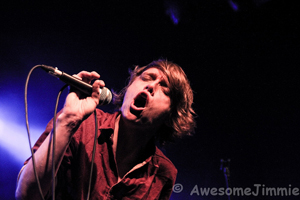 The Getaway Plan, this Australian 4 piece are a long way from home, but it doesn't matter as the crowd warm to them instantly, cheering along as they play mellow indie rock songs that are a million miles away from the main band tonight. Aaron Barnett's vocals are beautiful and resonate across this bustling room as it continues to fill up to bursting point. The rest of the band move around the stage head banging and rocking as they go upbeat and play some faster tracks which get the crowd warmed up, just as everyone gets ready for another track the set ends and they leave the stage. An interesting start to the night which leaves me wanting to hear more from them, let's hope the next band are as good.
Hands Like Houses come out to huge applause, after their walk on song "I'm the voice" plays to a crowd too young to know the killer tune. They kick straight into action with Introduced Species and jump around the stage with tonnes of energy all with smiles on their faces, they look like they're having a great time and this passes over to the crowd as the slightly Enter Shikari sounding songs blast into the room. They're upbeat, fast and hard hitting, they've kept the tempo going and again their set ends quite abruptly, so I wouldn't mind checking out a headline show as they definitely had more to give.
The Summer Set are up next and change the style of music again, with their slightly country pop rock sound but again they go down a storm with catchy songs like Rescue and Boomerang which have catchy lyrics like "If I was James Dean you could be my Aubry" which gets the crowd moving and trying to sing along. They tell the room how it's the last night of the tour and they want to end with a bang so the room best be having the night of their lives and to be fair with music that's this catchy it's hard not to have a great time. They tell the crowd how they love Birmingham and how when they were last here they saved someone from a car crash, which gets huge cheers. They wrap up their set with the immensely popular song Chelsea that bears an ever so striking resemblance to Stacy's mom by Fountains of Wayne, but it doesn't matter as it's so unbelievably fun you can't help but enjoy it. They leave to huge applause and now we wait for the main act.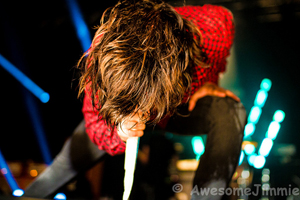 Sleeping With Sirens come out to the biggest screams of the night, and burst into action, all jumping around to the music and all dressed in plain shirts with bow ties except for singer Kellin Quinn who is in a bright shirt and without the bow tie, and the reason is, he's the front man he's the main focal point of the band and he's the one that adds the final charm and panache to the deep songs that are being played. I reviewed Sleeping With Sirens a few months back at Slam Dunk Festival and wasn't impressed but tonight they're on fire, they're instantly setting the stage off, they sound amazing all across the heaving room with bashing drums, plodding bass and thrashing guitars whilst tied together with Kellins unique vocal styles. They play an awesome set with songs like Here We Go, Congratulations and Low. In between songs the band has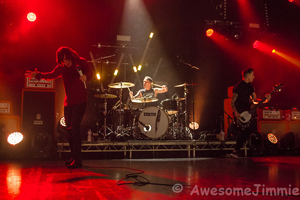 some fun and play some short covers like Greenday's Know Your Enemy and N Together Now by Limp Bizkit. They also take the time to enlighten the crowd about some songs and life in general, for instance after Free Now Kellin tells the crowd how his dad called him to complain about the song and he said "the fact you rang me up to complain shows it made a difference, life is hard and I don't mean to complain about parents but it's hard you have to be the jock and look like that girl on the magazine and have a perfect job but you don't, we are all unique and perfect the way we are".
This band are something special they're fun entertaining and deep, their songs have passion and meaning (especially to this young crowd), and they're also doing it from a good place, you might think as I once did that they're pretentious and without heart but this couldn't be further from the truth. They put on a great show with awesome songs that will get you moving as the rest of the set was filled with songs like; If I'm James Dean You're Audrey Hepburn, A Trophy Fathers Trophy Son, Do It Now
Remember Later, Satellites and ending with an encore of If You Can't Hang. So as this was the last night on the tour, the next time they come around shake off the ideals that they're sell outs and a band without a soul and just go and see them as you won't be disappointed!

The Getaway Plan – 3/5
Hands Like Houses – 3.5/5
The Summer Set – 3.5/5
Sleeping With Sirens – 4.5/5


Review By James Daly