Children Of Bodom
Napalm Death, Insomnium
Bristol, Academy
8th October 2013

Children Of Bodom Napalm Death Insomnium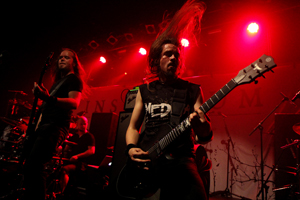 Children Of Bodom headed to Bristol Academy tonight with Napalm Death, Insomnium and Medeia in tow as support, due to car trouble I missed Medeia but managed to get into the venue just before Insomnium took to the stage.

Now Insomnium are a four piece death metal band from Joensuu Finland who have released 5 albums and various EP's in their 16 year career so far and tonight they had a 25 minute set and were on top form and really showed what they were all about with their massive heavy sounding jamming and dirty sounding gruff vocals from frontman Niilo Sevanen.


Insomnium played a set which span right through their career with songs from their latest album 'One For Sorrow' right back to songs from their early EP's and the great thing about Insmnium was the fact that each and every song they played maintained the same high standard throughout as the band really came together playing their instruments with pure speed and passion right up until set closer 'Mortal Share' left us all wanting more.


Next up were Birmingham based grindcore legends Napalm Death who really brought the noise tonight as from the off the band layed down some seriously heavy sounds whilst front man Mark Greenway constantly ran across the stage screaming his bollocks off like he was doing a bleep test on speed and what made things more insane was the fact that they played in pure darkness apart from a mad flurry of fast paced strobe lighting which made the whole Napalm Death experience that little bit more intense.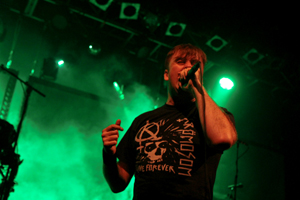 During their 45 minute set Napalm Death had the mosh pit flowing with fans bouncing off each other to their short hectic songs and it was the likes of 'Multinational Corporations', 'Narcoleptic', 'The Wold I Feed', 'Leper Colony', 'Siege Of Power' and their Dead Kennedys cover 'Nazi Punks Fuck Off' which really got the crowd moving tonight and when Napalm Death left the stage I was left comparing Mark Greenways stage presence to that of Letlive frontman Jason Aalon Butler who always puts on an equally hectic show.


Finish metal gods Children Of Bodom took to the stage at 9.30pm and since the last time I saw Children Of Bodom live their stage show has got that little bit more impressive with big screens hanging at the back of the stage which showed various different short videos and also displayed the bands initials every now and again, and not to forget the crazy amount of lighting set up and straight away they got down to business playing the likes of 'Transference', 'Silent Night, Bodom Night', 'Sixpounder' and latest album title track 'Halo Of Blood' and for the majority of the show I really did not know
where to look as all five members of Children Of Bodom are solid musicians who's talent really shined tonight with Jaska Raatikainen aggressively smashing the hell out of his drums whilst Janne Wirman was showing off his beautiful keyboard work which really set's Children Of Bodom away from the majority of metal bands on the scene at the moment and as for frontman Alexi Laiho I have never witnessed a guitarist play as technical and fast as he did tonight and with such ease.


As the show progressed Children Of Bodom played fan favourites such as 'Lake Bodom', 'Towards Dead End', 'Hate Me!' but it was the likes of 'Hate Crew Deathroll', 'Are You Dead Yet?' and 'Bloodrunk' which got the biggest reaction from the crowd tonight with so many people singing and fist punching along to the heavy yet melodic sounds of Children Of Bodom.

The set came to an end with 'Downfall' and within seconds of the band leaving the stage the crowd started chanting "Bodom, Bodom, Bodom" louder and louder until they came back onstage to play the fast paced show closer 'In Your Face' and even then you could tell that the fans wanted more as Children Of Bodom are masters of melodic metal who seriously know how to put on a first class live show.

Insomnium 4/5
Napalm Death 4/5
Children Of Bodom 5/5

Review By Trigger