Caro Emerald
Southend Cliffs Pavilion
20th September 2013

Caro Emerald

Caro Emerald is easily one of the hottest artists to of come out of Holland in a very long time, her debut album 'Deleted Scenes From The Cutting Room Floor' was number 1 un her own country for 27 weeks beating the record previously set by Michael Jackson with his 'Thriller' album which sat at the top of the charts for 26 weeks.

Now 2 albums into her career Caro Emerald is a worldwide star and is currently on a sold out run of shows around the UK and is also close to
selling out many dates to her forthcoming UK arena tour which has just been postponed from March 2014 to October 2014 whilst Caro Emerald becomes a mum for the first time.
Tonight we headed down to the Cliffs Pavilion in Southend to watch Caro Emerald, the show was sold out months in advanced and you could tell that the crowd tonight were super excited about the next couple of hours as many people took to the venue and their seats super early in anticipation for the show ahead.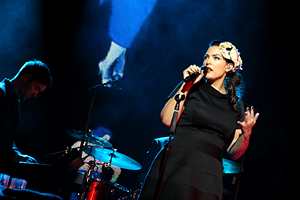 Caro Emerald and her band took to the stage dead on 8.30pm tonight and right from the start she had the crowd bopping their head along to the likes of 'One Day' and 'completely' and moments after these songs she spoke to the crowd to say she had picked her outfits for the night and the shoes to go along with them but because they are all massive skyscraper shoes and the stage is on a slight slant she will bring each pair of shoes out to have centre stage whilst she plays the whole show barefooted which was a wise move considering her recently announced pregnancy.


As the set progressed Caro and her bands poppy-jazz sounds were really warming on the crowd as people got out of their seats to dance down the aisles until the kill joy security told them to go and sit back down, Caro acknowledged this and told them not to worry you will be up dancing again later.

Now Caro is one talented musician who totally looks and sounds the part on stage and it seemed like she was having the time of her life tonight smiling throughout the set but her 8 piece backing band were equally as good and she made sure that each and every member of the band got the recognition that they deserved as she announced their names during solos and gave them chance to stand out when she disappeared for quick outfit change and that was the great thing music was played constantly apart from the short 2 minute wait for the encore.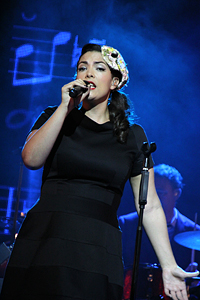 During a 24 track 2 hour performance Caro played all the hits like 'Pack Up The Louie', 'Liquid Launch', 'Dr Wanna Do', 'Tangled Up', 'Coming Back As A Man,' but it was the likes of 'A Night Like This', 'The Other Women', 'That Man' and set closer 'No Me Quite Pas' which had the whole venue up on their feet singing and dancing the night away.

Overall tonight was fantastic and it come across more like a show than it did a concert and that is because there were no support bands it was just Caro and her 8 piece band and the music flowed constantly for over 2 hours even during outfit changes just like they would in the West End and I am sure that everyone left the venue tonight with a big smile on their face and the music of Caro Emerald going around there head.

Next time Caro is back in the UK will be for an Arena tour in just over 12 months and I seriously recommend you book your tickets now before they sell out as Caro Emerald is quickly becoming one of the most talked about artists around at the moment and tonight's show proved exactly why.

Caro Emerald 5/5

Review By Trigger