Motionless In White
The Defiled, Glamour Of The Kill
Birmingham, Academy 2
20th September 2013

Motionless In White The Defiled Glamour Of The Kill

Feeling well rusty tonight, it's been a while since I was last shooting at a gig and after the first few songs of Glamour of the Kill's set my arms are aching, I had better hit the weights!

Glamour of the Kill are a band I quite like, I enjoyed the last set of theirs almost two years ago, and now they are about to release a new album and are playing a few songs of it tonight. This time round they are a lot more aggressive with a mix of their own style and a bit like early Bullet for my Valentine. They open things up strongly with the new songs taking things up a notch with their maturer sound and strong aggressive tone and pace. While their older stuff is pretty good their newer stuff is much preferred, and makes me look forward to hearing the new album.


I'm not sure if it's just me possibly getting old, or just a poor mix, but all I can make out of the Defiled is just drums and bass for the first few songs, couldn't hear the vocals at all. While the vocals seemed to have gotten turned up eventually, I can't hear any keys or guitar, just drums and bass for pretty much the whole set, other instruments break through every now and then which forms a fairly decent song but on the whole not one for the ears!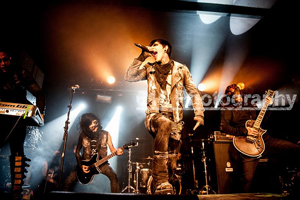 Motionless in White are headlining this evening, they were alright the last time I saw them but tonight they seem to be really on it. The opening few songs are pretty electric, sending the crowd a little bit mental, which pretty much sets the tone for the rest of the night as the band blast through Devils Night, Sick from Melt, Abigail and Black Damask.

It's a really lively show from these guy's, tons of energy and they really know how to put on a show they even have dancing girls, which suits the band but I feel somehow cheapens the night as it's not really adding anything to the show,


The middle set features the likes of 'Puppets', 'Puppets 2', 'America', and a rather nifty drum solo, it's a bit self indulgent really. 'Infamous' follows and keeps the set cooking along nicely.

'Creatures' closes out the main set, then something rather odd happens, the singer just waffles some non sense about no more songs and calling fans from other gigs dicks or something like that, I can only assume it's a really poor attempt at British humour , whatever it is doesn't translate well. After the nonsense they close out the night superbly with 'Immaculate Misconception', apart from that blip right at the end it was a thoroughly enjoyable set.

Glamour Of The Kill 4/5
The Defiled 2/5
Motionless In White 4.5/5

Review By Robert Lawrence