Babyshambles
Lonely Tourist
Bristol, Academy
11th September 2013

Babyshambles Lonley Tourist

Babyshambles have just put out there third studio album 'Sequel to The Prequel' which also happens to be their first studio album in 6 years thanks to an unplanned hiatus due to a mad run of bad luck within the band which consisted of visits to rehab, bike accidents, court appearances and also Pete Doherty doing his own solo stuff.

To coincide with the release of 'Sequel To The Prequel' Babyshambles kicked off a 20 date UK tour on the 4th September in Glasgow and by the time the band hit the fourth date of their UK tour in Manchester there was already bad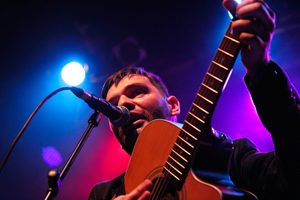 reports of how the band only managed to play half the set due to Pete Doherty being a bit worse for wear slurring his words and trashing the bands equipment before then trying to drive their tour bus away dressed only in his boxers whilst it was still connected to the venues electric supply and all this left me with a bit of doubt for the show I was attending tonight in Bristol.

I got to the venue moments before the one and only support act, everyone's favourite Bristol based Glaswegian solo singer songwriter Lonely Tourist took to the stage and from the start he interacts with the crowd building up a friendly bit of banter and this is pretty much how the next 30minutes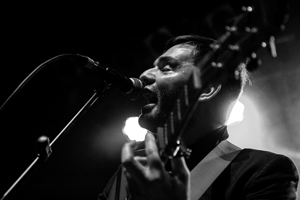 progress with Paul Tierney as he interacts with the crowd before each and every song that he plays and his fast paced guitar playing and whitty story telling warms the crowd up nicely as he plays through the likes of 'Trojan Box Calypso', 'The Ballad Of Paul Tierney', 'Sick Of This Winter', 'Rattling' and set closer 'I Live Where You Are' which all leave a lasting impression.

After Lonely Tourist left the stage I had a lot of Babyshambles fans coming up to me asking if they were still playing tonight as they had heard they had pulled out, I reinsured the fans that Babyshambles were defiantly playing and due on at 9pm and in true Babyshambles style they took the stage 15 minutes late and got a great reaction from the busy but not sold out venue tonight.


The whole of Babyshambles are great musicians but from the start all eyes were on Pete as he took to the stage in his usual smart looking suit but it was only a few songs into the set when Pete bent over and we realised that he wasn't as smart looking as we originally thought as the arse creases on his trousers were cut out giving everyone an interesting view from time to time.

Pete quickly greeted the crowd before the band smashed straight into fan favourite 'Delivery' and the band were on top form smashing though this classic song like they had never been away from the live scene, and soon after they went into latest single 'Nothing Comes To Nothing' which the crowd sang along to word for word.


As the set progressed Pete Babyshambles played a good selection of songs from their new album such as 'Fireman', 'Dr No', 'Farmer's Daughter', 'Fall from Grace', 'Penguins' and 'Picture Me In A Hospital' and the good thing was that their fans knew pretty much every word for these songs as well as the classics.

The likes of 'Seven Shades', 'Killamangiro' and 'Fuck Forever' pleased the crowd the most with the later of the three even featuring a super fast guy run from the back of the stage to do a stage dive and then crowd surf towards the back of the venue, for the majority of the night
the security had their work cut out as fans were climbing poles to try and get to the top tier of the venue which put themselves and others around them in danger, Pete Doherty was having a party downing around 7pints during the course of the show, smoking numerous amounts of cigarettes , taking the head sets off the security's head and throwing them into the middle of the crowd and by the end of the set he had drunkenly stumbled into the drum kick and nearly stumbled off the stage after trying to stand on a speaker.


After 'Fuck Forever' Babyshambles left the stage but Pete Doherty refused to leave and continued to play for the next 40minutes and in that time Pete got guitarist Mik Whitnall to come on and jam with him for a bit and also got Mik Whitnall and the drum roadie to drum for him and when he had no drummer he spent the time himself drunkenly smacking the drum kick with his microphone, over the course of 40minutes Pete looked worse for wear but put on a great unpredictable show as he covered various songs from The Smiths, The Beatles, Libertines and Oasis and the highlight was hearing Pete cover 'Can't Stand Me Now' which had the crowd singing at the top of their voice and also his cover of 'Cigarettes And Alcohol' which he cheekily changed the lyrics to "Crack cocaine and alcohol".

Pete was having the time of his life tonight and only left the stage when the plug was finally pulled on him at 11.05pm when the venue lights all got turned on and the sound got cut which Pete responded by doing a one man protest of laying on the floor until his band mates finally come on to get him up minutes later.

Whenever you pay money to see a show that features Pete Doherty you are always taking a big gamble and will never really know what you are going to get until the show is in motion and tonight I can guarantee that the crowd left with a big smile on their face after getting their money's worth and more as Babyshambles played a full set before Pete treated the crowd to an 40minutes unexpected solo unplugged show.

Lonley Tourist 4/5
Babyshambles 4/5

Review By Trigger