Dave Hause
Johnny Two Bags
Wolverhampton, Slade Rooms
4th May 2013

Dave Hause Johnny Two Bags

Johnny Two Bags (Social Distortion), get's things off to a flying start this evening at The Slade Rooms. Instantly you are drawn into the amazing sound of Johnny's voice, as he belts out 'How Many Hearts (Will You Destroy Today?)'. Steaming through a good sized set with other fantastic tracks like 'Hope Dies Hard' and old skating song, 'Riding on Clay Wheels' the crowd are well and truly warmed up after this superb acoustic opener.


Dave Hause enters the stage just after 9pm, to an old PA announcement before blasting into 'Heavy Heart', which already has the semi full room singing the chorus right back at him. The energy Dave has, just him and his electric guitar is like nothing else I have seen, talk about giving it 100% and loving what you do, I'm literally blown away!
Still wondering how the hell I have never discovered him before now, 'Melanin' is up next, a real catchy track. After this track there is a fair amount of banter as one crowd member shouts (in a very Wolverhampton accent), 'Come on Dave!', as he tunes his guitar, and explains he has to do that first being an acoustic show and all.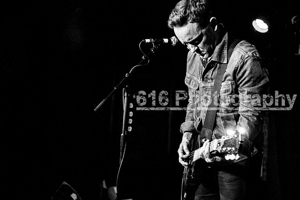 'Tonight Tonight' gets the crowd clapping and singing along once again, and then we get to hear new track 'Autism Vaccine Blues' which is due for release in the Autumn. 'Time Will Tell' takes things down a notch, but only slightly with an acoustic guitar, as does 'Pray For Tucson'.

After more banter from the crowd, in particular, a running joke about 'Fish and Chips' and trying to get Dave to go out after the gig for some, we move towards the end of this glorious set with 'Years From Now' a positive song about not looking back?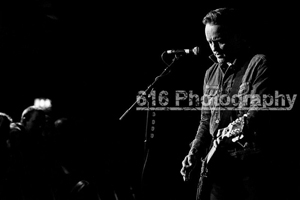 Back on the electric guitar, a cover of Joe Strummers 'Coma Girl', before Dave takes a minute to thank all the bands that he has opened up for inc, Social Distortion, Alkaline Trio, and of course the brilliant Gaslight Anthem, of which there are a few similarities!
Set closers are 'Shine', 'Meet Me At The Lanes', 'Revolutions' 'Pretty Good Year' and finally 'C'mon Kid'.

All in all, this evening has proven that you don't always need a band backing you to create the same level of sound and enjoyment.

Johnny Two Bags 3/5
Dave Hause 5/5

Review By Jude Onions
Photos By Robert Lawrence