Frank Turner
Larry And His Flask, George Frakes
Birmingham, Academy
24th April 2013

Frank Turner Larry And His Flask George Frakes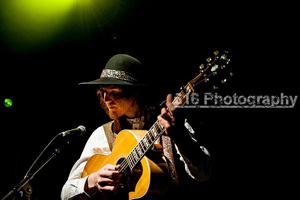 First up tonight is Acoustic folk guitarist George Frakes, strangely wearing a woman's hat. He's not all that bad, but he's not very exciting, he lost the crowd after the first song, they clap when they're supposed to, respectfully, but mostly the crowd just needs prodding into life. He's quite good on the guitar, quite quick finger work when he gets going, the crowd claps along but that's the most participation he gets from them, and these moments are few and far between. He's not a bad act and he has a good tuneful voice but I think this crowd need the liveliness of a full band.


Next up tonight is American punk bluegrass band, Larry & His Flask, finally to lift things up after the slow start of the opener, and I think the crowd are shocked into life, with their very lively sound and even livelier on stage antics, most of the band pulling rock faces and jumping around like its going out of fashion, a joy to watch and even more so with the sound, it's just full on bluegrass with the punk influence to really give it a proper kick, I've never seen a double bass swung around like that, and a acoustic guitar that's being thrashed to within an inch of its life. The vocals are a bit on the plain side but they're all singing in harmony so it's not that bad plus it's dulled a little by the twang of the banjo and just the full on in your face sound. If you're after something a little different this is for you.


It's been a few years since I last saw Frank Turner Live, and the man's reputation seems to be ever growing and pretty much universally loved by all. It must be that he's a nice bloke and the middle ground sound between punk and folk, not as lively as punk but not as soft as folk.

Tonight he's with his backing band The Sleeping Souls, they open the set with 'Four Simple Words' which starts off slow but has the crowd singing right away, great opening choice that picks up after that slow start, this is followed by 'The Road' and then 'Peggy Sang The Blues', keeping that pace up a bit before going into the superb sing along songs, 'Reasons Not To Be An Idiot' and 'Glory Hallelujah'.


Thing's get taken down a notch with the serious 'I am Disappeared', but again the crowd sings on, this is one of the gigs and he's one of those acts where everyone knows the words and sings along, it feels like a party in here at times.

There are a few new songs in the set to offer, from the very recently released new album, Tape Deck Heart. 'The Way I Tend To Be' is one of the new songs, it's pretty averaged paced but a possible future classic as people in the crowd are already singing along, not many but a few.


The set carries on with songs such as 'Wessex Boy' and 'Substitute', there really isn't a bad song in this set, then Frank goes acoustic solo for a few songs, 'The Real Damage', 'Anymore' which is a new song and has a funny story to go with it and then a song request, 'Nashville Tennessee', a great song that is.

'Plain Sailing Weather' another new song, gets The Sleeping Souls band back on stage and gets lively again, this is followed by the likes of 'One Foot Before The Other', then a rock version of 'Long Live The Queen'.


'Recovery', the new album opener, where we see Frank getting people jogging on the spot during the chorus. 'If I Ever Stray' and main set closer 'Photosynthesis', superb songs, all of them close out the main set to massive cheer, then off they bimble for the encore.

After a short break, Frank opens on his own with 'Sailing', before The Sleeping Souls carry on with the excellent 'I Knew Prufrock Before He Got Famous' and 'Try This At Home' and the evening closer sing along 'I Still Believe'. What a great set from this man, and his band of course, he really knows how to put on a solid show and a set full of songs to get crowd singing, you don't get it often, but its worth it when it happens

George Frakes 3/5
Larry And His Flask 4/5
Frank Turner 5/5

Review By Robert Lawrence