Finch
Mallory Knox
Birmingham, Institute
21st March 2013

Finch Mallory Knox

Tonight I'm excited, it's a cold windy night in Birmingham but a band has flew over from America to brighten my night and show me What It Is To Burn, that band is Finch and tonight they are playing their debut album in all its glory. But before the main event we have a treat in the form of support band

Mallory Knox, this 5 piece Cambridgeshire, are set to kick things off tonight and they kick things off with the same set they played when I saw them a few weeks back supporting Don Broco, which is; Wake Up, Beggers, Death Rattle, Resuscitate, Signal, Oceans and Lighthouse. They really bring the noise tonight as they blast their way through the powerful setlist that is going to be a building block for when they step it up to headlining these venues, but as tonight shows they're not ready for it yet. They don't do anything completely wrong, they just come across like they're tired and that their not really into the gig, singer Mikey Chapman, seems to be in his own world and doesn't have the energy to blast out the heart felt lyrics. It all seems a bit lack lustre, but the songs still sound great, they're just missing something,
but I suppose when there playing to a room of early 30's Finch fans they don't really have to try to impress too much as the group of fans have already made their minds up on the bands they like and hearing a new band play amazing or hearing a new band play alright isn't going to make much difference to their listening habits at home. They wrap their set and by the end of it a few people are singing along but it doesn't matter to much as I'm sure they'll pick things up by the end of the tour and be back on fighting form ready for their headline tour in April.

Finch are up next and in case you don't know who they are 1, where have you been? And 2, they are a emo/post hardcore band from California and they made an album back in 2002 which paved way for emo bands today. Tonight they are playing the album from start to finish which if your anything like me, this album would have been the soundtrack to your teen years, so I can't wait for them to get on stage and start rocking. The room falls dark and static and loops are being played over the pa as the start of New Beginnings starts to become more clear as the guitarist Randy Strohmeyer starts doing the strums that make this song come to life, the rest of the band take to the stage including lead singer Nate Barcalaow who hides himself from the crowd by facing the back of the stage before they all kick into the song and Nate starts with the iconic vocals and turns to face the crowd in his awkward, nervous way. He has no reason to feel nervous as all the crowd is singing along and loving every second. It's like the band haven't been away, and they haven't been a band for 2 years since they split in 2010, but they're back on stage now with the majority of the original line up and they're blowing everyone's faces off. They jump straight into the main single from the album, Letters To You and follow with Post Script which keeps everyone singing along, infact the crowd don't stop for the entire album!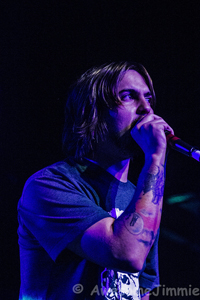 Finch seem comfortable on stage, all except for Nate, who if you haven't seen Finch before might seem a bit off, he seems to stay towards the back of the stage and avoid eye contact with the crowd, except for parts where he screams when he rushes to the front and really whales out his heart into every breath, but this is his way, he's a nervous chap and he doesn't really talk to much, I think he loves being on stage but hates it at the same time, but it doesn't matter to much as Randy takes over any crowd interaction and keeps up the mood between songs whilst the band tunes up by asking things like "What's the best Brum band? Put your hand up if you think its UB40! Well my hands still up, be proud of them!" before singing part of the chorus, as Nate and the rest of the band smile at him before they all blast into Grey Matter, Perfection Through Silence, Awake, Without You Here and Stay With Me. They take a break before playing Project mayhem as they have to move a sampler onto the stage as this song takes a different turn on the album with its industrial overtones, which cause's Randy to tell the crowd how this song goes out to the industrial bands that influenced it like Skinny Puppy. They burst into the track but for me this is a
low point, it's one of my favourites on the album but live it doesn't work, it's all over the place, it's too loud and it doesn't have the glue that holds it together and that's Glassjaw's Daryl Palumbo, his extra vocals give this song depth and unfortunately live it falls apart. They make their way through the song and again take a break to re-tune but this is when we are treated to a moment of glory, something that other gigs didn't have, an impromptu version of Weezers' Say It Ain't So, which is started by randy strumming the opening chords and Nate stepping up and singing along, they get up to the guitar solo and stop but it's something unique and something which makes this gig extra special. Nate stays
in a talkative mood and says thanks to everyone for coming out and making this gig special, whilst Randy says how this is one of the most intimate shows they've played in a while, which is true as the night after they played Brixton Academy which is probably 4 times as big as this venue! They continue the set with Untitled, Three Simple Words and wrap things up with Ender, which goes on for way to long, but I suppose that's the beauty of this track you either love the long winding road it takes you on, or you just want it to be over so you can hear the anthem that is What It Is To Burn! But the band take a moment off stage before coming back out and instead of playing What It Is To Burn they play Worms OF The Earth which was out around the time of the album, but was used on the Underworld Soundtrack instead, so it's a nice little treat before sending everyone home with the anthem they want to hear.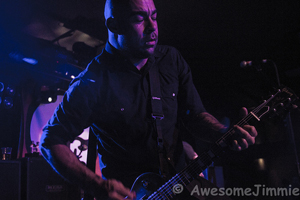 Tonights gig has been amazing, Mallory Knox could have been better but that all pales into the background when compared with Finch's amazing set that destroyed everyone. They were amazing, they sounded great and played songs that mean so much to a generation that was washed out. I hope this isn't the last time Finch play over here, because they still have allot going for them.

Mallory Knox 3/5
Finch 5/5

Review By James Daly