Skunk Anansie
Beware Of Darkness
Wolverhampton, Wulfrun Hall
21st March 2013

Skunk Anansie Beware Of Darkness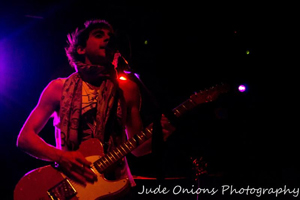 First and only support this evening is L.A band Beware of Darkness. A young three piece band full of energy and spirit. They seem to have a large following here tonight that make them feel very welcome.
I guess you would describe the sound as Alternative Rock, really catchy for the most part. They hold the audience well for the entirety of their set, performed almost in complete darkness. A good start to the evening on the whole.


Skunk Anansie are one of those bands that are guaranteed not to leave their audience dissapointed and tonight is no exception. Charging the stage with pure electricity Skin has the audience hanging off her every note, and the room is alive with adoration!

Starting the set off with 'The Skank Heads', 'I Will Break You', and the amazing 'I Believed In You' the crowd are dancing around and there are just so many smiling faces, even behind all the cameras and phones recording the gig and taking pictures. Progressing onto more classics like 'Twisted (everyday hurts)', 'Weak' and 'Hedonism (just because you feel good)' we see Skin walking out onto the crowds hands, then crowd surfing and all the while pulling off
every word impeccably, it sounds and looks so good from my current position at the back of the packed out Wulfrun Hall. I personally can't understand why the venue was downgraded this evening, as Skunk Anansie are just as great as they were when they first infected our ear drums back in the 90's, if not better, but then it does help to make it a bit more of a intimate atmosphere.

Storming onwards with this fantastic set of older and newer tracks with 'Yes it's Fucking Political' and 'Charlie Big Potato', before the encore which consists of 'Tear The Place Up', '100 Ways To Be A Good Girl' and the excellent, 'Little Baby Swastikkka' which Skin sang from the middle of the crowd, before crowd surfing back to the stage!

Great music, great band, great atmosphere!

Beware Of Darkness 2/5
Skunk Anansie 5/5

Review By Jude Onions