The Gaslight Anthem
Bristol, Academy
21st March 2013

The Gaslight Anthem

It's hard to believe that in just 5 years The Gaslight Anthem have gone from being unheard of in the UK to releasing 4 solid albums and being labelled the hottest band from various different publications, but it is safe to say that the band deserve all the recognition that they have been getting over the years as they have worked solidly, releasing an new album every two years and touring relentlessly with hundreds of sold out shows, huge support slots and festival appearances under their belts.

Tonight the Gaslight Anthem kicked off their UK tour at the Academy in Bristol and tonight was the first of a double header of sold out shows in Bristol and after their stint in Bristol they are heading off to do a double header of shows in Manchester, Glasgow and London which all sold out as quick as they went on sale.

I got to the Academy 20minutes before the Gaslight Anthem were due on stage and as soon as I walked in I noticed that the venue was packed to the rafters and the sub zeros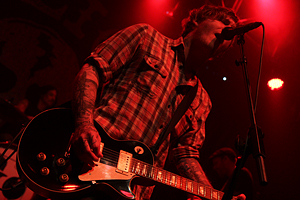 temperatures outside could be ignored for a couple of hours as the Academy was close to hitting the temperature of a sauna as thousands of eager Gaslight Anthem fans were chanting for their heroes to take to the stage.

The Gaslight Anthem soon took to the stage and opened the set up in an high energy way as they got straight down to business opening with 'High Lonesome' which was quickly followed up by 'Casanova, Baby!', 'Old White Lincoln, '45' and 'Handwritten', from the start the crowd fans were in their element singing-a-long and as each song started up you could just see certain people in the crowd smiling like Cheshire cats as the Gaslight Anthem blasted out everyone's favourite tracks.


As the set progressed you could tell that the Gaslight Anthem's time supporting Bruce Springsteen has had positive effects on them as they laid down their bluesy rock sound, the band spent minimal time interacting with the crowd and let their music doing the talking for the best part of one and a half hours as they managed to cram a massive 22 songs into their energetic set.

Pretty much every song you would expect the Gaslight Anthem to play was played tonight as well as covers of The Animals 'House Of The Rising Sun' and The Who's 'Baba O'Riley', yet it was the epic 6 track encore which impressed the most tonight as the Gaslight Anthem came back on stage to blast out the likes of 'Here Comes My Man', 'Mulholland Drive', 'American Slang' and the song that pretty much started it all for the band in the UK 'The 59 Sound'.


The whole night felt like a massive family gathering as people who had barely met were sinking beer and singing in each other's ears until their throat could take no more, as the show came to an end you could tell that the Gaslight Anthem were eager to play on for a lot longer and you can guarantee in a few more years once they have one or two more albums to their name they will be contenders to match their idols Bruce Springsteen for lengthy set's.

After the epic performance the Gaslight Anthem put on tonight it really is only a matter of time until they embark on an sold out arena tour of the UK and let's face it that's the sized venues that their music is written for.

Gaslight Anthem 5/5

Review By Trigger