Bullet For My Valentine
Halestorm, Miss May I
Birmingham, Academy
12th March 2013

Bullet For My Valentine Halestorm Miss May I

Miss May I are opening the proceedings tonight, they are a 5 piece metal band from the US. They ain't all that bad of a band, they have some pretty nifty, tight guitar work, fast melodic, with decent riffs at times. Sadly it is somewhat ruined by the double kick drum beats as it really overpowers a lot of the band, I feel less is more or turn everything else up, it's not bad drumming but I think as the drums are close to the front of the stage, it messes up the sound mix for the rest of the band.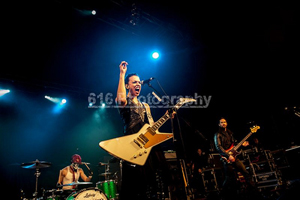 The vocals are pretty good, good mix of screaming and clean vocals, and the stage presence of the band is pretty decent. Overall not a bad start to the night, bu the drums really kill the sound.

Main support tonight are everyone's favourite band on the rise, Halestorm. I've seen them go from opening act to their own small venue headline tour and to main support in larger venues, next stop headlining big venues, it'll happen in the next year or two.


They open the night with a song off the latest album, 'Love Bites', not a bad opening to their set, it's lively enough, not my choice I'd have gone with 'Mz Hyde' maybe? Next up is 'Freak Like Me' which goes straight into 'I Get Off'.

This being the first night if the tour, I was expecting them to be little off but no, they are right on it tonight, tight out of the gate.

Next up, and reaching the half way point of their 6 song set is 'Rock Show', not my favourite of the night nor off the album, they finish off the night with two superb songs, 'Mz Hyde' and 'I Miss The Misery' from the latest and first album respectively, 'Misery' features a fair bit of guitar wanking but it's good non the less. The whole set has been a tad bass heavy but that's a minor grumble to what has been a good performance from this rock band.


The last time I saw Bullet For My Valentine was in 2006, they were superb then so it's interesting to see if much has changed.

Well Matt has cut his hair, looks very odd, but who cares really, I'll say this, Matt makes playing the guitar look easy, he looks laid back as the band blast through the opening songs. They open with 'Breaking Point', which is swiftly followed by 'Your Betrayal', both really good fast opening songs, getting the crowd whipped up into a frenzy of banging heads and flying fists, no doubt setting off a sea of mosh pits!. After a bit of talking to the crowd they blast on with 'Waking The Demon', it's a good but 'so so' song, and it keeps the pace up and the night cooking along nicely.


After the first 3 songs, it's easy to see there's no rust or jet lag, as they have recently returned from the Far East.

The set continues with 'Riot', and, '4 Words To Choke Upon', I haven't heard this last track in sometime, good times!

Next up and title track 'Temper Temper', which is blisteringly good, and works really well live. Matt starts 'Last Fight' on his own with the crowd singing along , before the band launch into this very anthemic song, I can see this working really well at a festival.


So far this is probably going to be one of my top 5 gigs of the year, and best one so far, and I've only done 3, still a long way to go yet.

Next up is the likes of 'Prisoner Of War', this takes the pace down a notch or two, giving the crowd a rest and chance to regroup for the rest of the set, another sing along chorus too. Next up is 'The Poision' album intro opens up for 'Your Voice Resides Inside My Head', it's good to hear the older songs, there should be more of them, mind you they have a lot more to choose from now.


After a solo from Padge, Lzzy Hale (Halestorm), joins the band on stage for 'Dirty Little Secre't, not a bad song at all. This takes us into the last few songs of the set.

'Scream Aim Fire' sounds just blisteringly good, best song of the night I reckon, or certainly up there as one of the best. Moving swiftly on with the epic 'Tears Don't Fall', the band plays this so effortlessly and the crowd sings along to practically every word, great song. The band close out the night with 'Living Life (On The Edge Of A Knife), an unexpected song to finish on, but blisteringly good non the less, great way to finish off the night.

Well Bullet certainly delivered tonight, this first night of the tour is going to be hard to top.

Miss May I 3/5
Halestorm 4/5
Bullet For My Valentine 5/5

Review By Robert Lawrence