Black Light Burns
Jayce Lewis, Enemo-J. Venom And Apathy
Wolverhampton, Slade Rooms
13th February 2013

Black Light Burns Jayce Lewis Enemo-J Venom And Apathy

First band to take to the stage tonight are Venom And Apathy. A fantastic 'dark' sounding band that grabs you by the balls and squeezes the hell out of them. With dirty riffs and heavy beats, mixed with some excellent vocals, I'm shocked they don't have more fans here tonight. 'Rip It Down' is one hell of a track, if you get a chance go check them out!

Next up we have Enemo-J. I caught these guys last year supporting Hed-Pe right here in The Slade Rooms, they were good then, but tonight they are on fire! The energy that frontman Craig has is second to none, using up every inch of the stage and photo pit.


Their set tonight is blinding, including a guest vocalist appearence from Joanne Finnegan of Every Story Ends on track 'Heaven Is My Hell'. Another band that has you by the balls, and they are not afraid to squeeze them! Great set guys.

Jayce Lewis is the main support for tonight, bringing the sound and atmosphere full circle and dropping it on it's head with his impressive sound, mixing Techno, Industrial, Pop and Rock together you can see and hear his influences stem heavily from Gary Numan and he was lucky enough to tour with the man himself in 2011.


There isn't much crowd interaction this time, but nevertheless they all seem to be paying full attention as Jayce steams through his energetic set.

Certainly check him out if you are a fan of Gary Numan, or that good old industrial sound.

Black Light Burns finally take the stage at 10:00 pm, after Wes' amp refused to work properly. The lighting was awful, so much so that the band themselves requested it was set to a more amber light, or just put the house lights on....in the end though after suffering it for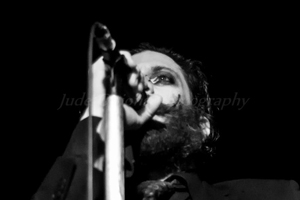 the first two tracks, 'Stop A Bullet' and 'I Want You To', we were plunged into darkness with all but two green lights at the back of the stage and two small white lights either side of the stage, leaving not much visual of Black Light Burns, but plenty of sound!

We continue the set with tracks including 'Coward', 'It's Good To Be Gold', and the brilliant 'Cruel Melody' and the crowd, as far as I can see, are thoroughly enjoying being in the presence of Mr Borland and Co this evening.


Finishing up this evening, with not long left until the curfew, Black Light Burns squeeze out every last bit of energy we have left for 'Lie', 'Scream Hallelujah', 'How To Look Naked' and set closer 'So Alive'.

With that Wes tells us we are 'very sweet and charming' as he runs off into the crowd to give everyone a hug.

All in all this evening has been like a roller-coaster of pure excitement and energy, from all four bands, technical difficulties excused.

Venom And Apathy 3/5
Enemo-J 5/5
Jayce Lewis 4/5
Blight Light Burns 5/5

Review By Jude Onions